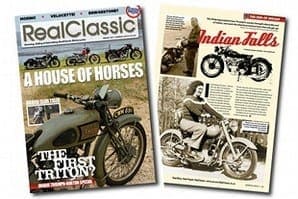 Artist and journalist Rachael Clegg, together with Al Jazeera photojournalist Peter Greste and assistant Shaz Nicol, has once again created a calendar that paid visual homage to some of the most significant and quirky events in TT history.
The result is, once again, 15 leaves of unusual monochrome images, with last year's goose being replaced with a prize budgie. Rachael also has a fracas with a stack of tyres, and a blast at Waterworks. But, however bizarre, these 'happenings' interpret real TT events involving the likes of Giacomo Agostini, Archie Birkin, Guy Martin, Ian Lougher and Joey Dunlop.
The calendar is a fusion of Rachael's background – both her grandfather and father raced in the TT – and an obsession with history. She studied art and art history, worked at the Tate Gallery in Liverpool and taught art for several years.
Milestones: an Isle of Man Road Races calendar costs £15 and is available at www.milestonescalendar.com
• Meanwhile, Motorcycle racing photographer and writer Stephen Davison, a major contributor to Classic Racer's sister title Island Racer, has just released Road Racers, his eighth book on the sport of pure road racing.
With the kind of access most could only dream of, thanks to mutual respect, Stephen follows the riders as they take on the most challenging races in the world and shares the experience in intimate portraits and stunning photographs of spectacular action. The book covers events from Ireland to the Isle of Man and from the Czech Republic to Spain.
Guy Martin, Michael Dunlop and John McGuinness are among the top stars captured in over 100 beautifully reproduced images alongside Davison's incisive prose describing the struggle every rider faces as he battles his fear to succeed in the world's most dangerous sport.
Priced at £17.99, Road Racers is now available worldwide on Amazon, where it achieved the number one best-selling motorcycle book in the week it was released. It is also available from all good bookshops in the UK and Ireland. For further details contact Stephen on [email protected]