What made Bathurst's Easter races the most important motorcycle destination in Australia? In a two-part series, writer HAMISH COOPER and photographer PHIL AYNSLEY go back to the Seventies and Eighties to find out.
An unlikely circuit on the outskirts of a small Australian town was the country's mecca of motorcycling for decades until the late 1980s.
As well as being a showcase of local talent from its beginnings in the 1930s, the mountain circuit hosted some of the biggest international names in the 1970s. In this decade it also became a proving ground for the Japanese factories, with prototypes and works riders competing.
To recapture the spirit of these times we bring you some snapshots of the Seventies at Mount Panorama. Next issue we go deep in the Eighties.
In the photograph, left, at the end of an Easter weekend, three riders share a joke while friends and family look on.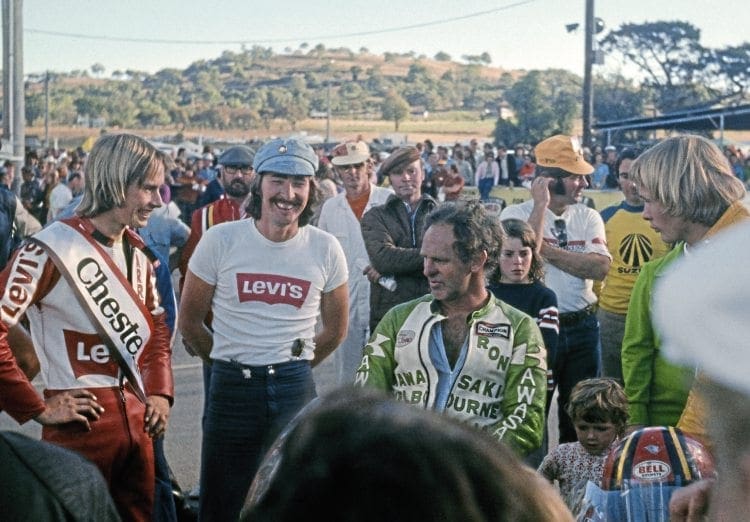 Taken after the Unlimited Australian Grand Prix at Bathurst in 1974, the image sums up all that was great about Mount Panorama. It is also a snapshot of the moment when motorcycle racing changed forever in Australia, as a new international professionalism swept the sport.
The man in the green Kawasaki leathers is Ron Toombs. Aged 40, he was known as the Master of Mount Panorama and hadwon more than 15 GP titles on Australia's most challenging circuit.
Five years later he would die on that circuit in a crash thatrocked Australian motorcycling to its core.
On his right, in the red leathers, is Warren Willing and the other youngster with the long blond hair to Ron's left is Gregg Hansford.
Toombs had battled all weekend with Willing and Hansford, who were barely half his age and had just a couple of years' racing experience.
Read more and view more images in the March/April 2019 issue of CR – on sale now!