Words: Norm DeWitt
Photos: Norm DeWitt and Don Morley archive
Watching the racing in his native Imola, Gresini was drawn to the sport, especially the famous F750 races held there, featuring his hero, Marco Lucchinelli.
Fausto: "Day by day it improved – the passion. My first motorcycle, in 1979, was a Minarelli, a 50cc race bike. For my first race, at Misano, I was aged 17 and retired with a broken engine. Then in my second race I crashed… it got better.
"I spent only one year on the 50cc and then moved to the Aspes 125cc trophy for 1980.The 125cc Italian championship was in 1981,and I modified the Aspes with a different frame and for 1982 I used a Mallanca and won four or five races, but not the championship. Itwas crash or win, I was very aggressive".
People often underestimate the challenge of racing a 125 Grand Prix machine. Kel Carruthers: "People don't realise just how much effort you had to put into riding a 125. You make a little mistake on a 125 and you've lost ground. On a bigger bike, you make a little mistake and get back on it again and not lose all that much.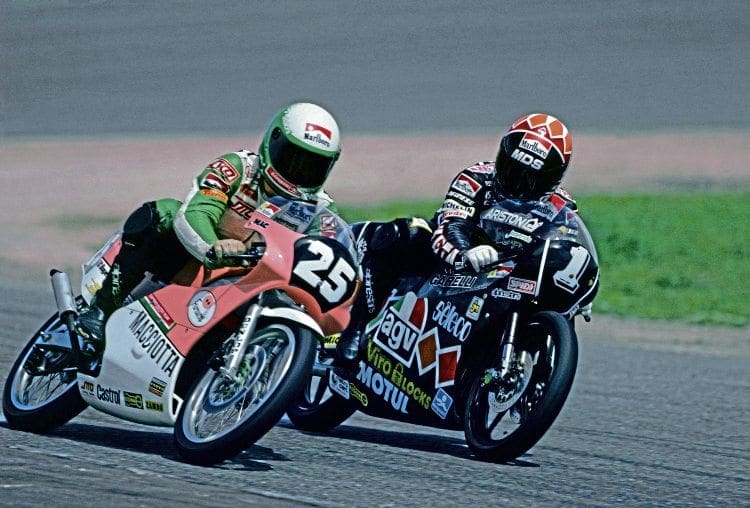 "The best lap I ever did at the Isle of Man was a little CR93 Honda going around at like 89mph, and it was a perfect lap almost. You have to be tucked in all the way." And there was an exception to that rule as well.
Kel: "I've been down Bray Hill at 160mph, and on the 125 I'd be sitting up watching the rev counter, because you didn't dare go over 14,000 rpm and the five-speed was geared for Sulby Straight, not for going down the big hills. So, I'd look like some dummy coming down Bray Hill sitting up on a 125…"
As they say, it is easier to smooth out a fast guy, than to speed up a slow guy, and Fausto was moving up into the European championship and 125 world championships.
"For 1983 I started to ride the MBA in the European championships, and the Italian championships with some Grand Prix races.
"The first race in the Italian championship was important to MBA for they were fighting with Garelli's Lazzarini and Bianchi and I won with the standard MBA."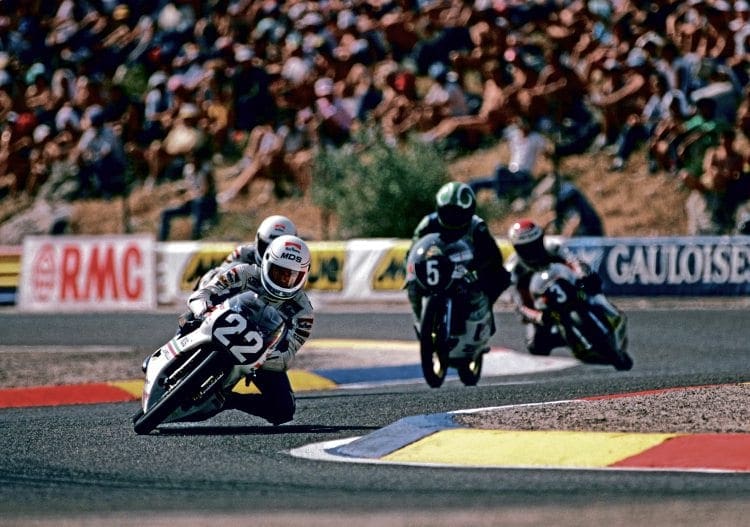 The Garelli factory team was Angel Nieto and Eugenio Lazzarini, and had finished 1-2 in the 1982 world championship. For 1983 they were again on their winning ways, with four 1-2 finishes in the first five races.
Read more and view more images in the September/October 2019 issue of CR – on sale now!

Enjoy more Classic Racer reading in the bi-monthly magazine.
Click here
to subscribe.