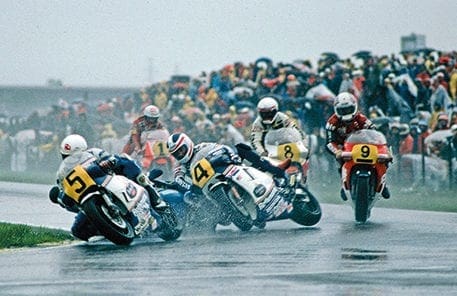 1985 will be forever remembered in motorcycle Grand Prix circles as being the year of the Spencer 250/500 historic double. Though it so nearly wasn't…
This was the moment that Freddie Spencer genuinely believed that his chances of a double world title – the most famous crowns in a single season in motorcycling history – had gone. And it was all down to his good friend Christian Sarron!
It was a very wet 1985 at Assen and I was stationed at the 90 degree Haarbocht corner, wondering if Dutch rainstorms ever ended, when the 500cc pack honed into view.
Now, this was a day more prone to aquaplane-type crashes than I have ever seen before, or since. It was the day when the 80cc world champ Stefan Dorflinger crashed, remounted and still won, it was also the day when sidecar stars Steve Webster and Tony Hewitt aquaplaned for what seemed like hundreds of yards before crashing into a very deep dyke.
It was that day when Christian came into the tricky corner too fast, too hard on the brakes – and caused mayhem.
In short, Christian hit the Yamaha's front brake just a fraction too hard. The bike aquaplaned before he finally slid off, leaving the YZR500 to literally torpedo Freddie amidships.
The crash damaged Spencer's Honda to the point where it wouldn't restart. Eddie Lawson, who could see what was happening from further behind, avoided the bedlam and carried on to take a commanding race lead. So commanding in fact that if he finished the race at the front, he would then take over the top of the titles chase, knocking one Spencer F down the order.
Although unhurt, Freddie was both utterly inconsolable and also very close to thumping his otherwise good friend Sarron. The Frenchman, in turn, knew full well that he most probably had just caused his friend to ruin any chance of holding on to his 500cc title, and also any chance of doing the double on both the 5 and the 250 Hondas.
No words of mine can describe Freddie's obvious anguish at the time. I remember clearly how he could do nothing but sit on the sidelines and watch with Christian, myself and a gaggle of others as Lawson lapped in fine form, building up a massive lead.
That was, until Lawson himself slipped off.
At that point Lawson was looking comfortable and was heading for a five point overall lead in the title race. Freddie's face as we watched Lawson sweep through the race was distraught.
And then, at the halfway point, Lawson slid off having built up a needlessly massive lead.
Incredibly that meant zero points for both Spencer and Lawson at a point where either could have racked up a hugely useful upper hand in the season.
Freddie could hardly believe his luck.
At that very moment he knew he was back in the game.