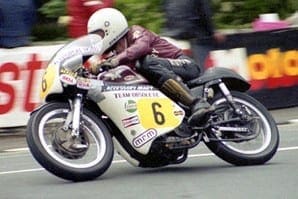 Roper will parade the very same 1959 Matchless G50, frame number 1709, that he rode to victory in the three-lap event in the Classic Racer Magazine Classic TT Lap of Honour on Monday 25th August. The parade lap is part of the Isle of Man Classic TT Races presented by Bennetts.
"We've gone to great pains to restore the bike to exactly the condition that it was in in 1984," said Robert Iannucci, owner of Team Obsolete in New York, who keeps the G50 in his stable of around 60 classic machines.
The Isle of Man organisers staged the Historic TT as an experimental event when enthusiasm for classic racing was first gathering pace in Britain. It was assumed that British riders such as Ian Lougher, later to win ten TT's, would dominate the race, but Roper led on every lap to claim his landmark victory.
Roper had set fastest lap in practice for the inaugural Classic Manx Grand Prix in 1983, but he still seemed an unlikely winner of the Historic TT. He was six feet two inches tall, and his knees nestled under his armpits on the 300lb Matchless single. He was also racing with his left wrist in a cast after he fractured the bone in a practice crash at the Gooseneck.
But Rob Iannucci had a history of putting together bikes that didn't break. Back in the sixties the American rider Al Gunter had competed with 1709 in flat-track racing. For the Historic TT Ianucci had the former AMA and Daytona 200 champion Dick Mann prepare the cylinder head and fitted a six-speed gearbox. In order not to pressure his injured rider, Iannucci decided not to give pit signals, so the first Roper knew of his historic achievement was when he got to the paddock.
Team Obsolete were a dominant force in classic racing in the eighties and nineties, and the presence of Iannucci, Roper and 1709 will make a great addition to the Classic TT that runs between August 16-25th. The Classic TT Races is part of the Isle of Man Festival of Motorcycling that also includes the Manx Grand Prix, the Manx National Two Day and Classic Trials and the VMCC's Festival of Jurby.
? More info from www.iomtt.com
• Elsewhere at the Island, the governing body has agreed an extended road closure for the events. The roads will now close from 9.30am on Saturday August 23, rather than noon, as in 2013.