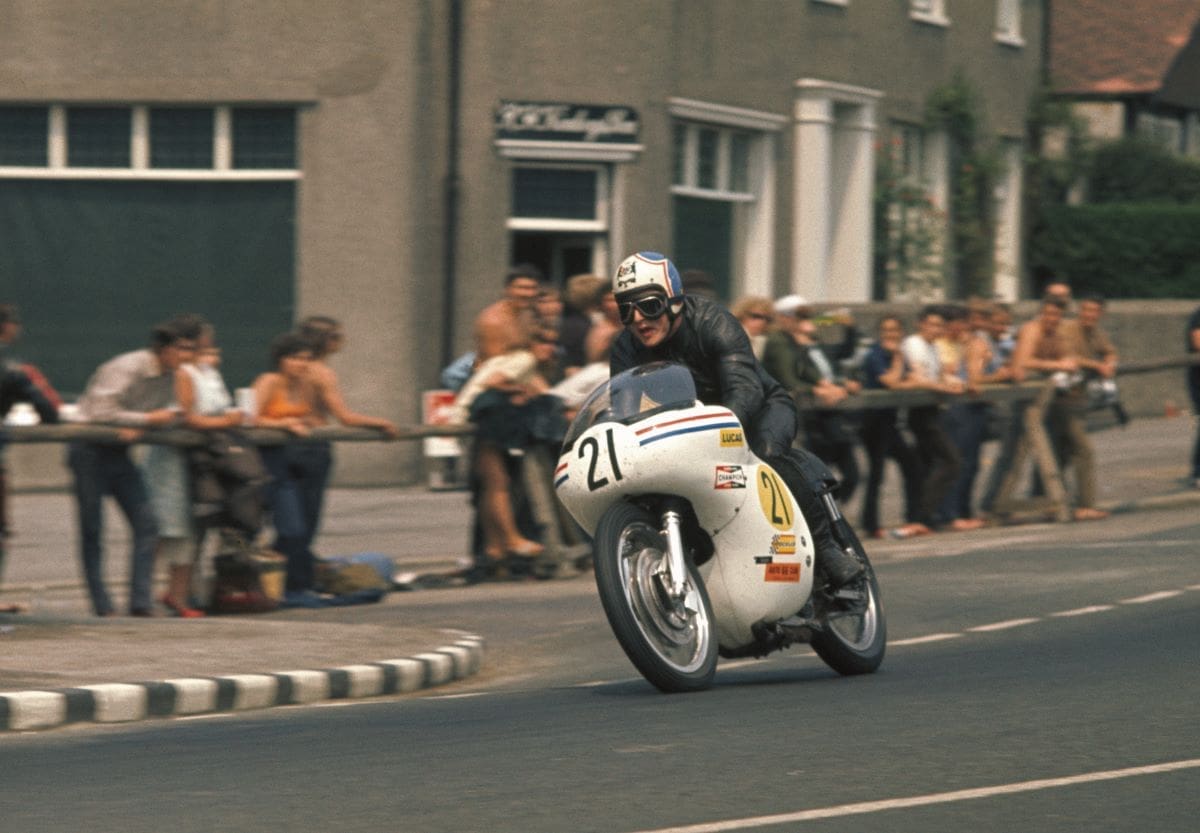 From enjoying a short but spectacular career as a racer, to running one of the country's best bike dealerships, to guiding the career of a TT legend, Tony Jefferies' entire life revolved around motorcycles.
Words: Stuart Barker Photographs: Mortons Archive
As the son of trials expert, TT racer, and bike dealer Allan Jefferies, the brother of hugely successful trials rider and road racer Nick Jefferies, and the father of all-time TT great David Jefferies, Tony seemed to be at the centre of the motorcycling world throughout his life.
Born in 1948, he left school in 1965 to take up an apprenticeship with the BSA Group, although he would finish his apprenticeship with Triumph in its service and experimental departments. In 1968 he started racing because of very particular circumstances, rather than having a burning desire to take to the track.
"My first road race was at Croft, on an old Triumph," he explained in 2008. "It was a real funny bike, built by a local guy who had tried to copy a Featherbed Norton. He put leading-link forks on it and sunk a tuned engine into it – he did a lot of clever things on it. We'd taken the bike in part-exchange (at Allan Jefferies Motorcycles) and it had race numbers on it, so it was ready to race. My dad said at the time: 'Well, we're not going to sell it over the weekend, so you might as well use it and go and have a race on it.'
"I went to Croft and that's how I started racing! It was the first ever bike race at Croft and my dad actually took me to the circuit, so for him to later chuck me out of the house for going road-racing was a bit daft really!"
Allan Jefferies genuinely did throw his son out for taking up road racing, despite, or perhaps because of, his own participation in the sport in the 1940s. "It was probably because of the expense of road-racing, rather than the danger or anything else," Tony said. "We never really thought about the danger aspect of racing. He wanted me to become a good trials rider before I turned to road racing and (at 19, as I was) he thought I was too young as well. It was a lot of things – he just didn't agree that I should be a road racer!" But a road racer Tony became – after he finally managed to make the grid at that Croft meeting.
"The bike oiled a plug, so I was late getting to the start line for my first race. The marshal put a rope across my path and said: 'No more, that's it!' I thought: 'F**k that – I'm racing!' So I turned round, rode out of the paddock and across a field, back to the start line from the other direction. I rode down the pit-lane in the wrong direction and the ambulance started ringing its bell and all sorts was breaking loose. I finally got onto the circuit just after the riders had left the grid, but I was travelling at about 80mph, so I just set about chasing them. I was in the race and that's all that mattered. I think I finished about 12th place or something like that, and my dad was saying to me: 'You're f**king useless!" I got a complete bollocking from the race officials, so it was all quite eventful. But I got away with it!"
Wasting no time, Jefferies took part in the Manx Grand Prix during his first season of racing but failed to finish the Senior race on his Triumph. In 1969 he took to the TT proper and bagged a best result of 6th place in the Production 750cc class. He took another impressive 6th place in the 1970 Senior TT riding a G50 Matchless: he said: "That was the first time I'd ridden a single cylinder bike, and I enjoyed it very much indeed, because it was a real stable sort of bike and something that was painless on the TT circuit."
But it was at the 1971 TT that Tony Jefferies really made a name for himself. With Mike Hailwood having retired at the end of the 1967 season, Giacomo Agostini had been unbeaten in every race he entered at the TT since: which made Jefferies' victory in the 1971 Junior TT all the more special. He had already won the Formula 750 race and would finish second to Ray Pickrell in the Production 750 event, but it was the Junior that was the highlight of an astonishing week for TJ.
"The most satisfying win, without a doubt, was the Junior in 1971," he admitted. "That was particularly satisfying because of the standard of riding that was in that particular race – mainly Giacamo Agostini. To beat Ago in the Isle of Man was something that had not been done for a long, long time, and I'm very, very proud to have been the man to have stopped his long run of winning."
That Junior win was also a world championship 'Grand Prix' win as, until 1977, the TT counted as the British round of the world championship.
With two victories in the bag and the Production 750cc race still to come, the Isle of Man was buzzing with speculation: could Tony Jefferies become the first man since Mike Hailwood to win three TT races in a week?
He said: "Suddenly, I was really hitting the headlines because I had won two TTs in a week and had the chance of another race win on the Wednesday – the Production. The big question was, could I win that as well? I didn't – I came 2nd. I was really cross – and still am to this day. Ray Pickrell won. It was a close race and, I just don't know – I could make a few excuses, but maybe I just didn't try hard enough."
Bright star
Far from being a roads specialist, Tony Jefferies was every bit as adept on the short circuits and was part of the British team for the first ever Anglo-American Match Races (later renamed the Transatlantic Match Races) in 1971. The Brits won every race against a field that included Dave Aldana, Gary Nixon and Dick Mann.
As well as being one of British racing's brightest stars, the 22-year-old Jefferies had a lot more on his plate in 1971 as he had taken over Allan Jefferies Motorcycles the previous December. There was another argument with his father (who had been amongst the first to liberate Belsen concentration camp during the war and had a lingering dislike for all things German) when Tony decided the shop should become the first officially appointed BMW dealer in the UK.
Tony said: "I thought it would help because of the demise of the British motorcycle industry, but my dad was very against it. It was the same with Japanese bikes – at first, he said it would be over his dead body, but eventually it went ahead. He was smart enough to see that was the way things were going, but he still didn't like it. I came home from work one day and said I'd taken on a new agency: 'We're selling BMWs now!' And he walked out of the kitchen and didn't speak to me for a week!"
Despite the huge responsibility of running a successful business, Tony continued to race, and took a 2nd place in the Formula 750 TT in 1972, but went one better in 1973 when he picked up a third win, this time in the Production 750cc race, riding the famous 'Slippery Sam' – the Triumph Trident that won a total of five TT races.
Last TT
Sadly, it would prove to be Tony's last TT as he was paralysed in a crash Mallory Park's Race of the Year in September of 1973. He recalled: "Dave Croxford was in the lead, and I got it all crossed up coming into the hairpin, trying to overtake him. I locked the front wheel and, half went down, half rescued it. Then it went completely sideways and flicked me over and slammed me into the ground and that's what did the damage – that's what broke my back. Then I got run over by about 30 other riders as I lay there."
Tony Jefferies would spend the rest of his life in a wheelchair, although he didn't find out he was paralysed until six weeks after the crash. And when the awful news was finally broken to him, he responded with the same Yorkshire grit that had made him a racing hero: "When it eventually dawned on me that I wasn't going to walk out of hospital, I just thought to myself: 'Right, let's get on with life. I've got a business to run.' I was never bitter about it. I didn't have to race. I fell off. It was my fault, and therefore I just wanted to get on with life to the best of my fortune."
At the time of his crash, Tony's son David was just one year old, and dad could have had no idea that racing was once again going to be at the centre of his life. David Jefferies would take nine TT wins in just three years to become one of the greatest road-racers of all time. He would also win four British championships and compete in World Superbikes, British Superbikes, and even in 500cc Grands Prix, with Tony guiding him every step of the way.
Tony recalled: "I was – and still am – proud of being able to help David through his racing career. He always had the full support of his family, none more so than from his mother Pauline and his sister Louise. We were very close as a family and enjoyed life to the full with David throughout his racing career, which was so dramatically and tragically brought to a premature end."
Riding with DJ
Being confined to a wheelchair was never going to stop Tony Jefferies riding with his son, so when the chance to do a parade lap in the Darley Moor Past Masters Cavalcade came along in 1994, Tony didn't hesitate.
"We thought we'd better have a practice, so we jumped on the bike and rode out of the paddock at Darley Moor out onto the main road," Tony explained. "I was on the front of the bike – it was a Triumph 1200 Daytona – and Dave was on the back, shifting gears. We had the rear footrests modified so that David could change gears from the pillion seat via a linkage.
"My own feet were tied onto the front footrests. As we were leaving the circuit, an official tried to stop us to let another car out, but I couldn't put my feet down, so I just swerved round the car – and a caravan – on the wrong side of the road and up over the grass, all over the place, with the marshal shouting after us! Anyway, we went out onto the road and DJ just started booting up through the gears and timed it perfectly. You wouldn't have known it was two riders at the controls. We were giggling under our helmets, but how David anticipated every gear change so perfectly was impressive.
"On the way back, I decided to give it some, so we were doing about 120mph. This was in 1994, but I had my old racing helmet on, and all the lining and shit was falling out and the visor was loose, so it was rattling like crazy, but we had a great laugh. Back at the circuit, it was only meant to be parade laps that we were doing, but once a racer, always a racer, and everyone took off from the line like they meant it. I was the same, and we started passing all sorts of people. I remember passing John Cooper and Dave grabbing hold of his elbow going down the main straight.
"Changing direction was difficult for me because I have no movement from the chest down so, when we approached the chicane a bit too fast, I just rode straight over the kerbs. Then the bloody Heath Robinson gear linkage that we'd made broke, so we just left the bike in third gear and carried on!
"We didn't get passed by very many people and at the end the tyres were absolutely shagged.
" There used to be a woman we called the Sweetie Lady who went to all the races in the 1970s, handing out energy sweets to the riders. When we got back to the pit, she was standing there with tears streaming down her face. When I asked her why, she just said she was so overjoyed to see me back on a bike again and enjoying myself after all those years. It was the first time I'd ridden a bike on a racetrack since I'd been paralysed in 1973."
Devastated
David Jefferies was sadly killed during practice week at the 2003 TT and Tony and the rest of the family were obviously devastated. Yet Tony's love of bikes remained, and he refused to blame the sport for the loss of his only son. "I was asked by someone who did not avidly follow motorcycle racing how I could justify following a sport which they perceived as so full of tragedy," Tony said.
"I thought for a moment before answering, because it is so easy to say: 'Do you realise how many people are killed each year rock climbing? Hundreds. How many are seriously injured each year through horse riding accidents? Hundreds.' When I was in hospital with a broken back, I learned that the single most common cause of paraplegia and quadriplegia was through diving accidents in shallow water. But I didn't mention any of those facts, I simply said: "You have to have a passion for it. Without the passion you will never understand. David had the passion for motorcycle racing. He had a passion for just about anything to do with wheels. At school, he was outstanding on a bicycle. Riding along, sitting on the handlebars facing backwards, was a standard mode of transport for DJ, and riding out of school down the steps on the back wheel was forever getting him into trouble. As he was surrounded by motorcycles through his family and friends, a career in motorcycle sport was on the cards. I knew he had a natural ability on two wheels, but little did I know that from a family of sporting motorcyclists, he would achieve far more than any of us had done before him."
Louise Jefferies took over the running of Allan Jefferies Motorcycles in 2000 and continues to do so to this day. Sadly, Tony Jefferies died on December 29, 2021, after a long illness. But he remained defiant to the end, insisting – against medical advice – on attending the funerals of his great friends Paul Smart and Peggy Appleyard (wife of Colin Appleyard and member of the Appleyard Macadam team in BSB).
"His visits to those funerals knocked him back a fair bit," Nick Jefferies said of his late brother. "But he was determined to live as ordinary a life as he could. He had a problem with his oesophagus but didn't like the idea of intravenous feeding, saying: 'No, I want to eat normally.' If anyone had half the resolve he had, they would be better people."
Right to the end, Tony Jefferies showed the same grit, resolve and bravery that had made him such a great motorcycle racer and that had also got him through his paralysis and the loss of his son. It's said they make them tough in Yorkshire, but they don't come any tougher than Tony Jefferies – a man who simply didn't know how to give up.
---
Advert

Enjoy more Classic Racer reading in the bi-monthly magazine. Click here to subscribe.
---