How Suzuki went racing with a cardboard box
Words: Michael Scott Photographs: Don Morley
I think it might have been me who called it 'the cardboard box', and the name stuck.
Because that is what the chassis most resembled – a sharp-cornered structure of folded planes, in a sandwich material.
The sheets enclosed aluminium honeycomb rather than corrugated paper, but the principal was the same: strength by internal reinforcement, stiffness without weight.
Like a cardboard box
It represented a confluence of inspiration and desperation. Suzuki had unexpectedly pulled out of GP racing, one year after Honda's new two-stroke had ended their now venerable square-four RG500 engine's six-year domination of the constructors' championship.
With rider Randy Mamola snapped up by Honda, it left his (and Barry Sheene's) old Heron Suzuki team with nothing much to do.
Several people were crucial to what happened next. Riders of course: it would launch the GP careers of Rob McElnea and Niall Mackenzie.
For Australian Paul Lewis it was a different kind of launch pad.
For Heron Suzuki director Dennis Rohan, it was a test of character and will, as he strove to convince the uninterested chairman and directors that racing was a worthwhile way of spending money.
For team manager Martyn Ogborne it was an inspiring project and nowadays part of a collection of unique racing memorabilia; for his successor Garry Taylor it was the start of a career that led to the factory team, and 500-class title wins with Kevin Schwantz and Kenny Roberts Jr.
But for its designer Nigel Leaper, it was just a step along the way: a brilliant brainchild that was a stepping stone to a career in Formula 1 with Mclaren and Ferrari; to Aston Martin and Jaguar, and nowadays to his own pioneering work with solar-powered vehicles.
Rohan loved racing. He'd earlier persuaded Barry Sheene to rejoin the Heron Suzuki team for his final years.
Garry Taylor said: "When the factory baled out, that left us with some quite talented people without much to do. But the critical person at that point was Dennis, who had enough power to push the project through, and get cooperation from the factory with engine bits and stuff like that. He took a lot of flack. Over the years he's kind of been forgotten. We were puffing our chests out, but if he hadn't found the resources from inside Heron it wouldn't have happened."
He did have an interesting project to sell – thanks to the arrival of designer Nigel Leaper, fresh from a short-lived racing project with Waddon.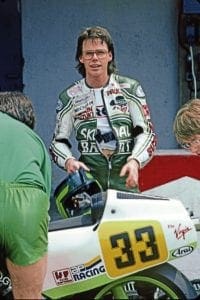 Having started out with Tony Foale, he adapted the latter's large single-tube spine frame to a Rotax 250 engine. Croydon-based Waddon made production racers and fielded its own team. "We won the TT and the North-West 200," recalled Leaper. Then Waddon pulled out.
At the same time, a revolution in sandwich-board materials – with plain sheets bonded to (end-on) aluminium honeycomb – along with the development of carbon fibre had already started to move from aviation into racing car engineering.
Light, strong, and amenable to being glued together, M-board (as the all-aluminium version was called) was increasingly being used for chassis floor-pans and other components.
Read more and view more images in the July/August 2019 issue of CR – on sale now!

Enjoy more Classic Racer reading in the bi-monthly magazine.
Click here
to subscribe.