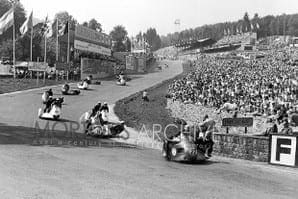 In the solo classes the battle between established star Geoff Duke and rising talent John Surtees was grabbing all the headlines. Duke had been dominant on the Gilera, taking the lap record over 117mph in the scorching conditions, but he failed to finish and MV's golden boy John Surtees moved closer to the title.
By the time the three-wheeler boys came to the line temperatures were soaring, and the shirt-sleeved crowd packed the trackside fences ready for what promised to be just as hot action. The sidecar class has always been popular with enthusiasts on mainland Europe and prior to BMW's period of domination it captured the imagination of British fans equally.
Away from the push start, a much easier task on the steeply downhill Spa line, Pip Harris leads the field into Eau Rouge for the first time. Although he made a real name for himself later on a BMW, at this stage in his career Harris is still loyal to Norton. Three lengths behind is Jacque Drion, already a BMW convert, and pressing him hard F Hillebrand, 12, and W Schneider, also both BMW mounted.
By the time the field drifted out of La Source and down to the start line after the first 8.77-mile lap it was Cyril Smith who had the Norton ahead, with Harris second and Australian Bob Mitchell (Norton) third.
With places changing behind him, hard-riding Smith piled on the pressure. Noll tried to follow and ousted Harris for second, but was still a good quarter-mile back from the flying Brit, with the race in the bag Smith drifted up Eau Rouge, with just two of the eight long laps remaining, he had the race in the bag, that was until a missed gear bent a valve and brought his race to a close.
Gifted the victory Noll grabbed it with both hands and led home Pip Harris by a full 35 seconds. Aussie Mitchell took a good third after Hillebrand was forced to stop to make adjustments before coming home fourth. Smith had the small consolation of the fastest lap, which was a record, of 99.29mph.
Article continues below...
Advert
---
Advert

Enjoy more Classic Racer reading in the bi-monthly magazine. Click here to subscribe.
---