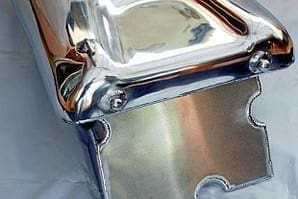 Two of Ducati's most iconic models, the 750SS and 900SS are available now, in 1:12 scale from Moto Legends for £99.99 each.
Superbly replicated by German die-cast company Minichamps, the models are just as eye-catching as the original thing. Moto Legends has an extensive range of models, all accurately put together.
Contact Moto Legends at www.motolegends.com or call 0844 8877788.
• Scottoiler FS365
A great product, which really works, from Scottoiler, FS 365 is an essential in any workshop. FS 365 is a corrosion protector that is a blend of mineral oil, surfactant, anti-corrosion additives and water, making it naturally biodegradable and environmentally friendly.
Pure water on its own will not cause corrosion, however as soon as it comes into contact with the atmosphere it absorbs acidic gases such as carbon dioxide that do. This is where FS 365 comes in.
Available in a one litre trigger spray, with a RRP of £7.48, or a five litre refill at £32.95. Go to www.scottoiler.com
• Renapur leather products
Just the thing to breathe new life into well used or tired leathers, Renapur Leather Cleaner removes grim and even those splattered fly kills. And when you've got them clean there is nothing better than Renapur Leather Balsam to soften and revitalise leathers.
A 250ml bottle of Renapur Leather Cleaner will set you back £12 and the Balsam, which comes in 200ml, the same price. For more information and to buy Renapur products visit www.renapur.com or call 0800 9930129.
• Ducati TT2 tanks
Top quality Ducati TT2 aluminium fuel tanks, manufactured in aircraft specification material are now available from Jim Blomley's Two Wheel Classics, priced at £750 plus VAT. To order or for more information go to www.twowheelclassics.co.uk or call 01942 7212 744