Australia had to dig deep to hold off an unexpectedly strong challenge from the USA to retain its International Challenge trophy at the Phillip Island Classic.
Report: Hamish Cooper
Photographs: James O'Hagan
Building on a strong showing in 2019, Team USA came within 13 points of victory, at one stage trailing the Aussies by just three points. Last year, Australia's grizzled old prize fighters, Steve Martin and Shawn Giles, guided Australia to a 42-point win.
This year they acted as corner allies to their young sparring partners. Alex Phillis and Jed Metcher produced the knock-out punch to beat a pumped-up Team USA.
Qualifying
Alex Phillis, a race winner here in 2017, made his intentions clear from the first moment of qualifying. On his first flying lap he laid down a 1min 39.012secs time on his Suzuki replica XR69 Suzuki.
Things didn't start well for America's 2019 star and multiple US AMA Superbike champion Josh Hayes. He pitted after just one lap, explaining that his engine "went sour".
Five laps later, Jed Metcher, riding the Yamaha FJ1200-based racer Troy Corser ran at the front of the pack in 2017, was the first into the magical '38s', with a lap of 1:38.728.
Qualifying two, for the slowest 50 riders, saw Hayes out on team-mate and Island Classic newcomer Jordan Szoke's FJ. His time of 1:38.575 looked good enough for a front row start.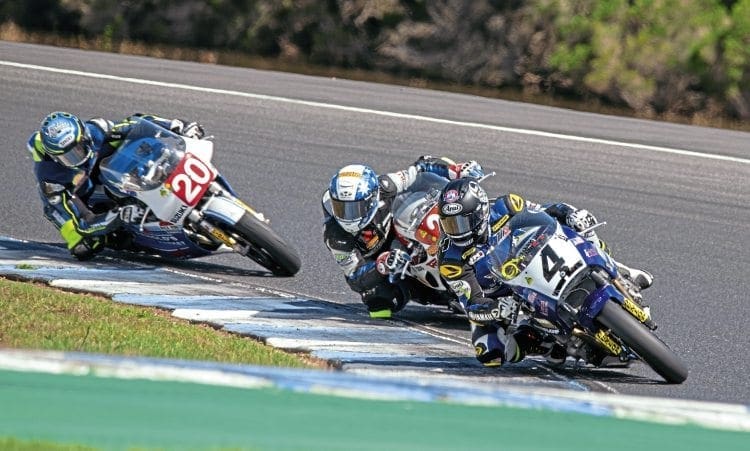 That was until qualifying two for the top 50 riders where Phillis laid down a 1:38.314 on his first flying lap, then Metcher raised the stakes even higher.
His 1:37.248 lap put him on pole, with Phillis eventually clocking 1:37.354 to grab second.
So the grid looked like this: Metcher, Phillis and Martin on the front row, with Katana-based riders David Johnson, Aaron Morris ahead American Larry Pegram (Yamaha-powered XR69 replica) on the second row. Heading the third row was Hayes, fellow American Michael Gilbert and Shawn Giles (Katana) with Beau Beaton (Irving Vincent), American Taylor Knapp (Yamaha-powered XR69 replica) and Craig Ditchburn (Yamaha TZ750) making up the fourth row.
Ditchburn had created a stir with a lap time of 1:39.688 on his Yamaha TZ750.
The best Team UK qualifiers were Suzuki Harris F1 replica riders Brendan Wilson in 16th, just ahead of team-mate Michael Neeves.
Race one:
Tensions were sky-high as the grid formed. Disappointed with his qualifying effort after winning the final race last year, Hayes had warned his rivals at Friday night's welcome event that he might become a "torpedo" on race day.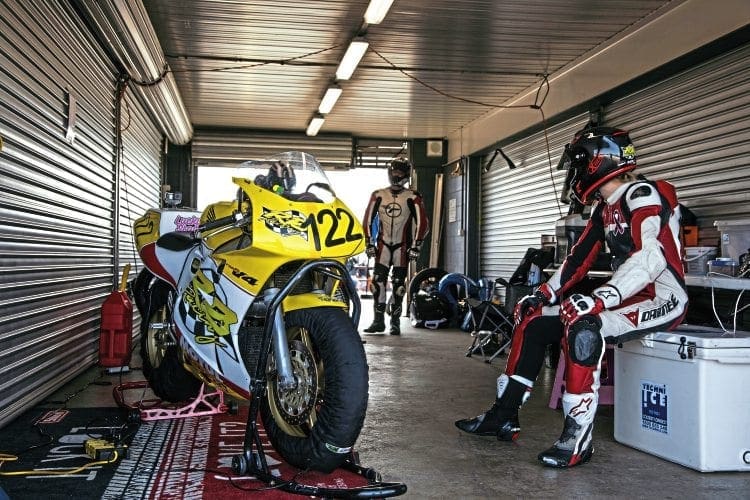 Fireworks were expected but what happened a few hundred metres into the race was totally unexpected.
Ditchburn's TZ suddenly snapped sideways in turn two and the resulting crash brought down Wilson, Neeves, American Jorge Guerrero and Aussie John Allen with his team-mate Scott Webster taking to the grass to avoid the pile-up and a burning motorcycle.
"It was like a bomb going off," Webster said later.
Tensions boiled over when track entry was closed for the restart, leaving half the field trapped in pit lane.
US captain Dave Crussell pleaded with sign language to race control and eventually they were released.
However, we now had half the field waiting on the startline with engine temperatures rising, while the rest made their way around.
The race quickly became a tussle between Phillis, Metcher and Martin.
Hayes quickly worked his way through from seventh tofifth and as they came onto to the main straight for the first time he slipstreamed himself into second.
A fascinating freight train developed with the top six riders circulating only around five seconds off the ASBK Superbike times.
Hayes took the lead from Phillis in a stunning overtake. As the race wound down he paced himself to control the race.
Phillis set the fastest lap of the race in the run to the flag (1:37.087) but Hayes held him off for a split-second victory with Metcher just 0.050secs behind Phillis. Fourth was Larry Pegram, earning vital points for Team America.
Highest scoring Team UK riders were Brendan Wilson in 13th and Alex Sinclair in 15th.
Race two
A pivotal race of the weekend, Team USA dragged themselves to within three points of Australia despite only one of their riders making the podium.
Having five of their riders finish in the top 10 showed how important consistent finishes and a team effort are. But to do this required skill, cool heads and self-belief.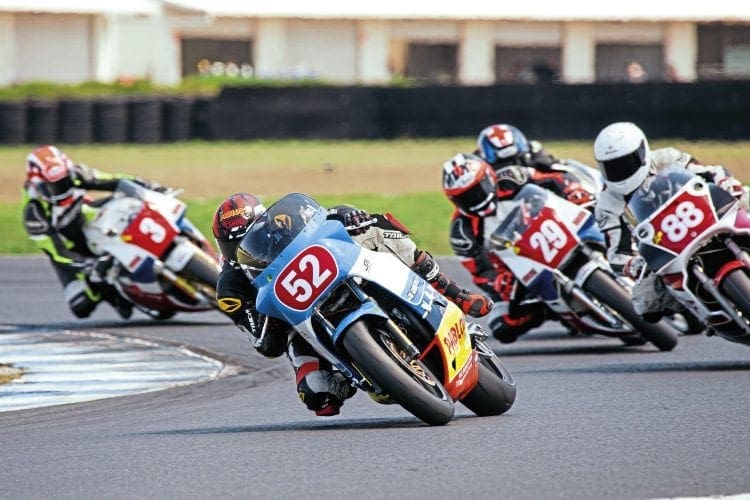 Metcher and Phillis battled early for the lead, with Johnson running strongly in third before brake issues forced his retirement.
Hayes again charged through and by lap three was challenging for the lead and running at near lap-record pace.
By lap four, just 0.4secs covered the top three. It was breathtaking to watch these riders three abreast into turn one to start lap five.
Hayes emerged from the Southern Loop in front and extended his lead by two seconds, looking in total control.
On the last lap he selected a false neutral going into turn four. Lucky not to crash, he rejoined to finish fifth. Phillis won his duel with Metcher to take his first challenge win since 2017, when he beat Jeremy McWilliams.
Metcher finished just 0.387 behind with Pegram, the quiet achiever, finishing 4.5secs after Metcher in third. Martin was fourth, with Gilbert sixth and Morris seventh. Jordan Szoke, a multiple Canadian Superbike champion but Phillip Island debutant, finished a strong eighth, with team-mate Knapp ninth, ahead of Giles.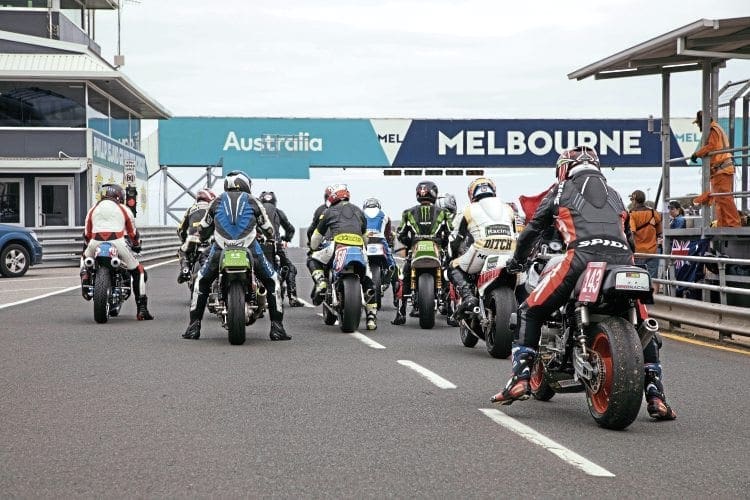 Both Pegram and Giles were hit with a 15-second penalty for a jump start. AUS protest restored Pegram's position while Giles was relegated to 12th, promoting the Irving Vincent duo of Cam Donald and Beaton to 10th and 11th.
Race three
It was time for Australia to shut down the Hayes-Pegram show and Phillis did it in style, clocking up his second win of the weekend.
"I find it easier to follow than lead," Phillis said after Race One. "I can follow all day long so I need to use it to my advantage later in the race."
He did exactly this, hunting down Metcher while dragging Hayes along for another wild ride.
In a bold move he closed right up on Metcher at the end of the main straight on lap five, taking the lead then running wide at Turn Four.
The final run down Lukey Heights looked hairy with the trio trying to out-smart each other with different lines.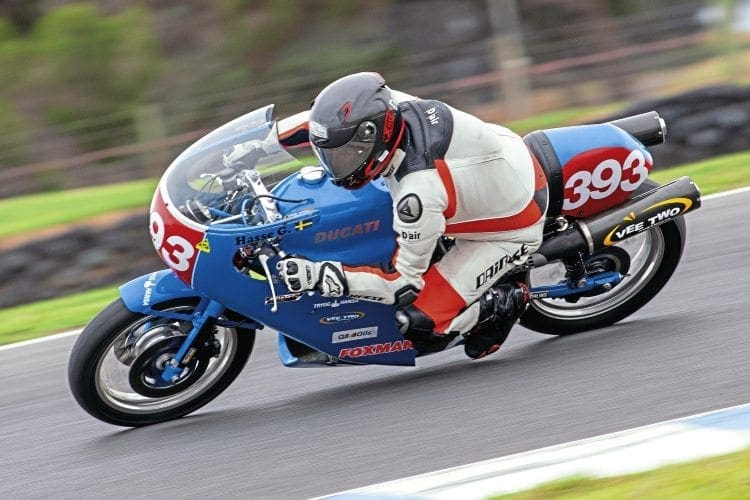 As a drag race developed to the line Phillis ran dangerously close to the pitlane wall to avoid being slipstreamed.
He won by just 0.077secs, with Hayes a miniscule 0.627 behind Metcher.
Martin was fourth and Morris fifth. Pegram, Gilbert, Knapp and Szoke bagged a swag of points for Team USA coming sixth, seventh, ninth and 10th. Beaton finished eighth.
Australia now had a 12-point buffer going into the final showdown. Was it enough?
Race four
Mathematically, Team USA needed to fill the podium or kick as many Aussies as possible out of the top 10 to achieve a maiden Challenge victory.
They nearly did both, but Australia's old dogs of war guided the young guns home. Martin and Giles finished 7th and 10th to add crucial points to one of the closest finishes in the Challenge's history.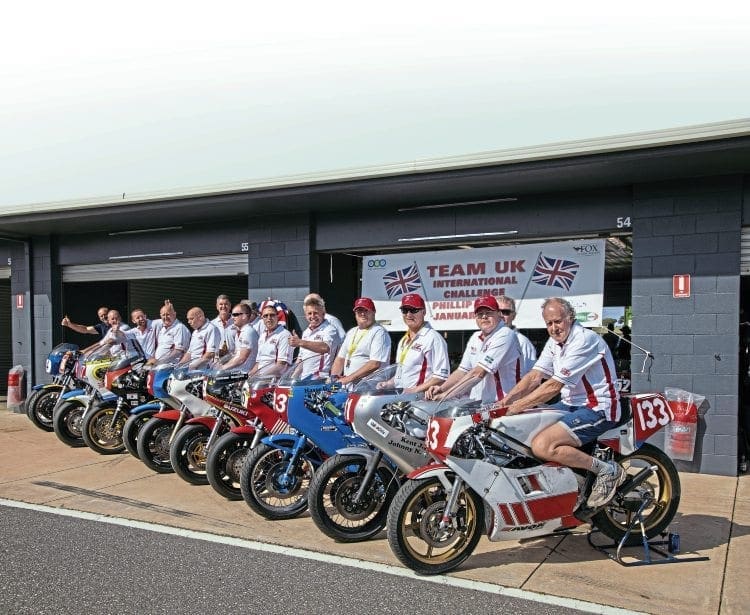 Team USA came agonizingly close, with Hayes winning, Gilbert and Szoke fourth and fifth.Knapp came home eighth but it could have been very different.
Tough guy Pegram had survived the weekend as a front runner and was in the running for a podium early.
Then his gearbox broke up and he could only change up to third. "I kept going to bring home as many points as I could," he said, summing up a true team effort to finish 14th.
Bring on 2021. And remember that Josh Hayes will return as the winner of Race Four in 2020, just like 2019.
Killer effort from Keo
Keo Watson made a clean-sweep of his classes to win the Phil Irving trophy for overall winner across all classes outside the International Challenge.

"It's a real 'wanted to get this moment'," said the son of Aussie champ Ken Watson. Keo showed skill and consistency racing Seventies and early Eighties two-strokes with just four years' experience under his belt.
Ken Wootton Trophy winnera humble hero
Two wins, a second and a third gave Alex Phillis a two-point win in the individual points tally over Jed Metcher, with Josh Hayes just one point behind in third.
"I'm pumped to win," said Phillis. "Everyone has their day at this meeting and this year it was my turn. We had a good pace all weekend.
"The fact that my bike is built more to Period Five than Period Six means I have a skinny rear tyre that gives me a faster entry speed that I have to carry through the corners. I made it all work for me this weekend."
Josh Hayes and USA team leaderDave Crussell, gallant in defeat
Josh Hayes summed up an ultimately frustrating weekend.
"It was never going to be easy," he said. "We built a strong team this year and came close but we aren't done yet." Dave Crussell revealed the battle plan formulated before the final race: "We had worked all weekend as a team to get so close.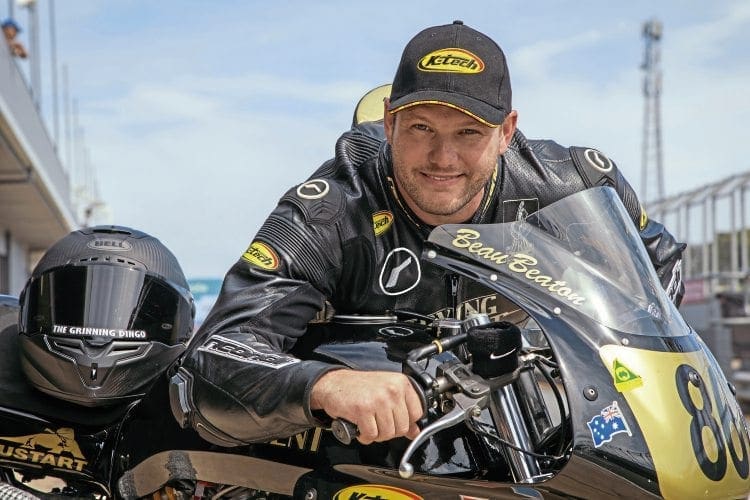 "I just said to them to get in front of any Aussie they could and just go for it. Ultimately we lost this year but we ended up with five riders in the top 10 overall. We will be back in 2021."
UK starts a new focus on the event
Team UK, which included several European riders in breach of a forthcoming Brexit, had a world view on the event. "After the years of Team Winfield we are starting afresh," said leader Tony Hart.
"This year we are racing with true period bikes. We even had two riders on 80hp Ducatis who weren't lapped. Rules are changing in the UK and Europe to allow 16-valve Yamaha engines in so we will come back with more competitive bikes built for more than just one event.
"Our immediate ambition is to encourage the Kiwi and Irish to return with a mix of professional and club racers."
Kiwi's killer effort
Jason Easton had big shoes to fill. The G50 McIntyre Matchless he raced had previously won an Australian Pre-1962 championship.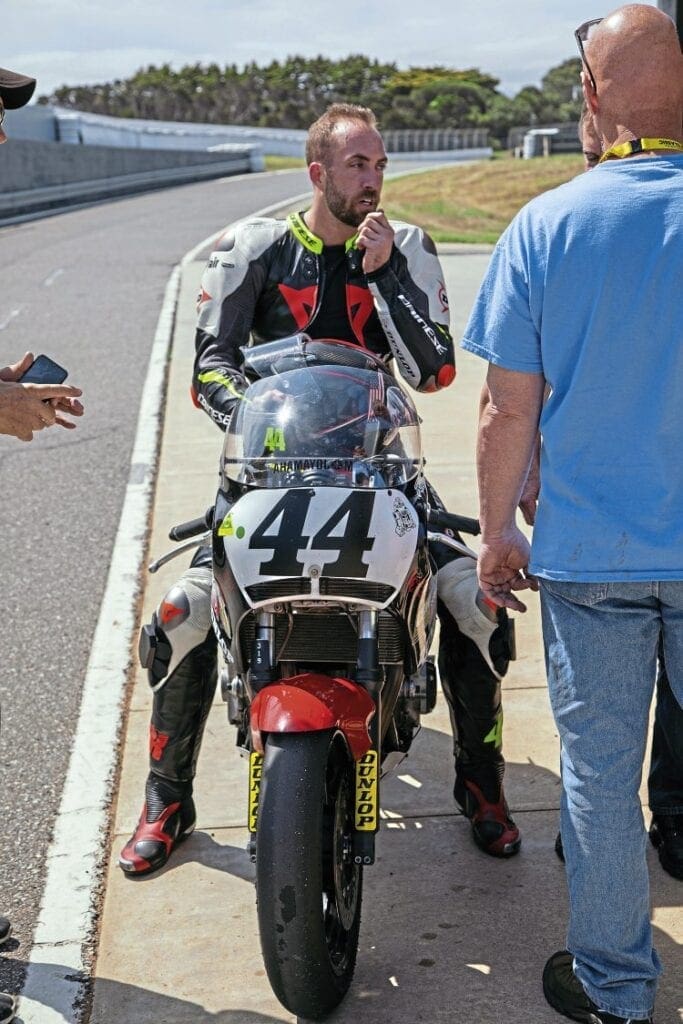 He didn't disappoint owner and tuner Ross Graham with some giant-killing efforts in combined classes. Also racing an early-1980s Yamaha two-stroke, he ended up with three trophies at prize giving.
View more images for this story and read more News and Features online at www.classicracer.com and in the May/June 2020 issue of Classic Racer – on sale now!
---
Advert

Enjoy more Classic Racer reading in the bi-monthly magazine. Click here to subscribe.
---