Classic Racer Archive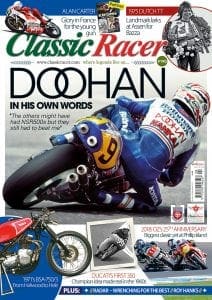 Three great images from moments in time when the racing was pure and those who did it took no prisoners. These photos come directly from the Morton's Media Archive and you can buy your own copies of any image in there – details are throughout this very magazine. Check it out.
Readers Write
Another passage of time has passed us by and the Classic Racer postbag once again bulges with missives from the masses about all things racing and classic.
A fine combination.
Paddock Gossip
Malc's been out and about and buried deep in conversation with many like minds for another slice of racing life from the four corners (plus that grubby bit by the bins) of the paddock. Here's what he found out.
Line Art: Mr Schwantz's GSX-R750
Seldom will you see a more perfect example of lines that cause an emotion in men and women of a certain age. This particular motorcycle was just made to be remembered.
Mick Doohan: In his own words
So Mick Doohan was a great rider but not much of a racing motorcycle developer right? Wrong. Mick was the complete racing package, which is why he stood on top of the pile for so long. The five-times 500GP World Champion explains how he did what he did on some of the meanest motorcycles on Earth.
Hailwood's BSA-3
An up close and personal look at the 1971 motorcycle that was instrumental in the rise of Hailwood. Mechanical prettiness laid large for all to see.
Tangerine Dream: The Roy Hanks story
Sidecars aren't the easiest of things to get going well. The Hanks clan could do it on three wheels and two. It's a dynastic tale that has long needed to be told.
The first Ducati 350
It was the creation of a Californian road race champion and it showed Ducati and the racing world just what happens if you give the Italian metal some extra size, which, in the 1960s, was something of a novel idea. Frank Scurria saw
the potential…
Alan Carter's book: Part two
More from the monumental book about Alan Carter's life on and off track at a time long lost to history. When a young Carter was tagged 'The Next Barry Sheene' it was either going to go well or go bust. Read this.
The 1975 Dutch TT
Significant for one reason above all else – the1975 Dutch TT at Assen was the first time a Sheene, B had stood on top of the podium in the 500cc class. Jan Burgers tells the story.
Radar: Wrenching for the best
Dave 'Radar' Cullen is the man whose face you almost certainly recognise, even if you have no idea who he is. His story though, now THAT really is a recollection full of the glory days.
The 25th Anniversary Phillip Island Classic
Our man Hamish headed out to the 'other' Island to take in the sights, smells and sounds of a quarter of a century of classic fun Down Under. Lucky sod.