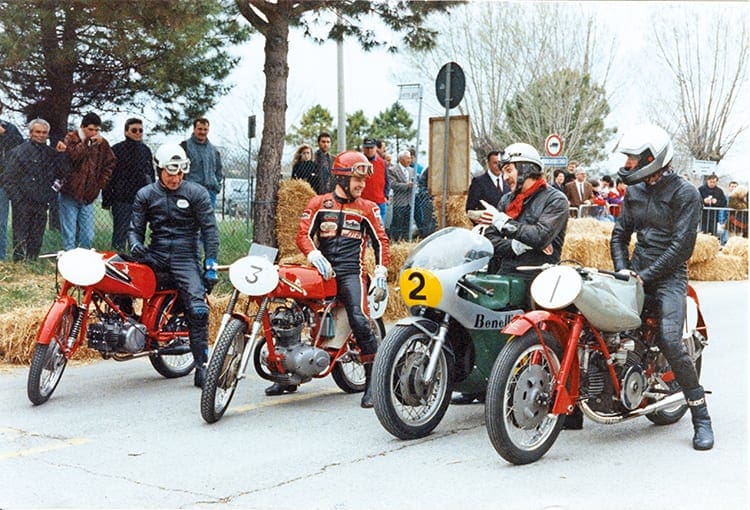 In the ultra-lightweight classes Eugenio Lazzarini was a force majeure, with 27 GP victories, two 50cc titles and another in the 125cc class. He was runner-up eight times and won four Italian crowns. As if that's not quite enough, it is worth adding that this tiny track master was one of the last of the breed to race home-brewed specials to the top step of the podium.
Words and pictures: Raymond Ainscoe
Born on March 26, 1945 in Urbino, at the age of 14 Lazzarini started work in Pesaro on Benelli's assembly floor but he soon found himself promoted by Mimo Benelli himself to the dizzy heights of the race shop, where he worked on the 250cc singles campaigned by Dale, Spaggiari and Grassetti.
He discovered that the relationships between the mechanics and the riders were often fraught. "The riders were convinced that they made the difference when they won, but the defeats were down to the bikes' inadequacies," recalled Lazzarini.
"And, of course, the mechanics held the opposite view. In about 1964, my colleagues talked me into racing, partly thinking that, as a decent mechanic, I would be able to diagnose the defects and improve the bikes."
However, the Benelli racers were pukka GP jobs, not suitable for the 'Junior' (or national) category, and the factory's sister company Motobi had already allocated its race bikes, so Lazzarini went to Bologna to buy a tired 125cc Ducati Marianna from Franco Farne. "It was really a museum piece which Franco kept in a cellar; it was all I could afford. But, when I was fourth in my first race at Modena, Motobi realised that I was more than just a good mechanic and instantly gave me a bike for the rest of the season. I won a round at Pescara but then fell at Vallelunga and my season was over."
In 1965, back on his modest Ducati, Lazzarini took a victory at Modena but lost the title to Motobi's chosen rider, Lombardi. Despite the fact that he was one of the group of mechanics making parts for the Motobi racers, Lazzarini was never an official Motobi pilot but, in 1968, came his Junior 125cc crown aboard a Motobi provided by Scuderia Imperiali (a substantial private team based in Rome).
Lazzarini thereby graduated into the ranks of the 'Senior' (or international) class of riders for 1969, which marked a turning point in his career, both on and off the track. "I was not yet a full-time racer but I just took one race at a time. And as I had been working on frame conversions, I decided to leave Benelli and set up my own workshop in Pesaro."
Then came his GP debut, aboard the factory 250cc Benelli quattro. Renzo Pasolini was injured and could not ride in the French GP at Le Mans. Benelli needed somebody to ride as back-up to Kel Carruthers and hopefully take points off other title contenders. Lazzarini took seventh place and impressed sufficiently to be given the bike for some Italian championship races. But the Lazzarini family was about to suffer a devastating blow.
Read more in the July/August issue of Classic Racer. On sale now.