McIntosh 25th anniversary: 1980 was a time when big-bore Formula One racing was catching on worldwide, and the crowds loved it! The bikes were big, made lots of noise and in the right hands they could sometimes take on production GP machines.
Words Terry Stevenson
Photographs Steve Parker, Terry Stevenson and TS archives
It was a time when many aftermarket European frame manufacturers were thriving, with the likes of Harris, Rickman, Egli, Magni, Moto Martin and Bimota all producing frames for large capacity motorcycles. And for more than half a decade New Zealand-built and Suzuki-powered McIntosh Formula One race bikes were at the top of their sport.
In the early 1980s there was nothing else available in NZ road racing other than aging Yamaha TZ750s and the odd Suzuki RG500 to race in the premier class.
There was a demand for quality race frames to fit around modified road bike engines, and Ken McIntosh helped fill the grid with race-winning motorcycles.
Kiwi Rodger Freeth won on his McIntosh debut back in 1980 on the original Keith Turner McIntosh Suzuki GS1000. Dave Hiscock raced the same bike to win the NZ Open Racing championship during the 1980/81 summer season, before taking the Yellow Coleman McIntosh GS1000 to Europe in 1982 for third in the World TT F1 championship.
He returned to NZ to earn his second NZ Open Racing title for McIntosh, and Freeth won the following year – the McIntoshes were racing motorcycles ahead of their time.
Early global successes turned heads and set Aucklander Ken McIntosh up as a worldwide producer of high quality Manx Norton racers, which continues to this day.
Early Oilfields
Motorcycle designer and builder Ken was in his mid-20s when he produced his first 'McIntosh'. But it all started when, as a 12-year-old, he was given a prewar Royal Enfield, nick-named 'Oilfield'.
He also helped his elder brother restore aging Indians from old parts, so Ken became interested in vintage bikes, picking up the remains of a 1932 Inter Norton at 14, which he still owns. A Norton Dominator soon followed.
One thing led to another and Ken started fixing his friends' bikes. In the late 1960s he bought a Norton-Vincent, called 'The Beast', but it turned out to be a dog!
Still only 17, Ken had to deal with a worn out engine but, after owning his Dominator he knew it should handle better so he imported an Egli frame to build up a 1000cc Egli Vincent.
Ken still owns that bike too, and takes up the story: "That taught me a lot of skills. Basically I did a fast apprenticeship in the evenings machining my Vincent parts, which taught me skills that I still use to this day, and that's what put me on the right path."
Ken became a qualified motorcycle mechanic and backed it up with the part-completion of an NZ Certificate in Engineering, but the writing was on the wall and motorcycling was sprouting a new icon.
Ken raced his outdated V-twin Egli, and in 1975 he won the first race he entered, although it wasn't long before he realised his real passion was in engineering. The bike was no slug either, as four-time world champion Hugh Anderson successfully raced Ken's Egli Vincent during the 1980s.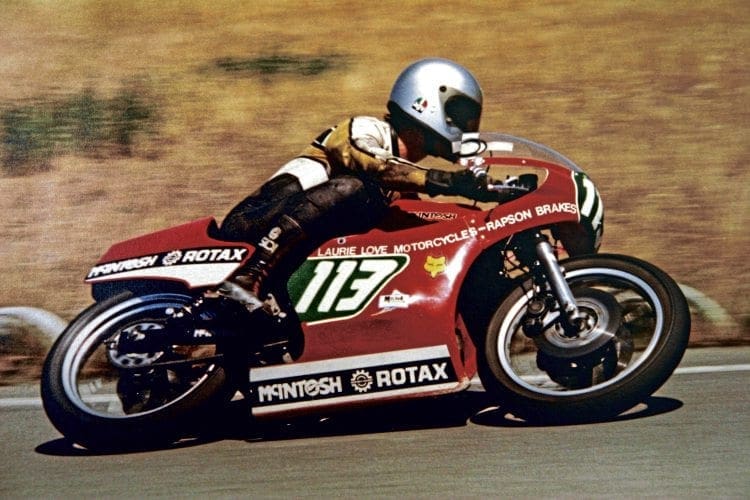 Honing his engineering skills Ken next built a frame for a Kawasaki Z900 engine and was part-way into building the frame after scaling off Egli Kawasaki photos, when he realised the Egli Vincent was a good design because the engine was part of the structure.
With a large backbone frame Ken realised it didn't suit the big engine so, aged about 22, he bought a drawing board and designed his very first McIntosh frame for the Z900 engine. It was completed in 1978 and still exits.
Ken went on to blueprint Bob Haldane's TZ750 frame (Mike Hailwood rode it at Pukekohe to refamiliarise himself before his great IOM comeback in 1978) and made three monoshock chassis for Trevor Discombe, Glen Williams and Norm McDonald.
Ken said these frames were inspired by Rob North's Trident, which he thought lacked strength in the steering head area.
The first McIntosh Suzuki
In 1980 Freeth was set to take delivery of a Suzuki RG500 from Coleman Suzuki, but it arrived late. Ken recalls: "He'd been pretty impressed with the look of the McIntosh Kawasaki and took it for a ride, so he asked me if I would adapt the design to take a Suzuki engine."
Sponsor Alan Skousgaard saw it and ordered a chassis, while Freeth organised 1971 world 500cc runner-up Keith Turner's 139hp Yoshimura GS1000 engine. With a borrowed engine and a loaned chassis, Ken built what became the first of many McIntosh Suzukis.
It wasn't only the frame, as he designed and made his own triple clamps, swingarm, fuel tank, fiberglass seat, and a small top fairing for that first McIntosh.
Straight off the shelf Freeth won all three races including the feature Champion Spark Plug Classic at the 1980 Hawkesbury meeting, near Blenheim. "He did 14 races on that bike and he got 12 wins.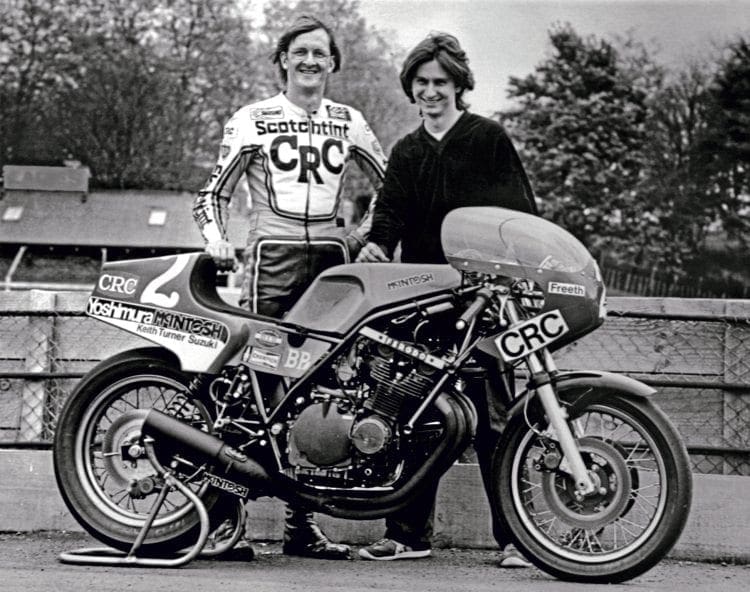 "One race he fried the clutch at the start, and he got knocked off at Manukau City, but it won every other race, beating the TZ750s," Ken McIntosh recalls.
McIntosh Suzuki Europe-bound
Ahead of its time, the engine is a stressed member of a very tight-fitting wrap-around frame which, even with a braced steel swingarm, was 4.5kg lighter than Graeme Crosby's 1981 works Suzuki XR69 F1 GS1000 racer! The bike tipped the scales at just 190kg, dry.
The wheelbase is 1450mm with a conservative (by modern standards) steering head angle of 26 degrees, and the trail is adjustable depending on the fork manufacturer and the fork yoke off-set.
The heavily triangulated steering head uses a large taper roller lower bearing with the bearing housings line-reamed after welding to ensure the steering head (and the bearing) are perfectly round.
The swingarm utilises an unusual roller bearing with a built-in ball thrust race running on a hardened spindle. The extremely rigid twin-shock swingarm is made of thin box-section steel with a triangulated support on the underside. Ken turned his own alloy hubs and spoked each wheel himself.
Suzuki star Dave Hiscock took over the Keith Turner McIntosh riding duties from Boxing Day 1980 at Wanganui's famous Cemetery Circuit, and he went on to win the NZ championship.
With Coleman Suzuki sponsorship and two Yoshimura GS1000 engines, Ken set about building a new bike for Hiscock to take to the 1981 Isle of Man TT, and onto the world stage.
The second McIntosh GS1000 became known as the 'Yellow' Coleman Suzuki. It was built to a high specification with Dymag wheels and the latest Suzuki RG500 front end including brakes with floating discs. Hiscock used it to finish 14th on his IoM debut in the TT F1 race.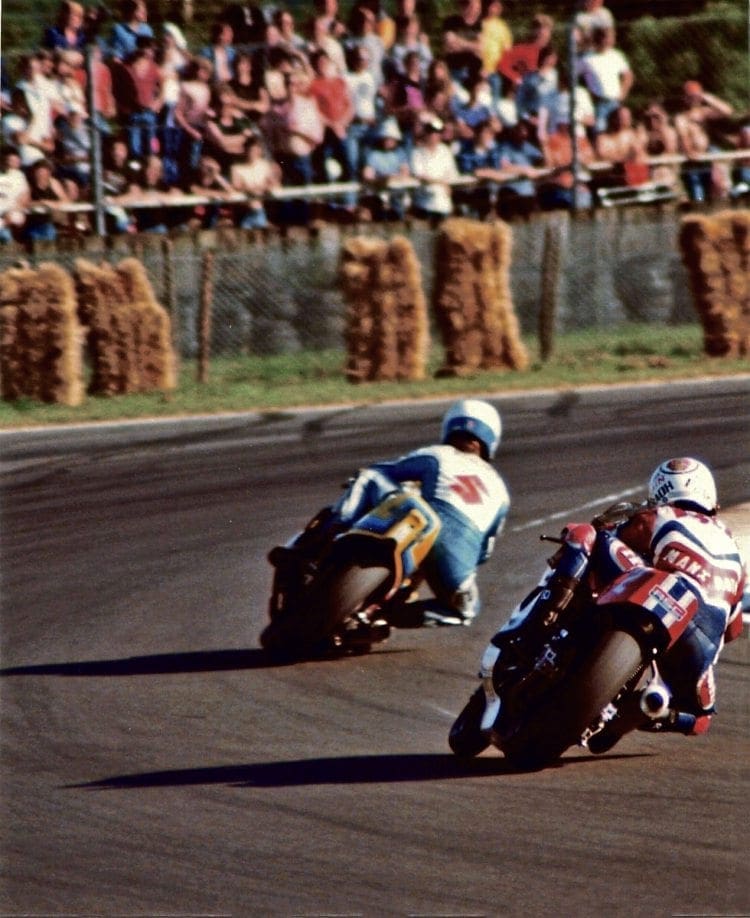 He raced it in the Forward Trust/Motorcycle Weekly British TT F1 championship to three fifths, a sixth and a seventh placing against factory-backed riders to finish eighth overall riding a bike with the frame and most of the running gear built halfway across the world.
His McIntosh Suzuki GS1000 was widely regarded as the most competitive privateer bike in the British championship!
Hiscox shines while Freeth flips
By now the ball was rolling for Ken's frames as demand increased. Dallas Rankine took delivery of his McIntosh Kawasaki Z1000 F1 race bike in 1981 after a couple of successful years racing his Harris-framed Moriwaki Kawasaki.
Another bike about to make waves that year was a 250cc Rotax-powered McIntosh. While several riders enjoyed success it was the late Robert Holden who stole the crowd's hearts with some stunning rides to victory.
A more experienced Hiscock returned to NZ and Boxing Day at Wanganui 1981 was his for the taking. Riding the 'Yellow' McIntosh GS1000 he posted two wins from as many starts in front of 12,000 fans. Mike Pero raced the new 250cc McIntosh Rotax to victory in both F2 races.
The late Freeth debuted his new GSX1100-powered McIntosh Suzuki at the same event, at the time saying: "It feels like a 350, I'm really surprised. I'm going around here a second a lap faster than on my RG. This bike has so much traction."
Both on McIntosh Suzukis, Hiscock went on to win his second NZ premier class championship after numerous battles with Freeth.
A third McIntosh was in the title mix by way of Yamaha veteran Trevor Discombe and his McIntosh TZ750.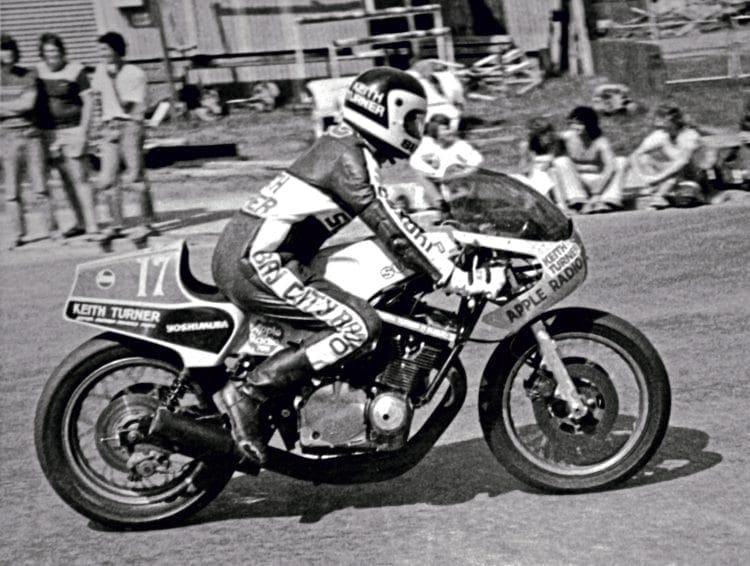 However, mayhem reigned supreme during the feature race at Bay Park after Freeth looped his big McIntosh on top of Discombe off the start, putting both McIntosh riders out of the race, which was won by McIntosh-mounted Hiscock.
Meantime, Andrew McLaren rode the McIntosh Rotax 250 to its first national level victory in the 250cc Racing class.
Victory at Bathurst
Even after two NZ premier titles and a strong European display, the McIntosh bikes remained internationally unknown until Bathurst 1982, held over Easter weekend in Australia. Raced over 500km the Arai 500 was regarded as one of the toughest races in Australasia.
After a hectic mid-race battle with Robbie Phillis, Freeth cruised to a two-lap victory, highlighting the reliability and sweet handling on the lighter McIntosh 'prototype'.
With 80 starters, winning the Arai 500 by such a huge margin brought immediate overseas attention to the McIntosh brand.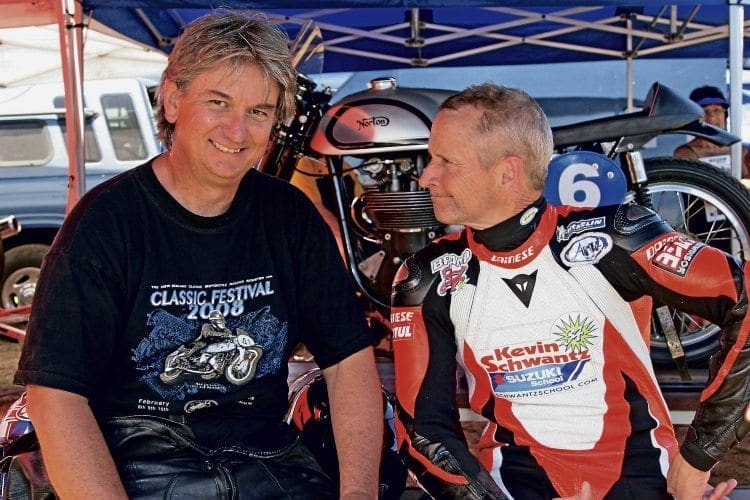 Australian Mick Hone then began selling Ken's 'Bathurst Replica' McIntosh road registerable chassis kits in Australia. Ken has made around 50 McIntosh road and race Suzukis.
McIntosh Racing Developments also sold hundreds of McIntosh swingarms for Suzukis and Kawasakis. "Rob Phillis won all his Aussie Superbike titles with my swingarms," Ken explains.
Having purchased the 'Yellow' McIntosh GS1000, Bob Toomey won at Wanganui's Cemetery Circuit on Boxing Day 1982 and some F1 championship races against Hiscock riding the new Steve Roberts-built Aluminium Monocoque GS1000, which he'd taken to Britain in 1982 with outstanding results.
Freeth picked up enough points to wrap up the renamed 1982/83 NZ F1 title – his first on a McIntosh Suzuki and amazingly the third straight New Zealand championship for Ken.
For the second year running a McIntosh Suzuki won at Hawkesbury 1983, the fastest road circuit in NZ. This time Norris Farrow earned the title on the fourth McIntosh Suzuki, a GSX1100.
Robert Holden bought the ex-Dave Hiscock 'Plastic Fantastic' Kevlar/carbon fibre bike for the 1983/84 NZ F1 championship, but after some great racing Holden and Freeth ended the season tied on points, which Holden won on countback of race wins.
Before Bathurst 1984 Ken produced an updated twin-shock race bike for Freeth to race in the 1984/85 season, with changes to the frame geometry. Ken expands: "We'd been making a few of them by then. When we made his bike it was built in the same batch as five road bikes.
"We welded on slightly different brackets to take the race bodywork. Other than that they were the same bikes, there was no difference between the race bikes and the road ones. Rodger took that one back to Bathurst and got second on it."
The 1984/85 summer season was looking to be even more promising as Ken built the long-awaited single-shock McIntosh chassis to remain competitive.
Freeth's monoshock McIntosh had a shorter wheelbase, revised and adjustable (steeper) steering geometry and a rising-rate linkage for the rear shock.
It worked as Freeth won on debut. Holden won more races during the championship, but with one round still remaining a McIntosh win cemented Freeth's second F1 title – the fourth premier championship for Ken in five years!
The 1985 Arai 500 endurance race at Bathurst was another great race for Freeth and his monoshock McIntosh – they won it by a lap.
The Compliment
Suzuki took notice of all these wins and openly included areas of McIntosh styling when it created the 1985 GSX-R750. This was perhaps the highest compliment of all to designer Ken, and fitting for all the hard work that went into the success.
But Freeth wasn't finished yet, as in November he won the 1985 Champion 300 at Pukekohe on his now GSX1150-powered monoshock McIntosh. In the lead-up to the 1985/86 summer season, Norris Farrow took delivery of his second McIntosh racer, also a single shock McIntosh GSX1150.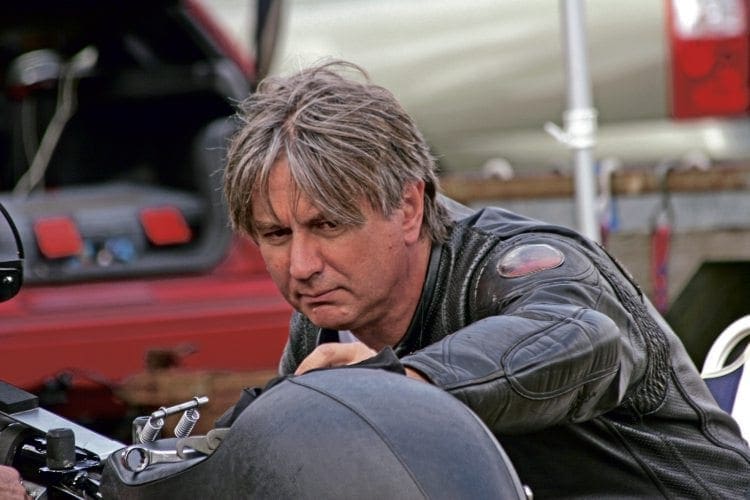 The season highlight was the December 1985 three-round Wynns International Series.
Top riders included Steve and Craig Trinder on RG500s, with returning Kiwis Gary Goodfellow and Richard Scott joined by Dennis Ireland, Peter Benson on a TZ750D (Crew Chief to 2006 MotoGP world champion Nicky Hayden and 2014 Moto2 world champ Tito Rabat), and Freeth and Farrow on the McIntosh F1 machines.
Freeth rode consistently to win the series, and the 'Flying Doctor' went on to capture his second NZ F1 championship in succession – Ken's fifth New Zealand premier title.
The writing was already on the wall however, as by 1985 production bikes were very fast compared to current racing machinery, in particular the GSX-R750 – let alone modified versions. It was the beginning of the end for the Formula One class worldwide, which eventually morphed into Superbike.
The Bathurst replicas
Ken produced around 50 complete McIntosh Suzuki bikes and frame kits until the last production run in 1986. Of these, 14 were race bikes.
The rest were built in batches, either as complete road-registerable motorcycles or as kits for Suzuki owners. Those first twin-shock models were called Bathurst Replicas and weighed almost 50kg less than the road-going GSX1100. They were race bikes with lights.
After Freeth's 1982 Bathurst win the road bikes became very popular and were sold mostly as a kit comprising frame, swingarm, forks yokes, seat, hand-built 24-litre alloy fuel tank, fairing, footrests and handlebars.
The kits were all painted red, with a black frame. Many of them were exported to Australia. On the back of another Bathurst victory in 1985, the Bathurst Replica was rebadged 'BR2' and redesigned to reflect the current race bike incorporating a larger fairing and a rising rate linkage with an adjustable White Power monoshock.
The three-piece fairing had integral indicators and was even offered with a pillion seat option. A pair of Marzocchi M1R adjustable forks adorned the front while 18in wheels were offered in either cast magnesium or traditional McIntosh spoked wide rims.
The rolling chassis would accept any Suzuki GSX750, GSX1000, GSX1100 or GSX1150 powerplant.
Fancy frames
Ken has built several other interesting motorcycles. The first McIntosh road bike he produced was in around 1981, fitted with a Kawasaki Z1000 engine.
Another early McIntosh race frame was sold as a rolling chassis in the early 1980s, featuring a turbocharged Kawasaki Z1R engine producing 175 rear wheel horsepower and it could wheelstand in fourth gear.
Drag racer Tony Astell approached Ken to build a 3.1m wheelbase rolling chassis for drag bike racing in 1984. Astell went on to clock an 8.09sec quarter at 278.42kmh, a NZ record, running a highly modified Suzuki GSX1498cc engine in the quickest McIntosh frame of them all.
Ken built a short 1430mm wheelbase frame to fit around a Harley-Davidson XR1000 V-twin motor in 1985, using an Egli-type frame with a large diameter backbone.
And the rear suspension had a non-linkage monoshock. Lindsay Williamson was the rider of this unique machine featuring one of Ken's beautifully sculpted fuel tanks as a highlight, weighing in at a paltry 175kg. This bike won the first NZ BEARS championship.
Another notable creation was a 1000cc Vincent HRD-powered speedway sidecar made for Bill Buckley. There were other frames for various bikes that Ken produced over the years, plus a good number of McIntosh swingarm kits for road and race bikes.
The classics
Spanning only six years McIntosh Suzukis won five New Zealand premier class championships, 29 titles in NZ and Australia, two Bathurst wins and took eighth place in the British Formula One championship.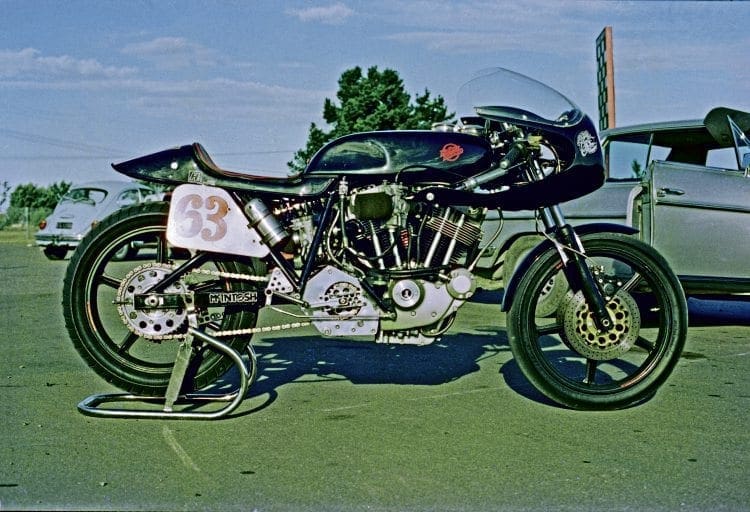 Then there was the McIntosh-framed Rotax 250 on which Mike Pero, Andrew McLaren and Robert Holden won numerous races, not to mention a batch of six race-winning McIntosh frames built especially for Yamaha TZ350 race bikes in the early 1980s, and three TZ750 monoshock frames before that.
It could barely get any better than that, but it did. By the late 1980s, Ken had turned his attention to building classic race bikes, which was one of his passions.
Ken has been a leading figure in organising the annual Classic Festival at Pukekohe. His hard-earned experience placed him in an ideal position to move onto another level of motorcycle engineering and restoration.
He first restored an ex-Peter Pawson 350 Manx Norton for Billy Apple. Apple also had enough parts to build a Manx 500, except for the frame, which had similar construction methods used in the production of the McIntosh Suzuki.
Ken recalls: "So it was relatively straight forward to make a Manx Norton frame. Originally I thought we'd make five or 10 – I'd sold 10 before we'd finished the first batch!"
Business took off and building McIntosh frames for Manx Nortons grew into a thriving international business. Ken also became involved with building complete replica bikes without using any Norton parts. "We make about 50% of the bike ourselves, which is all of the chassis components, the front fork assemblies and fittings." Many are exported.
More recently McIntosh Motorcycle Racing Developments has been buying Summerfield engines from the UK to build complete bikes. Summerfield also buys the handmade McIntosh frames.
Each motorcycle is built to customer request with a large variation in individual specifications. Although the company specialises in Nortons, Ken's reputation for quality restoration has also grown to international level, with Egli Vincents, a 1950s works Grand Prix Jawa 500 and a great many Manx Norton restorations.
"Some of our customers with motorcycle collections twist our arms to get us to do their bikes." These have included the famous Mike Hailwood 500cc four – the only one outside the factory, owned by Californian Virgil Ellings.
"The other bike we've done is a 1950 works Norton for Peter Bloor. That is the only surviving model, we took that back to the Isle of Man in 2015 and lead the parade with Bruce Anstey riding, and we had Geoff Duke's son riding it at Jurby airfield and it was at the church during the Geoff Duke memorial service, under the altar.
"In the end I rode it into the Legends dinner at the Isle of Man, which was a big thrill, and it was pride of place at the dinner. The bike is one of, if not the most, significant Norton in Norton's long racing career because the featherbed Norton became something where other bikes were all judged to that standard."
McIntosh Manx Nortons can be found in many parts around the world. "We have bikes in Japan, America, Canada, Australia, Finland, Norway, Germany, France, The Netherlands, Belgium, Italy and South Africa, in fact most of the places where they have or have had Grand Prix racing.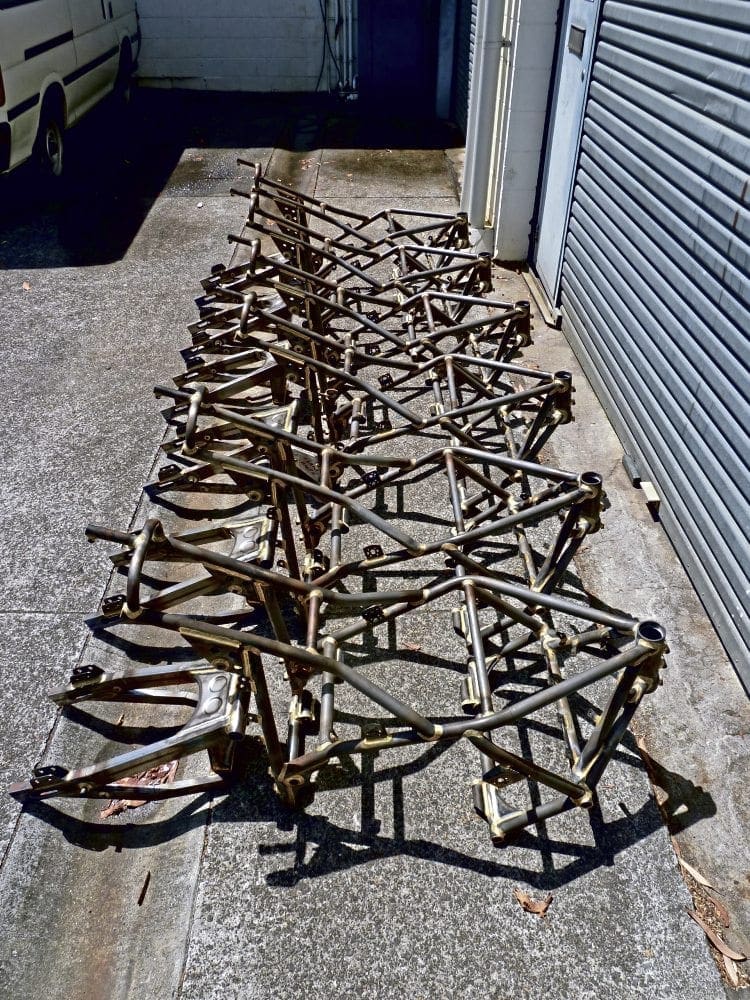 "Last year we sent two chassis to a person who lives on the Isle of Man and they wanted my chassis in particular.
"We make them to a standard where I'm happy to put my name to them. They've been remarkably trouble-free when you consider that we've made over 400 Manx chassis, and the warranty claim for the business is zero!
"The Bruce Anstey machine, my own bike, has now done six years and 55 races for 54 podiums. If I'd had half of that I'd be satisfied. It has been on the podium in every race it finished and the only race it didn't finish was at the Isle of Man in 2013 when it broke its piston, and it was in second place.
"That chassis was built in a batch with all the others, there wasn't anything different to what the customers got, and it was the same for the McIntosh Suzukis. Rodger Freeth's Bathurst bike that he raced in 1983, I built six, five were road bikes and one was a race bike and he just picked one from that batch."
25th anniversary
McIntosh GSX1100
The popularity of Post Classic racing has brought renewed interest in the highly collectable McIntosh race bikes. Started in 2007, a special 25th Anniversary (from Freeth's 1982 Bathurst win) twin-shock McIntosh Suzuki with a GSX1100 engine was built as a one-off for enthusiasts Ross Peden and Dave Jupe, finished in 2010.
Ken expands: "That was a challenge because I still had all the jigs, drawings and everything, but after 30 years it was a question of Pete Welch and I, Pete has been working for me for that entire time and helped build the original ones, so we just had to figure out what all the jigs were and how things went together.
"We succeeded and built the bike exactly to the original spec, in some of the cases using the original pressings and fittings that were left over from the original batch. That was pretty neat."
Internationals Andrew Stroud and Cameron Donald have won many races with this special machine, and so the legend lives on. "It holds lap records and won many races.
"At the Barry Sheene meeting a couple of years ago we won there and Cameron broke the lap record three times in three laps. We had a bike there, which is virtually identical to what Rodger Freeth raced at Bathurst in 1982, and it's been a long time since we'd been there."
Looking back, Ken remains 'totally' surprised from the success of the original line of McIntosh Suzukis, and very proud of the results.
"It really does put a smile on my face, at the end of the Barry Sheene meeting (Australia) I said to one of the journalists that it was quite ironic that we have the smallest tyres – we had a 165 rear tyre, with the smallest carburettors of anyone running a GSX engine, we had the smallest forks at 37mm, the smallest front brakes being 280mm Brembos, we had the smallest capacity engine at 1135cc, and we had the smallest lap times!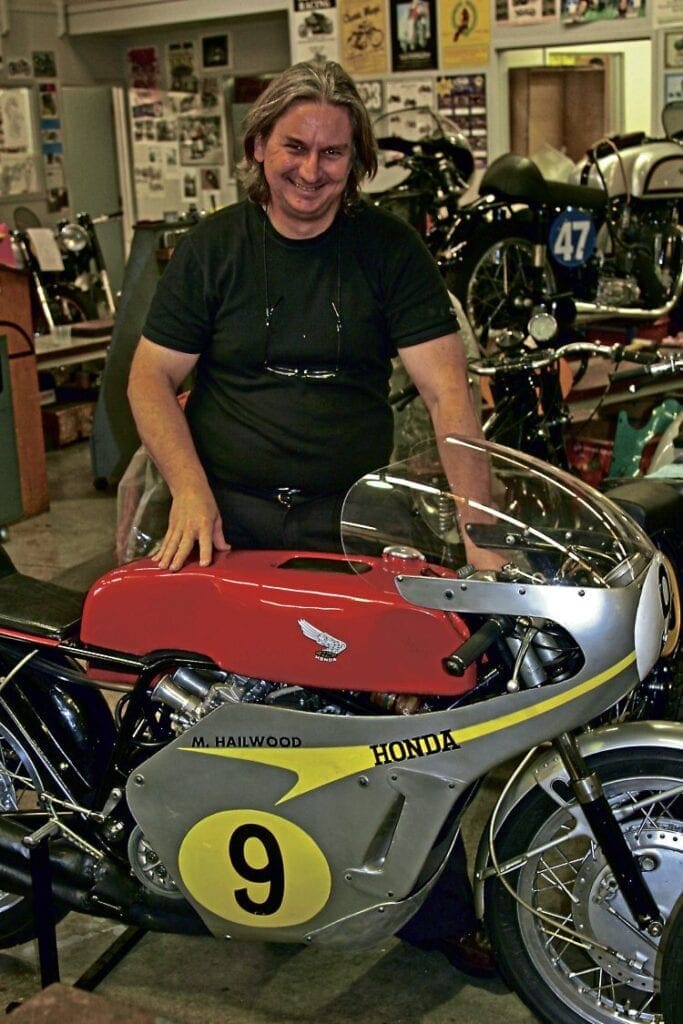 "We've built the engine to endurance racing spec, the engine in that bike is essentially what we won with at Bathurst in 1982, but it's 1135cc. A standard engine on the old models is 1075cc, and 2mm oversize pistons bring it up to 1135cc."
Isle of Man TT winner Cam Donald explains what the McIntosh Suzuki is like to race: "It is very sweet to ride. The chassis is well balanced, I've been lucky enough to ride a lot of Period 5 Superbikes and I'd say it is the sweetest handling of any I have ridden.
"A very special race was at the Barry Sheene at Eastern Creek, and beating one of the fastest Hondas that we have in Oz, but they were on Period 6 Pre '89 bikes. I was losing nothing to them on power, just a little on brakes and turning. It punches well above its weight, especially because it is so true to the period, I think that is the most special thing."
Peden and Jupe are planning a 2016 Isle of Man Classic TT assault with Donald aboard. They have a lot of work ahead of them and welcome any support in their effort to bring a McIntosh Suzuki to the IoM for the first time since 1981.
The post classic future
Ken certainly doesn't need the work, however after over 30 years a small production run of his highly successful F1 race bikes is nearing completion, built using the original jigs.
"We are finishing off the last of six McIntosh Suzukis, some of them are race bikes and some are road bikes, so I'm building those now. The race kits have gone to Australia, they're there now, but the road kits I've held back until I do my road bike here and I have the headlights and everything mounted into it," Ken says.
All six are pre-sold and will mark the coming of full circle for Ken and Pete Welch at McIntosh Motorcycle Racing Developments.
"It stated off as a hobby and when I started I didn't realise how far it would go and how many doors it would open to me.
"I have to say when I go to places like Goodwood and the Isle of Man, Italy and America – the amount of positive feedback I get is quite humbling really."
Read more News and Features online at www.classicracer.com and in the latest issue of Classic Racer – on sale now!