This is the story of a solo Grand Prix World Champion's return to the TT. It happened during a time when the majority of the world's leading Grand Prix riders were anti-public roads.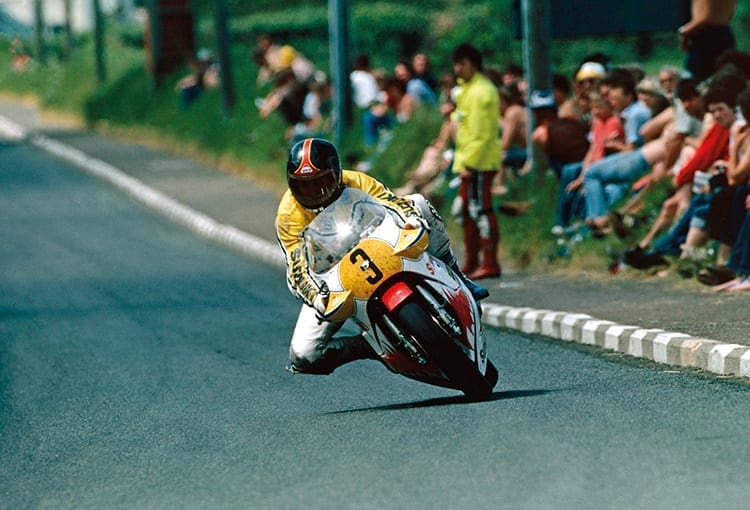 The days were numbered for Finland's Imatra circuit, the fearsome Brno circuit in Eastern Europe as well as the Nurburgring. By the mid-1980s they would all vanish from Grand Prix racing.
With pure road racing and the TT now experiencing a huge resurgence and extensive media coverage worldwide, it is perhaps hard to imagine that it was all so different in the 1980s.
The top Grand Prix racers of the day shunned circuits like the Isle of Man and Ulster Grand Prix, but were more than happy to take in the big money Dutch and Belgian street circuit meetings such as Sint-Joris-Ten-Distel, Chimay and Mettet.The TT, post-Hailwood comeback, had been in something of a free fall, with only the TT formula classes carrying world status, largely only contested by the works UK based teams and riders, albeit in a sporadic series with Ulster's Dundrod, Holland's Assen and Vila Real in Portugal hosting the early incarnations of what ended up becoming the forerunner to World Superbike racing.

Grand Prix racers who would race on The Island were few and far between with only a smattering of riders such as Alex George, Jeff Sayle and Dennis Ireland among the notable exceptions. The main bulk of talent came from the mainland UK and pure road racing mecca Northern Ireland.
Although the organisers regularly scoured the Grand Prix paddocks of Europe in an attempt to lure riders to add prestige to the event, which by the 1980s boasted over £253,000 in prize money and individual start payments – it was still a hard sell to have a Grand Prix rider commit to at least two weeks on the Isle of Man. Some star riders eventually tempted included Dale Singleton, Boet Van Dulmen and Keith Huewen who at least came over the Irish sea to try the event, and by their own admission pick up a pay cheque.
One rider, however, standing head and shoulders above all his Grand Prix counterparts at this time was Jon Emerald. Ekerold, a renowned hard riding, no nonsense rider already relished racing on the shorter road circuits in Europe and had achieved many successes abroad. He was never going to be a rider who simply rode around a few laps to grab appearance money (even if a few of the star riders of the time were openly grumbling about how much the ACU had paid the then reigning world 350cc champion to make his first appearance at the TT since 1976).
Jon would prove to be more than capable of taking a race to the ingrained road talents of the day such as Mick Grant, Chas Mortimer, Steve Tonkin and Charlie Williams.
Heading out on a hit-and-miss practice week wasn't exactly the best of ways for Ekerold to relearn the Mountain course though, because he also had prior continental commitments to deal with during the fortnight. It was a tough time made busier with a lot of commitment and riding to juggle back and forth. Ekerold says: "I returned in 1981 and made the mistake of thinking it would only take a few laps to refresh my memory – I only arrived a day before training began.
I soon discovered that I had to learn the track all over again from scratch, which, considering I was also competing in two internationals in Europe over the same period, wasn't going to happen." On the weekend between practice week and race week, Jon arranged for ex-racer Rex Butcher to fly him to the Continent in his twin engined Beechcraft Baron for a race meeting in Chimay, Belgium.
Finishing the invitational race abroad, Ekerold's thoughts turned back to the 37.73-mile long track. En route in the small plane, there was trouble brewing though as the weather closed in just outside of Liverpool – so much so that it looked as though the plans might be sidelined with a forced landing as it got rougher and rougher.
Butcher had other ideas though as it turned out he had a hot date that evening in Douglas. "As we approached Ronaldsway airport, visibility was down to zero, and as we flew through the darkness and dense fog, with the rain lashing the windscreen. I glanced at Rex who was huddled over his instrument panel as the control tower attempted to talk us down, and I noticed beads of perspiration collecting on his forehead. "I strained to catch a glimpse of something, anything, expecting the cliff face next to the airport to be the last thing I ever saw, but when we were about 10 metres off the ground we suddenly broke cover and there, directly below the wheels, were the landing lights and the runway.
It was probably the best bit of flying I've ever seen." Shaken and stirred by the aeronautical adventure which Butcher considered a piece of cake, a good night's sleep would be needed for the upcoming Junior TT race. With his regular Grand Prix machinery overseas, Ekerold was fortunate enough to pick up a works Armstrong ride to supplement his Harris 500 TZ Yamaha outing for the main Senior and Classic races.
After posting the fastest time in practice (106.68mph) on the petite Bolton-made bike, Jon had high expectations of a result on a bike he considered to be fabulous to ride. Sadly, the bike never performed as expected in the race, and on the fourth lap, while lying second behind his Armstrong team-mate Steve Tonkin, the big end bearing decided to eat itself and the bike ground to a halt.
In the Senior 500 and Classic TT events he rode the Harris Yamaha, in typical Manx fashion the weather had closed in and left conditions rather damp and tricky. "I didn't want do anything to jeopardise my world championship title chances, so I must admit I didn't put my heart and soul into it, with predictable results.
A 13th place in the Senior and a non finish in the classic were all we could muster, so not really a week to write home about. Even so, I was already looking forward to 1982 as I had every intention of returning to set the record straight." In the 1982 season Ekerold returned with his strikingly painted 'Shark Tooth' RG500cc Suzuki. He had been racing in the 500cc Grand Prix after relinquishing his 350cc GP crown to arch rival Toni Mang the previous year, and arrived on the Island wanting some sort of revenge after the bad luck-dogged and lacklustre performance the year before.
"I went to the Island in 1982 on a mission and that was that I was there to win. Nothing else was going to be acceptable to me. As well as my trusty RG500 Suzuki, Armstrong again provided me with a mount for the Junior TT event to bolster my chances".
The week started poorly when, less than three miles into the 250 race, the tandem twin Rotax engine seized solid, and that was that. Further inspection after the race and the trouble was traced to a faulty ignition. A bitter end to what promised to have had the South African challenging eventual winner Con Law on the Waddon Ehrlich. Although eluded of Junior TT success, the main focus was getting results in the Senior and Classic events. Brilliant sunshine greeted the senior field as they basked in its summer glow as the assembled riders lined up on the Glencrutchery road. "After a fairly cautious first lap, I got down to it. Unlike several other top competitors, I had a standard fuel tank which meant two stops in a six-lap race.
It was a good example of my lack of TT experience, as an extra litre meant one could get by with only a single stop. After refuelling at the end of lap two, my chain started jumping the rear sprocket under hard acceleration, forcing me to pit again at the end of lap three in order to adjust the chain. Of course, big Dave Johnson, who was spannering for me that week, had no idea why I was pulling in, and by the time he had the right tools out and the chain readjusted, we were a minute-and-a-half in arrears.
"With a third pit stop to refuel at the end of lap four, I really thought any hope of victory had vanished, so I was very surprised to see a P2 on my pit board as I flashed past the Grandstand  to start my sixth and final lap . The bad news was that I was still 48 seconds behind the leader, Norman Brown on the Hector Neill RG500 Suzuki. Nevertheless, I put everything I had into that final lap, but it just wasn't enough in the end. When the flag fell I was still eight seconds shy of victory, and although I knocked 13 seconds off the existing lap record on my final lap, Charlie Williams on the Mitsui TZ500 Yamaha went one better though by besting my time by a second to grab the new 500 record at 115.08mph mph.
"Williams was totally out of luck and had earlier pulled in at Sulby only to notice a kinked fuel pipe and lost a huge amount of time but like myself just kept pushing on at record pace."
Jon was bitterly disappointed as the chain problem had been entirely his fault, as the make they were using needed to be run in at least once before being used in a race proper.
These type of events are all part of the challenge of taking on the TT course but one thing was certain, there would be no repeat of this mechanical issue as the Classic TT was next in the crosshairs for the determined ex-world champion.
Full story in Classic Racer issue 194