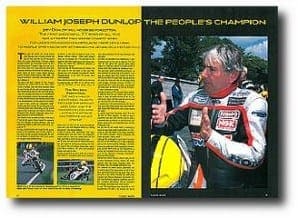 This June the cheers for racing legend Joey Dunlop were echoing around the Isle of Man, and the rest of the world, when the quiet Ballymoney Freeman added another chapter his incredible record by win­ning three more TT races to take his total to 26. The richly deserved congratulations and cele­brations turned to sad silence on Sunday July 2, when news of Joey's tragic death became known. William Joseph Dunlop, MBE, OBE – the King of the Roads – was dead, and nobody want­ed to believe it.
The sport had been robbed of 'The People's Champion' by a race crash at the Tallinn street circuit in Estonia. Joey was killed instantly when his 125cc Honda left the track and smashed into a tree. Motorcycling had lost one its all time greats. I had the privilege and pleasure of following his career and getting to know the man both profes­sionally and personally. Joey Dunlop was modest of his achievements, yet very proud of his family. He was of few words, but immensely single-minded and determined. He was focused on his machine preparation and racing, but had a wide vision of the world and the needs of those less fortunate than himself, especially under-privi­leged children in the Third World.
Joey loved to win, no more so than at this year's TT and at last year's Ulster Grand Prix, when he beat the Yamaha of David Jefferies, who had scored hat-tricks at both the North West 200, and the TT.
He was a perfectionist with regard to the prepa­ration of his machines, and in every aspect of his riding. He also accepted nothing but the best for his family: a simple man, who never aimed for the glory that came his way.
Service tribute
However, as Rev John Kirkpatrick said in his funeral service tribute: "Fame and fortune were not to change him. This was one of the qualities that drew admiration from those who would not know the difference between a Honda and a Hoover."
From the day he received his first trophy, for fifth place in the 200 class at the 1972 Mid-Antrim I50 in 1972, through five Formula 1 World Championships, to his 26th TT victory, Joey never changed.
Even after he received the MBE for his services to motorcycling, the OBE for his charity work and the Freedom of his native town of Ballymoney, he was still the same self-effacing, quiet Joey, who was happiest when on a racing motorcycle – his natural habitat.
Unlike so many other sportsmen, who have achieved much less than Joey, the unequalled success did not have any visible effect on the man, and what a record of success it was.
His TT wins are now part of the history book, but still make for interesting reading. His first win came in the 1977 Jubilee Classic race, riding John Rea's Yamaha. He also had another Classic race win in 1980.
He also scored five 125 wins, eight 250 victories, four Senior TT successes and seven Formula 1 wins, being unbeaten in this class between 1983 and 1988.
His final, and probably most impressive, F1 per­formance was at this year's meeting. For that race he was given the special Aaron Slight engine to hopefully restore the good name of Honda, after their defeats by Yamaha in 1999. This put Joey under tremendous pressure, as Bob McMillan of Honda said in his tribute: "Joey was not a happy man, even though we had got him the best bike we could find. During practice he could not keep his feet on the pegs along Sulby Straight. Although unhappy, he kept it to himself and then told us privately, and despite the difficulties, he went on to win the Formula 1 TT after a decade of trying."
Included in Joey's 26 TT wins were three trebles. In 1988 he won the 250, Senior and Formula races. In 1994, he tasted success in the 125, 250 and Senior races, and this year he won 125 and 250 races as well as in the Formula 1.
In additional to his achievements in the Isle of Man and at the Ulster Grand Prix, Joey had thir­teen wins at the North West 200, mainly during the I980s.
In 1979 he won both Superbike races. This was the first of three doubles. In 1983 he was a Superbike and 500 class winner, and in 1985 a Superbike and 250 winner. In 1987 he went one better, winning the two Superbike races and the Production race.
His last win at the North West, a meeting at which he was never really comfortable, or inter­ested in, after the death of his fellow members of the 'Armoy Armada' – Mervyn Robinson and Frank Kennedy – was in 1988.
Although he continued to race there, his heart was not in the meeting, but it was a different story at his 'home national meeting' – the Mid-Antrim 150 road races. Over a period of 28 years, Joey scored fifteen wins at the Mid-Antrim, a record only equalled by his arch rival and cap­tain of the opposing 'Dromara Destroyers', Raymond McCullough.
Raido Ruuter, the director of racing from Estonia: "Many people in Ireland feel that he is a big man, but I can assure you that he is even bigger in Estonia. He was our people's champion, a hero, a friend and a great ambassador for his sport, for Ireland and for Ballymoney. We will never see the like of Joey Dunlop again. Our loss is as great as yours."
His first win was in the 500 class in 1975, on the six-mile Rathkenny Circuit, where the other winners that day were Courtney Junk, Ian McGregor, Ray McCullough and Steven Cull.
The mention of these names underlines the incredible span of his racing career, as all of them have long since retired from the sport. They were also part of the 'Armoy Armada' era, when Joey together with Mervyn Robinson, his brother Jim, and Frank Kennedy waged an unofficial war with the "Dromara Destroyers" led by Raymond McCullough, Brian Reid and Trevor Steele.
In 1979, The Road Racers was produced as a TV documentary for BBC 2 by Dunlop fan David Wallace. It told the story of the exploits, hard­ships and dedication of Messrs Dunlop, Kennedy and Robinson. Now out as a video, it will surely become a valuable record on racing history, showing graphically Joey's early days in racing. In his fifteen Mid-Antrim wins Joey had one tre­ble and three doubles, and he still holds the 250 lap record for the current Gough circuit at 107.40 mph, which he set in 1994, the year he scored his treble.
He achieved his first double in 1979 in the 350 and 750 races, and the following season he won the 250 and 350 races, with Donny Robinson tak­ing the 500 race win and Sam McClements the over 500 race victory.
Concentrating on the TT
It is interesting to note that from 1982 to 1986, when he was concentrating on the TT Formula One World Championships, he had only one win – in 1982 in the 750 race. His 1994 treble at the Mid-Antrim came with victories in the 125, 250 and Open Class races, and his last win was a year later in 1995, in the 125 class.
At other national Irish road races he scored over one hundred wins, and in the Isle of Man his tally of national wins is 42, made up of 31 at the Southern too, between 1976 and 1999, and eleven at the Steam Packet races, from 1991 to 1999.
In 1995, he was voted Irish Motorcyclist of the Year for a record seventh time. This was only one of the many honours bestowed upon Joey. He was Motor Cycle News Man of the Year in 1984, two years before he received his MBE, which was followed ten years later by the OBE for his charity work.
That was another aspect of Joey's character which endeared him to people at home and abroad. His love for the children of the Third World was only surpassed by that for his own family.
His mercy missions to Romania and Albania were always made alone, as was his fatal trip to Estonia. His reasoning being that he could get extra goods into the van in the space that would be taken up by a passenger.
On his first trip, he encountered great difficul­ties with the border guards until they discov­ered who he was. After showing them a photo­graph of himself in a copy of Motor Cycle News, which had been lying on the dashboard, they gave him a letter to show to any other officials wherever he went.
As he explained: "That letter was better than any official document or passport. After that I had no more bother, and was able to go any­where, and meet the people that mattered in the orphanages."
In addition to his two national honours, Joey was made a Freeman of the Borough of Ballymoney in 1995, and was the first recipient of the prestigious 'Diploma of Outstanding Merit – the Joey Dunlop Trophy' presented by Arai Helmets, the MCUI and the Enkalon Motor Cycle Club.
If fully documented, the achievements and exploits of Joey Dunlop's life story, short as it was covering a mere 48 years, would fill a volume.
It would only be equalled by the mass of tributes, verbal, written and recorded by television for posterity, and witnessed by the huge crowds which made their way to Joey's Bar to lay floral tributes and cards, and who attended his funeral. More than 60,000 people thronged the Garryduff Road to pay their last respects to the 'King of the Road'. I will never forget the scene as thousands stood in silence during the funeral service, nor the many tributes paid to Joey by the large num­ber of dignitaries who were in attendance.
Ulster-born Minister for Sport Kate Hoey was accompanied by her counterpart from Eire, Dr Jim McDaid, Northern Ireland Minister Michael McGimpsey, the Manx Minister for Tourism and Leisure, David Cretney MHK, the Rev Dr Ian Paisley MEP and Deputy First Minister Seamus Mallon MLA were also present.
Raido Ruuter, the director of racing from Estonia, was there and expressed his nation's feelings. "Many people in Ireland feel that he is a big man, but I can assure you that he is even bigger in Estonia," he said. "He was our People's Champion, a hero, a friend and a great ambas­sador for his sport, for Ireland and for Ballymoney. Today in our country, the shops and businesses will be closed at the time of his funeral. We will never see the like of Joey Dunlop again. Our loss is as great as yours." Among the motorcycling greats who attended were Geoff Duke, Tommy Robb, Mick Grant, Charlie Williams, Philip McCallen and Richard Creith. From the Isle of Man, where the service was broadcast live on Manx Radio, came Geoff Cannell, Peter Kneale, Jack Wood and George Ferguson.
Grand Prix motor racing star Eddie Irvine flew in to pay his respects as did Ron Haslam and Jim Boyce, President of the Irish Football Association.
A couple of lines from the many tributes paid to Joey, made by the Rev John Kirkpatrick, summed him up for me. "He was a man of excep­tional talents. He made the difficult look easy, and the dangerous look safe – a genius that fame and fortune did not change."
In the future weeks, months and years, the impact of Joey Dunlop's life on his chosen sport, and on so many people throughout the world may become known, but one thing is absolutely certain, there will never be another like William Joseph Dunlop, MBE, OBE. As his manager David Wood said: "When they made Joey Dunlop, they broke the mould."
View original article