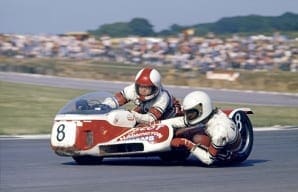 Fergus Anderson won the solo 350cc world title in both 1953 and 54, riding a factory Moto Guzzi.
He lost his life at an international meeting at Floreffe, Belgium, in May 1956 at the age of 47.
Jock Taylor took the sidecar world championship in 1980, with a Swede, Bengt-Goran Johansson, as his passenger. Two years later Jock was fatally injured at the Finnish GP at Imatra in August, 1982.
Jock's sidecar career started as a passenger, not a driver.
Scottish sidecar competitor Kenny Andrews, who was born in Smethwick, but who moved north of the border when very young, was in the Goblin Hawe, a pub in Haddington, East Lothian, near Taylor's home, having a drink with his wife one Saturday night in early 1974.
Jock and some friends, including Charlie Swanson, later to be Jock's mechanic, were also there.
Possibly fuelled by alcohol, Jock was heard to declare that racing a sidecar outfit was easy!
Andrews, aged 27, suggested if Jock thought that was the case, then he should be at the East Fortune circuit early the following morning for a practice day.
There were two big shocks the following day.
Read more in May/June edition of Classic Racer