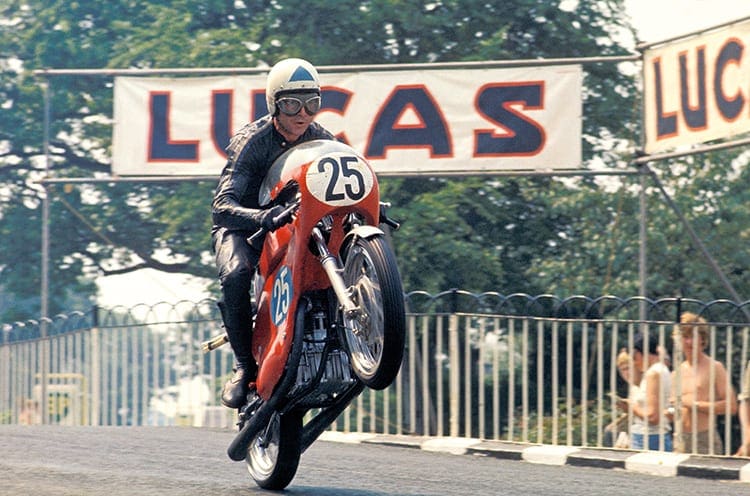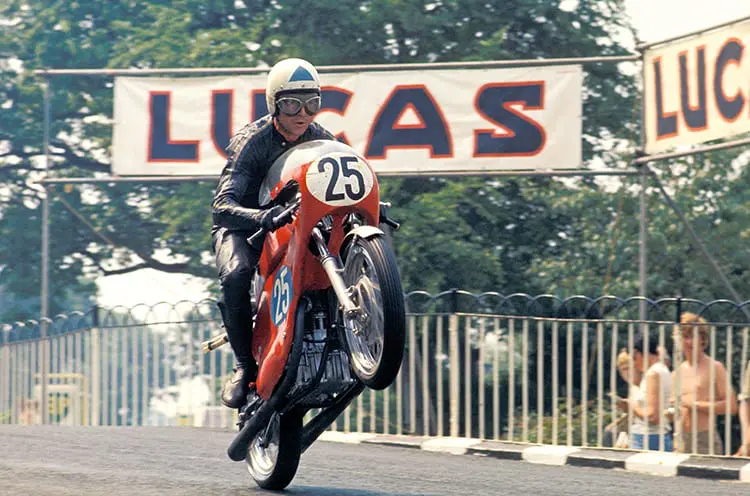 Qualifying a written-off road bike on the front row of a Grand Prix grid ahead of Phil Read and Jarno Saarinen was just one high point in a career that embraced some of the best days of the continental circus. Pete Crawford got the full story while chatting to the effervescent British champion.
We'll let the man himself explain the moment that, arguably, he may well be the most remembered for. Here's how Jim Curry introduces that race in which he qualified a write-off on the front row of a Grand Prix grid: "For 1970 it turned out to be typical Eifelrennen weather, and for that you could read 'typical Isle of Man weather."
"The 350 practice went as planned. The Métisse was a perfect bike around the 'Ring' and I made the front row, grabbing the last spot available, which was a blooming good result among all these new-fangled Yamahas. How about that slow old insurance write-off? That 'dog' of a CB250 Honda Super Sport? During practice it had just the right characteristics to make it ideal, while the TD2/TR2 rocket-ship Yamahas became a real handful.
"It was wet and awful, but the powerband on the Honda was absolutely perfect, brilliant actually. It must be the only time that a written-off road bike has ever qualified on the front row of a Grand Prix!"
Come race day normal service was resumed. The heavens smiled on the German Grand Prix, the rain stopped, and Jim's Honda was left in the two-strokes' wake. But in the 350s he held fourth on the final lap, until drafted down the last, long, Nürburgring straight by two trailing TD2 Yamahas, demoting him to sixth.
Jim said: "I was the first four-stroke home though, which was now a dying breed to be fair, discounting Ago's bike of course, and I gained six World Championship points. During my career riding in GPs, mostly in the period when points were onlyallocated to the first six finishers, I managed to finish in the first six in all four of the solo capacity classes I ever rode in, of which I'm very proud."
These results perhaps encapsulated Jim's achievements, delivering 'best of the rest' performances against works machinery for over a decade.
But if Aermacchi and Honda road bikes looked second string in 1970, they were a marked step-up from his machinery 10 years earlier, when the sight of a similarly mounted rider at Silverstone saw his road bike pressed into service.
Jim: "I couldn't afford a Goldie, or anything that I considered to be approaching a race bike and I still had no idea how I would be able to cross the yawning chasm between the 'bes' and 'wannabes' of the road racing kingdom. That was until the Hutchinson 100 in 1959 where I watched a 250 Villiers twin being raced. When I got home, I said: 'Mum, I'm going to turn my Cotton into a road racer!', leaving poor old mum stunned into silence."
He was lapped in his first race but he said: "It had been eight minutes or so of pure magic!" The Vulcan roadster had potential. It took him to his first win at Silverstone in July 1961, but the Villiers engine was already developed to its maximum and he realised he had to move on.
"It wasn't anything you would choose but it was good at the end. But having sold the Cotton in the winter of 1962 I scraped up enough money to purchase one of the new, all-singing, all-dancing, 250cc wet clutch Aermacchi Ala d'Oros, one of the new five-speeders, which I'd bought from Fred Warr's 'Hardley-Goingsome' emporium in London."
The word play was apt, since the Aermacchi did very rarely go, at least as planned, apart from one performance at the Southern 100. Given the Aermacchi's frailty, the Manx street circuit was the last place Jim expected to excel, but he finished second and on his return to the mainland he called on his former colleague Johnny Jacques and his new employer.
For local garage owner Tony Jenkins, who was flirting with sponsorship, Jim walked through the door at exactly the right time. He was swapping his Aermacchi for a 250 Bultaco at the time, so something of a different capacity was required from Jenkins.
Jim explains: "What we really wanted – really, really wanted, was one of those lovely, new-in-the-country Honda CR93s. One of which I'd slobbered over during the Southern 100, not too long previously. Who didn't? But they were £600 each, including spares kits and fairing, which was far too much for Tony.
"Then we got the whisper that Dan Shorey had a surplus 125cc racer for sale. It was a 1956 ex-works Ducati, so we bought it off him for £350 and it was great. It wasn't as fast as the CR, but it handled and stopped well. That Bultaco turned out to be another quarter litre class disaster for me, but the small and by this time five-owner, ex-works, ex-Purslow, ex-Hailwood, ex-Shorey Ducati was sublime. It revved to 11,500rpm and ran like a turbine. It was a really great bike – valve spring, double knockers and with that lovely cam box – a real Ducati. Who knows what that would be worth now?"
'A lot' is the answer, but this was by the by in 1964. Good as the Ducati was, those CR93s were still faster and Jenkins bowed to the inevitable after the offer of a £100 discount in lieu of fairing and spares kit. The lack of the latter proved no great blow since – as anyone familiar with CR93s will attest – their reliability was legendary. For the rest of 1964 Jim and his CR93 were never out of the top six and the Southern 100 proved to be instrumental in the development of his career once again. He won with a new race record.
Pictures: Jim Curry/Karl Schleuter