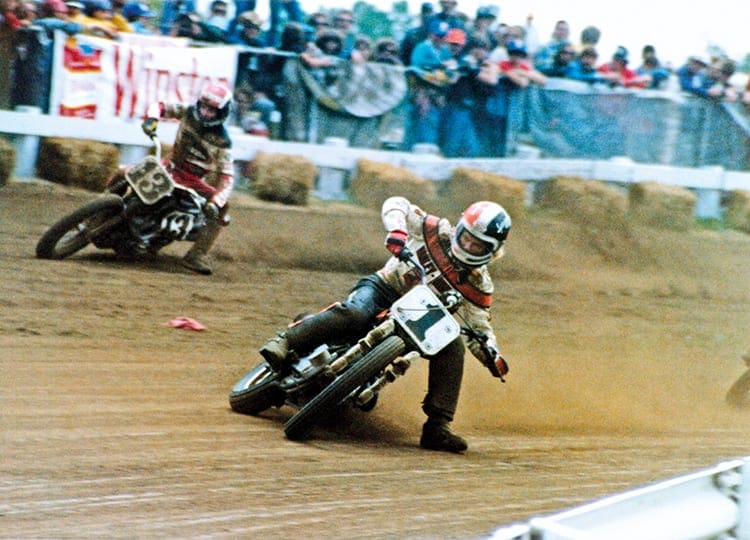 There have been many popular riders in American dirt-track racing across the decades but none have exemplified timeless competitiveness in the Grand National championships across three full decades of continuous racing in the Expert class. None except for Harley-Davidson's Jay 'Springer' Springsteen. If you want the epitome of the word 'legend', then here he is.
Words: Norm DeWitt  Pictures: Mitch Friedman, Norm DeWitt and Skip Aksland
Jay Springsteen was born in the right place at the right time when it came to being connected with motorcycle racing. "My dad raced motorcycles and went to school with and worked with Bart Markel (three-time AMA Grand National champion). They were both tool and die-makers at Chevrolet. My dad raced a little bit of scrambles racing and then my brother and I started racing on a little Harley-Davidson M50. I was nine and the first time I raced it I got a third place, racing against Bridgestones, Hodakas and all these other different older bikes you haven't heard of in years. I rode the Harley for just one year, sharing it with my brother Kenny when we were just coming up.
"Then we went to Honda S90s (the pressed steel frame version), I had a red one and my brother had a black one. We rode those for a couple of years. After that we rode the 100cc Kawasaki Green Streaks. In their day those were rockets. When I was 12 or 13 years old I could split the cases and put a new rod in it, true the crank up and put it back together. My dad showed me how to do it a couple of times and then I took off with it and started doing it myself. He helped me with ported cylinders and polished cranks, trying to go faster than anybody else."
Having dad working for Chevrolet was an advantage regarding access to tools and machining. "I'd say that a lot of guys from Michigan went fast because we had 'Generous Motors' behind us. We rode 250s for a year or two in 1972-73, racing Amateur for a year on the 250 Yamaha MX, still with dual shocks then. We took the engine out of the motocross bike and put it into the Trackmaster chassis. My brother had a Champion chassis and we were building our bikes in the basement. We tuned them ourselves, ported and polished them."
The Flint, Michigan area was a hotbed for flat track racing talent, not unlike how the southern California scene at Ascot Park had been. Bart Markel had retired at the end of the 1972 season. In that upcoming generation, there were Randy Goss, Scott Parker and Jay, all from that same part of Michigan. These three riders were to win 14 Grand National championships between them.
Read more in the July/August issue of Classic Racer. On sale now.