22 – 24 Jan 2016
In the International Island Classic at Phillip Island Team UK made it two in row at Australia's showcase of classic motorcycle racing. The Roger Winfield-led outfit held off a late challenge from Australia to retain the International Challenge trophy it first won last year. Hamish Cooper reports.
In front of the third biggest motorcycle spectator crowd in Australia (behind MotoGP and World Superbikes), the Brits demonstrated what planning and teamwork can achieve. Third were Ireland, followed by Team USA and the Kiwis.
Team UK came to Phillip Island with the same bikes Winfield builds for the Isle of Man Classic TT.
His core team were experienced riders of modern machinery and their sole focus was the main event.
Things were different over in the other team camps, with a mixture of machinery in various capacities. This diluted their strength and Team UK trampled all over Australia, winning by 99 points.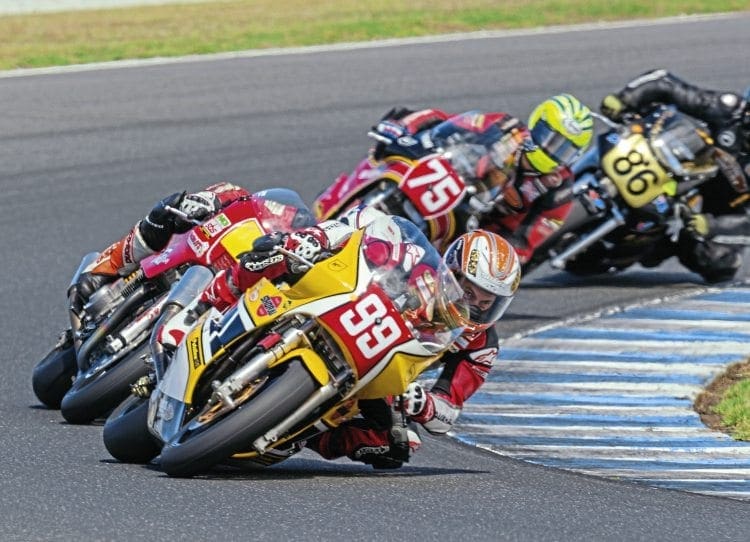 Australia are going to have to go through a major rethinking process to win it back in 2017. The team needs backup bikes for its top riders, several of whom were sidelined early on and unable to build up consistent points.
They need to get a core team of riders focused totally on the main event, not also racing in the support classes.
Australia appeared to have the upper hand after Aussie Beau Beaton (Irving Vincent) qualified on pole, followed by team-mate Steve Martin (Suzuki Katana) with the UK's Jeremy McWilliams (Harris-Yamaha) third.
Then Beaton won Race One ahead of McWilliams, Aussies Jed Metcher (Harris-Honda), Shawn Giles (Suzuki Katana) and Martin. But Beaton's win was only good enough for him to snatch the last place on the front row for Race Two, behind McWilliams and pole-sitter Metcher.
Why? Because an oil slick had cut qualifying and officials ruled that the best lap times from Race One, not the actual race results, would decide the grid from there on.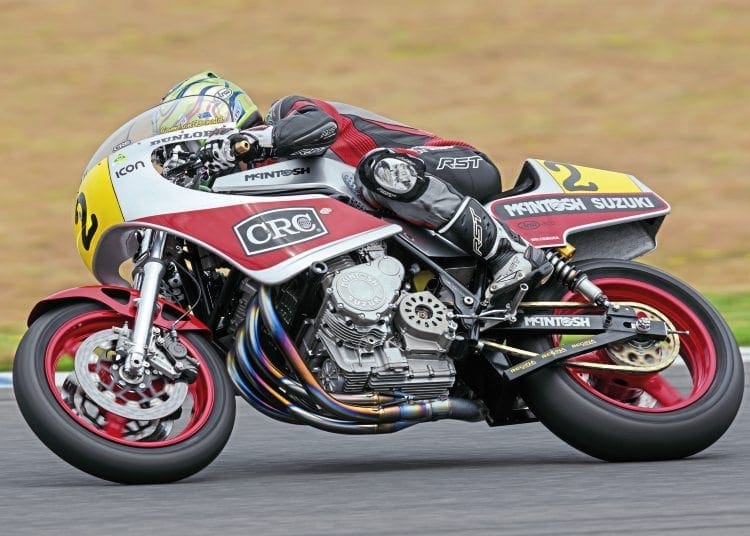 So Race Two was shaping up to be a cracker. Except, like Race One, concerns about intermittent wet weather meant no sighting lap and a shortened race length.
Metcher was bogged down slightly at the start and that was all Beaton needed to get the grunty eight-valve Vincent into the lead. On a bike giving away 14kmh in top speed he used the V-twin's superb cornering agility to hold off McWilliams and Metcher.
So the results were Aussie, Brit, Aussie, Aussie, and Brit in the top five and a narrow points advantage to the home team. But some worrying cracks were appearing in the Aussie facade.
Paul Young had clawed his way to fifth off the start in Race One but crashed out at Honda hairpin and his Yamaha TZ was terminally damaged.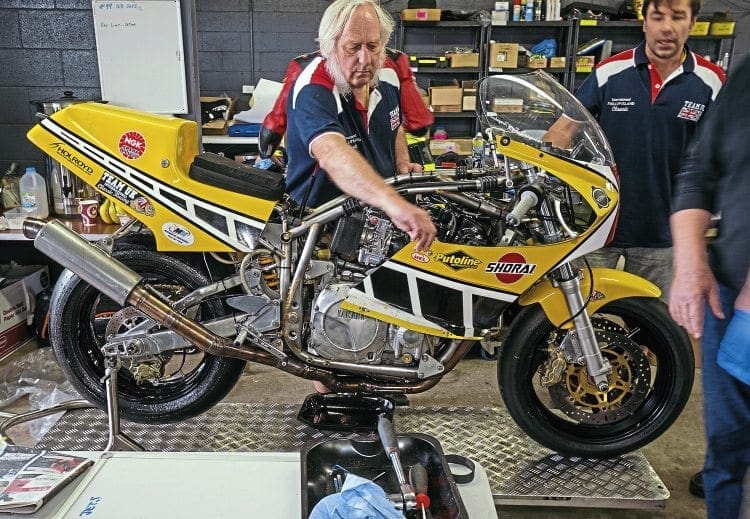 With no obvious Aussie team backup bike he was out for good.
Oiling issues with his Katana put Giles out of Race Two with zero points. Cam Donald, usually a front-runner, had finished 11th and ninth in the two races, was now lying 10th in the points and had no chance of improving on the underpowered (for this class) McIntosh Suzuki.
The key to a team win here was keeping the top riders running strong and the Brits had all the big guns still firing.
Before the meeting Aussie team chief Rex Wolfenden had said: "Reliability in machinery and consistency of finishing are the key." Winfield agreed: "This event is won and lost in the pits."
Race Three was where it ended for the Aussies, but it was a slow death. This was the first race of the weekend that felt like a proper championship setting.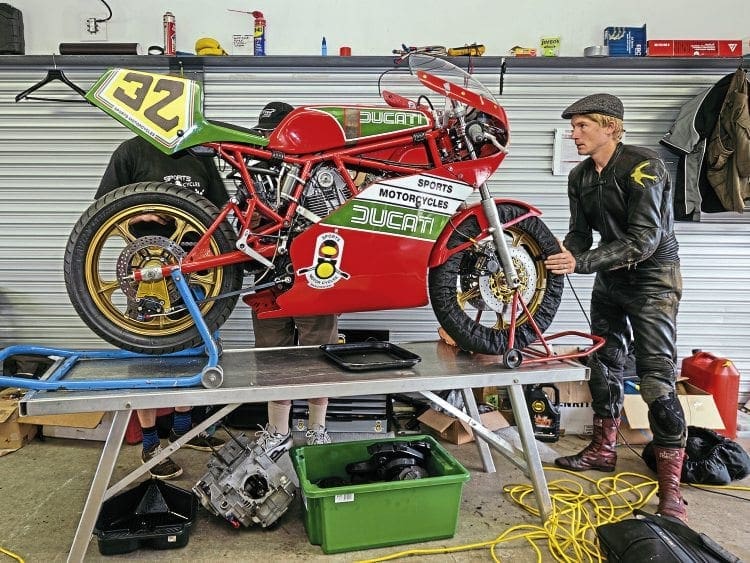 The sun was shining, the track was completely dry, and there was a full race distance after riders formed up on the grid and did a sighting lap.
GP legend Jeremy Burgess, up in the control tower as a guest commentator, was feeling confident: "I think Beau Beaton can win again," said the ultimate Australian judge of racing performance. "The bike looks a million dollars, and maybe it cost a million dollars."
But below him bad things were happening. Giles went out before the start with more oiling issues.
Then Johnny Allen (TZ Yamaha), who had scored consistent points to be 11th overall, went bush on the sighting lap. "I'm looking for some NapiSan," he said later, explaining how the throttle jammed, spearing him through several riders and onto the grass at 160kmh in fourth gear.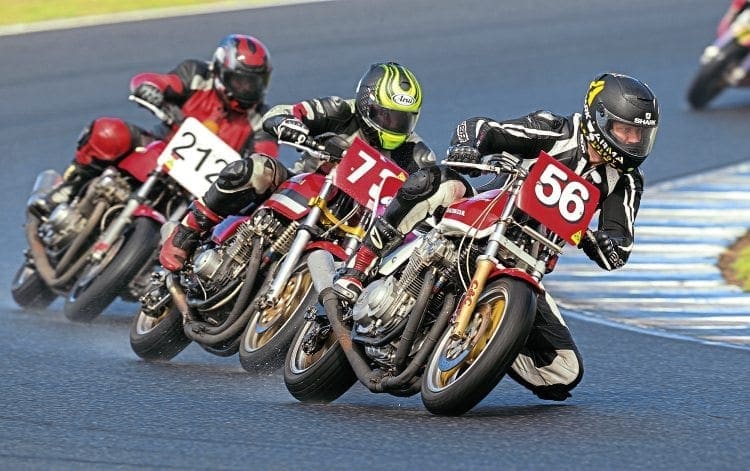 The usual suspects slugged it out in the race until Beaton's Vinnie expired on lap five. So Metcher won from McWilliams with Martin a strong third.
Sadly, they had been unable to drag any other Aussies with them into the top 10 and were 97 points adrift of the Brits. Not even a valiant Metcher-McWilliams-Beaton-Martin-Giles finishing order in Race Four could stop the inevitable.
The underrated Irish pulled off the upset of the meeting, finishing third overall on their first attempt. They were 66 points ahead of Team USA despite riding a mixture of unproven motorcycles.
"The biggest challenge was to find the bikes," said team captain Mike Meskell. "We don't have any F1 vintage superbikes in Ireland so we had to make a lot of bikes, buy two and borrow some."
The standout rider was Sydney-based Irishman Paul Byrne. He finished 9-7-5 in the first three races but stalled the Tom Dermody supplied XR69 on the grid in Race Four.
Expect Team USA to up the ante even more next year after losing out to the Irish. With support growing in the US, big names like Kevin Schwantz and Doug Polen are being mentioned. Both these ex-world champions have competed in vintage events in the past few years.
This year the team built five new motorcycles especially for Phillip Island and survived the logistical nightmare of bringing them from around the US to Australia.
Fancied team riders Pat Mooney and Nick Ienatsch were blighted by minor technical issues, but Mooney was the top US finisher in the races he completed.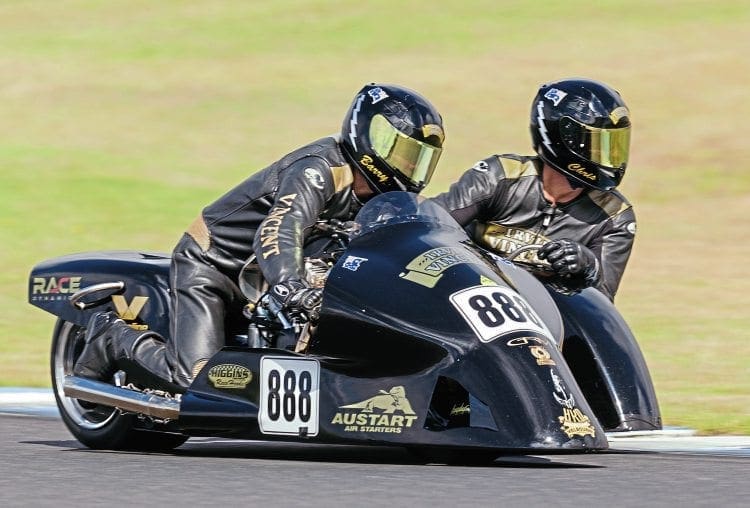 The Kiwis suffered the same fate as the Aussies with too many crashes and not enough riders finishing every race.
The early exit of team member Grant Dalton in qualifying with a broken wrist made the pages of New Zealand's major newspapers.
This is not surprising, as Dalton is an America's Cup yachting legend and chief executive of the multi-million-dollar Team New Zealand operation.
The leading Kiwi points-scorer was Pete Byers, a former Bathurst Arai 500 class winner. "We were unlucky with motorcycle and rider failure rates," said team manager Duncan Coutts.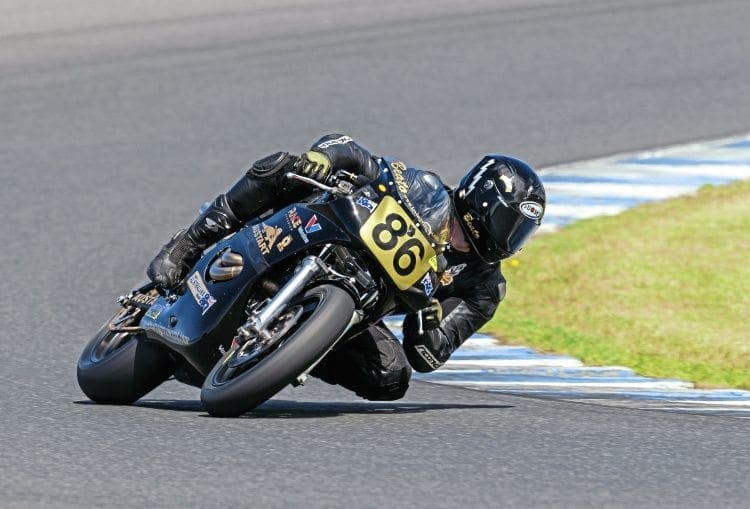 As well as the showdown races between teams from five countries, 350 riders with nearly 500 motorcycles competed in support events catering for all vintage and classic classes.
WINNING STATS
INTERNATIONAL CHALLENGE
TEAM RESULTS
1 United Kingdom 693pts
2 Australia 594
3 Ireland 421
4 America 355
5 New Zealand 289
RACE ONE TOP 10:
Beau Beaton, Jeremy McWilliams,
Jed Metcher, Shawn Giles,
Steve Martin, Glen Richards,
John McGuinness, Conor Cummins,
Paul Byrne, Ryan Farquhar.
RACE TWO:
Beaton, McWilliams, Metcher,
Martin, Richards, Cummins, Byrne,
Farquhar, Cameron Donald,
McGuinness.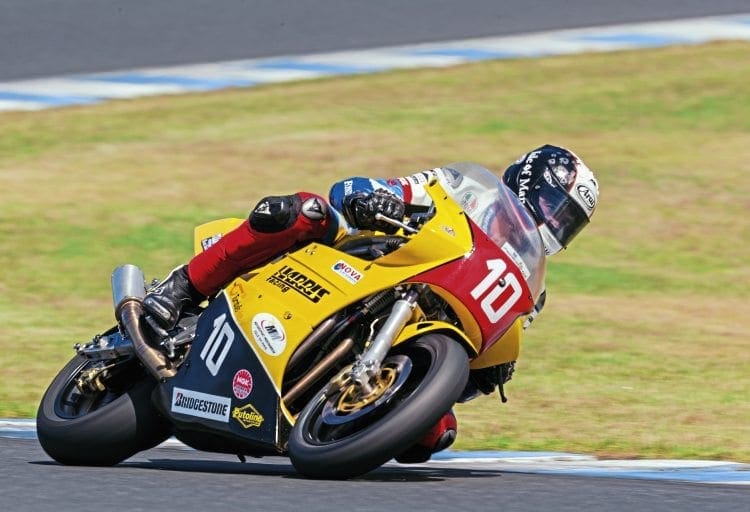 RACE THREE:
Metcher, McWilliams, Martin,
Cummins, Byrne, McGuinness,
Farquhar, Richards, James Hillier,
Craig Ditchburn.
RACE FOUR:
Metcher, McWilliams, Beaton,
Martin, Giles, Cummins, Farquhar,
McGuinness, Hillier, Allen.
HIGHEST POINTS SCORERS
1 Jeremy McWilliams, UK/Jed Metcher, Australia 156
3 Steve Martin, Australia, 148
4 Conor Cummins, UK, 140
5 John McGuinness, UK, 133
6 Ryan Farquhar, UK/Glen Richards, UK, 132
8 James Hillier, UK, 119
9 Beau Beaton, Australia, 118
10 Craig Ditchburn, UK, 115
BEARS
New Zealand narrowly beat Australia in the headline race of the annual BEARS Sound of Thunder in Christchurch on February 27-28. Proving there's life left in air-cooled, two-valve Ducatis, Royce Rowe just missed out on beating Kiwi Pete Buss, who was riding a Ducati 1098 Superbike. Kiwi GP legend John Woodley was third on an MV Agusta.
The Rowe Ducati was a heavily modified 696-based Monster. It was the 'test mule' for the Ducati the team brought to last year's Manx GP Super Twins race and finished 10th on debut. Final BEARS points challenge tally – NZ 71, Australia 60.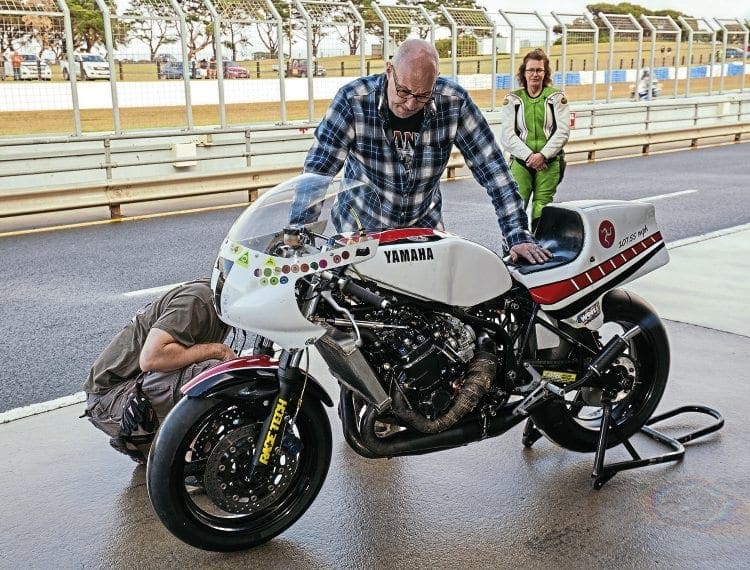 New Zealand Classic Register
Strong fields and big crowds prove the New Zealand Classic Motorcycle Racing Register's annual festival works best at the Pukekohe circuit.
In recent years Hampton Downs has hosted this meeting but the Pukekohe track is closer to Auckland and offers excellent camping options. The standout riders at the meeting held January 30-February 1 were Eddie Kattenberg and father and son racers Bill and Chris Swallow. Kattenberg, a leading Kiwi rider of the 1980s, clean-swept the Factory 500cc class on a Manx Norton. Bill Swallow dominated the 350cc Modified class on a borrowed Aermacchi, while Chris won all his 500cc Modified races on Neville Wooderson's BSA Gold Star. The plan is to race the BSA at this year's Manx Classic TT.
Read more News and Features online at www.classicracer.com and in the latest issue of Classic Racer – on sale now!