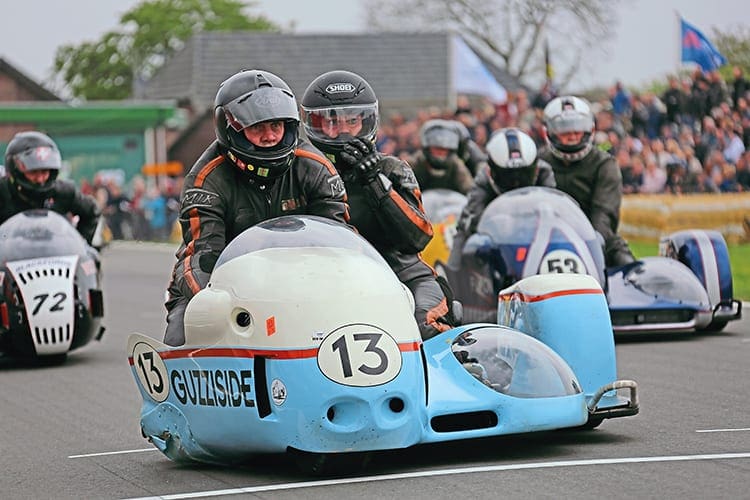 Words and photographs: Jan Burgers
In the Seventies, over 30 road races were organised a year in the Netherlands on public roads. Most of them under FIM regulations and up to 20,000 spectators came to see their heroes every weekend. Today, there is only one race left and the number of race fans has sunk to a much lower level.
The organising committee of the Hengelo Races found a way to survive by creating the International Road Racing Championship (IRRC). They also have an eye for the past by including classic races in their events.
What is really important to note is that after 50 years of racing on this road circuit is that there is no casualty list. The only creatures that lost their life in 50 years of racing on public roads are a hare, a little dog and this year a deer. How lucky can an organiser be?
Of course it isn't down to luck; the motorcycle club HAMOVE has always given much attention to safety for riders and spectators.
The sidecar Camathias cup was racing again at Hengelo. Last year winners Hendrik Jonker-Kim Dossche won the first race again on the fast Moto-Guzzi. Andy Nourish-Michiel Leeflang were second on a Weslake ahead of Clive Faulkner-Brian Robson on an IMP MRE. Bill Hodgkins-Bert Vloemans, Triumph were the best 500cc riders in eighth place. The second race was won by Mike Bellaby-Dave Gristwood on BMW only 0.3 seconds ahead of Jonker-Dossche. It was Hodgkins-Vloemans again who won the 500 sidecar class in sixth place.
The combined Dutch Classic-IHRO race was won twice by the talented young Dutchman Marc Beltman on a very fast BMW developed by his grandfather Jan Beck. His Beck-BMW team-mate Jarno Jonker finished second and third.
Congratulations HAMOVE for doing such a great job in the past 50 years!
Read more in the July/August issue of Classic Racer. On sale now.