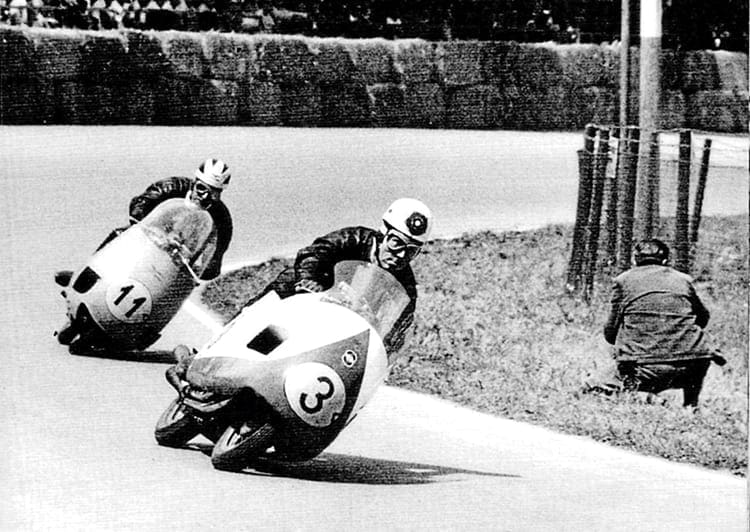 Geoff Duke won six 350cc and 500cc world championships between 1951 and 1955 and six TT races between 1949 and 1955. He was racing's first true superstar and household name, winning the Sportsman of the Year award in 1951 (the forerunner of today's BBC Sports Personality of the Year), and becoming an OBE in 1953. He was credited with inventing the one-piece leather race suit and his clean-cut looks and dapper dress sense did wonders for the image of motorcycling. He passed away on May 2, 2015, at the age of 92 in an Isle of Man nursing home. On September 22, 2005, I had the privilege of visiting Geoff Duke at his home on the Isle of Man, to talk about his astonishing career and to get his take on modern racing. Soon afterwards I lost my computer hard drive and thought the interview had been lost with it. Only recently did I discover I had actually made a copy…
This is what the great man had to say:
On being suspended from the world championship in 1956
After supporting privateer riders in a bid to secure better payment for them (most were living a hand-to-mouth existence while race organisers made huge profits), Geoff Duke found himself banned from the first six months of the 1956 season, despite being the reigning world champion.
I was shocked at being suspended in 1956. It seemed to be very unfair – overdone, shall we say. But I think the powers that be were wanting to make an example to make sure that it didn't happen again. So Reg Armstrong and myself were the ones who suffered most. We had nothing to gain by the strike, we just supported the private riders, but that didn't seem to make any difference. Unfortunately our own governing body, the ACU, didn't seem to make too great an effort to assist us. We looked at the legal side of things and everything but when you're up against the governing body of the sport then the law, as it stands, is not that powerful – they (the FIM) are all-powerful. They control the sport and that's the way it is. So eventually we just had to grin and bear it.
Really it was crazy to deny race fans the chance to see the world's top riders and, thankfully, I don't think it could happen in this day and age. It really was a very bad time for motorcycle racing. It had so much effect; the loss of top flight riders and the competition that involved, and the total supremacy of MV Agusta which really didn't mean very much. I think the combination of these factors very nearly put an end to motorcycle racing. Gilera was absolutely furious at the suspension. They could not believe that they had not even been consulted or contacted in any way regarding the matter.
Withdrawal of Gilera from the world championship in 1957
When Gilera, Moto Guzzi and Mondial withdrew from racing in 1957 due to the huge expenses involved, Duke found himself without a current factory bike. And with MV Agusta being the only factory left in Grands Prix, a monopoly soon followed.
I think our suspension had a bearing on Gilera, Moto Guzzi and Mondial's later decision to withdraw from world championship racing. Those companies felt they were out on a limb a little bit – and also the cost of racing, it was nothing compared to now, but the cost was quite high and I think the accountants at Gilera were trying to encourage Commendatore Gilera to at least cut back on racing.
There was another factor as well as far as the Commendatore was concerned. His son, Ferrucio, who was only 26, died suddenly in Argentina where Gilera had a factory. He suddenly went into a coma. There was a problem with his liver, not that he'd been a high-living young man at all. The Commendatore was very austere and seemed to be very fit but I think the effect of losing his son who was, in effect, just about to take over the business, was an absolute disaster for him. Ferrucio's mother was in a nursing home almost a year after this happened because she was in such a terrible state. This, needless to say, did influence Gilera's enthusiasm for racing because his son was very keen on racing and would definitely, I think, have continued.
So that had a big effect but I suppose all the factories felt the financial burden was getting a bit much. But the remarkable thing was that the year after Gilera pulled out of racing they sold more bikes to the public than they had ever done before. I think it was just a coincidence but of course the accountants said 'There you go, we've saved you thousands and thousands of pounds and you're still selling bikes.' But the following year, from then onwards, came the decline. Also, Commandatore Gilera was an old man by then as well. They tried putting various relations in charge of the factory and none of them seemed to make a very good job of it. Eventually of course, Piaggio took over.
When Gilera, Moto Guzzi and Mondial all pulled out of racing in 1957, it left a huge vaccum for MV Agusta to dominate in. What shook a lot of people was that MV had in fact agreed with the others to stop racing at the end of 1957 and then they reneged on the deal and of course they had a clear run from then onwards, especially with a rider like John Surtees on board. But, quite honestly, I don't really think it did them any good. I think the majority of enthusiastic motorcyclists weren't very impressed by a lot of MV's success. I think that was unfortunate for John Surtees really because he was going round winning races and breaking records so the performance was there but he obviously wouldn't get the same satisfaction because he wasn't winning against real strong opposition.