Tony McGurk blames the media frenzy around Giacomo Agostini for costing him a podium finish in the 1968 Senior TT. John Watterson explains.
Photographs: John Watterson and Mortons Archive www.mortonsarchive.com
Now aged 73, McGurk was a mere 12 seconds off eventual runner-up Brian Ball when he approached the old roadside pits, in front of the Grandstand on Glencrutchery Road, for fuel at half distance.
His own pit was obscured by cameramen who had swarmed the area for Ago's stop alongside and McGurk was initially unsighted.
When he did spot his crew he braked hard and came down like a ton of bricks on the metal drainage grids, snapping a footrest off his G50. It put him out of the race.
"I was up to sixth place behind Brian Ball, who lost considerable time in the second half with mechanical problems and eventually finished more than eight minutes adrift of Ago," explains Oldham man McGurk.
"I'd overtaken eventual third place finisher Barry Randle at Barregarrow on lap three, but the remainder of the top six, with the exception of Agostini, retired."
The 1968 Senior was indeed a race of considerable attrition, with just 37 riders from a total field of 85 completing the distance.
John Hartle, who had been a non-starter for the Junior after a first lap mishap at Windy Corner in the Production race at the start of the week, also came off the MV-3 at Cronk-ny-Mona, leaving Alan Barnett (Kirby Metisse), Griff Jenkins (Matchless), Derek Woodman (Seeley), Peter Williams (Matchless) and Malcolm Uphill (Norton) to chase the runaway works MV.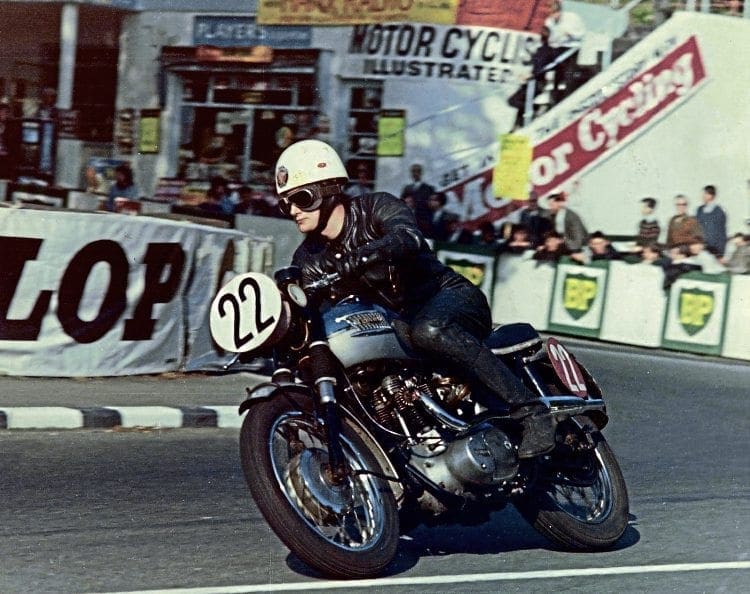 Barnett and Williams retired and Uphill slowed considerably, so John Cooper moved into second place ahead of Kel Carruthers and Percy Tait. Brian Ball moved onto the leaderboard in fifth, one place ahead of McGurk who was riding his own Matchless fitted with the front brake off Tom Kirby's 7R AJS.
Woodman slowed on lap four, and with McGurk sidelined, Barry Randle and Jim Curry were elevated into the top six. With less than two laps remaining, Agostini led Cooper by almost four minutes, with Ball up to third.
Cooper lost his chance of a best ever TT finish when he was forced to retire at Sulby Bridge, leaving Ball and Petty Norton-mounted Randle to battle it out for the runner-up spot.
At the close, the gaping distance between first and second was eight minutes and 29 seconds, but the margin between Ball and Randle was reduced to a mere four-tenths of a second as Ball nursed his Seeley to the line with gearbox problems.
This (1968) was the year that Ago completed the first of his four Junior/Senior TT doubles. He won the Junior at a record average speed of 104.78mph from Renzo Pasolini on the works Benelli, with Bill Smith third on a Honda following the retirements of Heinz Rosner (MZ) and Kel Carruthers (Aermacchi) on lap three.
Mountain debut
Anthony McGurk made his Mountain Course debut in the 1964 Manx Grand Prix and was the leading newcomer until the final lap of the Senior, won by Selwyn Griffiths, when his G50 ran out of oil at Greeba Castle with split crankcases.
It hadn't altogether been a happy initiation to the event for the 23-year-old as he lost the top of a finger on his left hand after stopping at Hillberry Corner to direct the oiler onto the primary chain during his very first lap of practice.
"I was taken to Noble's Hospital, but they told me it was too badly mangled to ever be any use to me again. I had it amputated and was back out on the course again a couple of days later."
He had better luck 12 months later when he finished seventh in the wet Senior won by Welshman Malcolm Uphill on the Norton at an average speed of 89mph.
McGurk graduated to the TT in 1966, although the event took place at the tail-end of the summer because of the delays caused by the national seaman's strike.
He was forced out of the Senior by a snared throttle cable and had similar luck the following year in the Junior when the crankpin gave up on Jim Ball's 7R.
"It was the bike that Jim had lent to Stuart Graham for the 1966 Continental GP season and I was up to sixth place when it failed at Ramsey on the final lap," explained Tony.
By all accounts, Jim Ball was most upset and accused Tony of 'riding his bike to destruction'. In reality, he had produced the fastest lap of any of the riders on a standard 7R in the race.
Agostini became the first Italian to win a Junior TT that day, Mike Hailwood's Honda having coughed to a stop at Bishop's Court on lap one.
McGurk played his part in one of the most memorable Senior TTs of all time a few days later when he finished 16th on the G50 in a race dominated by the titanic battle between Ago and Mike.
The team award went to McGurk, Bill Smith and Steve Jolly.
The same year, he rode a Triumph Bonneville to ninth place in the inaugural Production TT won by John Hartle.
He borrowed a 250 Yamaha TD1C from Norman Ball for the 1968 Lightweight and was as high as sixth at one point before the clevis pin dropped out of the rear brake, dropping him to ninth between John Cooper and Derek Chatterton. T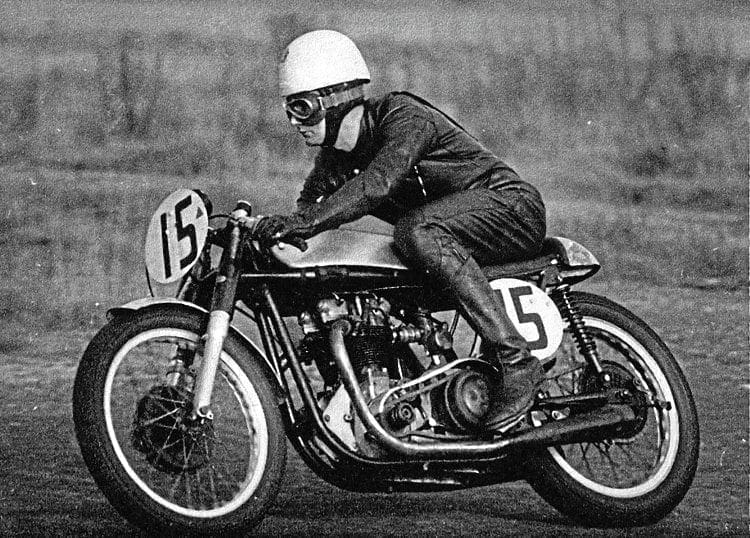 he six-lap race was won by Bill Ivy in his final TT, from spectacled Italian Renzo Pasolini.
Back in action
After the heartache of the pit fiasco in the 1968 Senior, McGurk hung up his leathers for a few years before close friend Roy Whitehead provided him with a brace of Yamaha TZs for the 1974 and 1975 TTs.
Still an active member of the McGurk Spring Court team, Whitehead was in Tony's pit for the 1974 Lightweight race and admits he almost packed up the spanners when his charge was 11 minutes late on the first lap after a long stop at Glen Vine with stuck throttles.
"It was a mainly wet race and my opinion is that Tony would have finished sixth or seventh without that problem," suggests Roy.
"He had the seventh fastest lap at 94.29mph, exactly the same as on the TD1C in 1968, which was a dry race." McGurk ultimately finished the 1974 Lightweight 24th, just in front of Bob Heath and Dennis Trollope.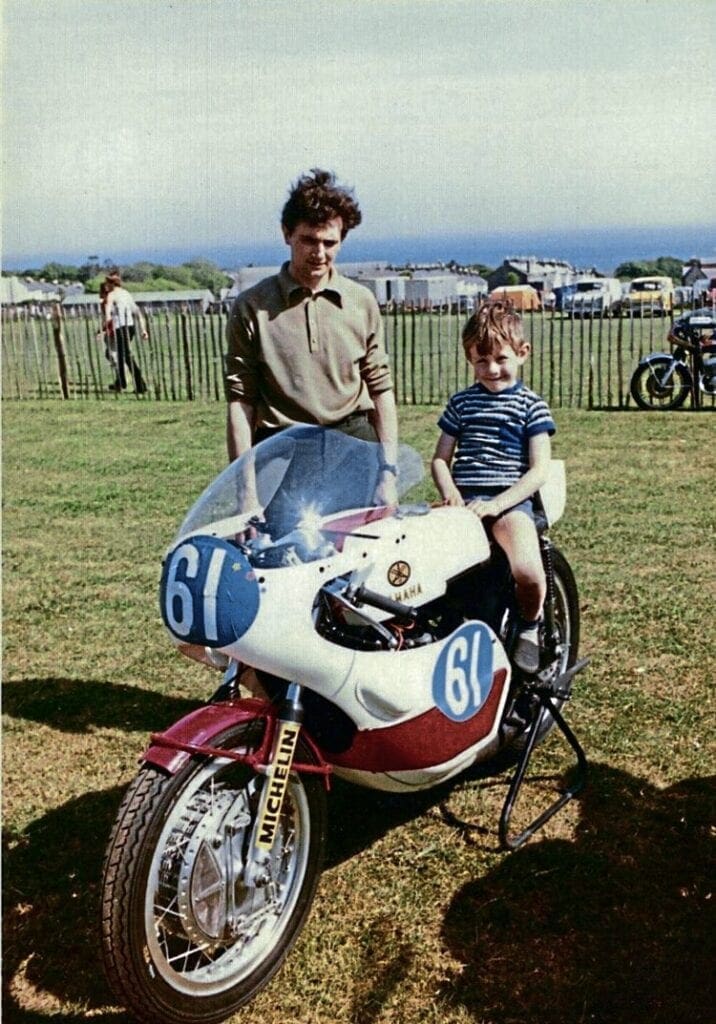 It was to get worse as the TZ350 proved a complete disaster. "The frame broke into bits. It was brand new too," McGurk lamented.
He also rode a CB500 Honda in the Production 500 race won by Keith Martin on the Kawasaki triple and was going quite well until the motor tipped a valve and slowed. He eventually finished ninth.
His last TT, in 1975, ended with Tony spending 11 days in Noble's Hospital after a hefty crash at Knock Breck, between Greeba and Ballacraine.
He was riding a TZ350 Yamaha in the open capacity Classic TT, but unbeknown to him the overspray on the inside of the petrol tank had been flaking and fragments of paint clogged up the fuel filter, causing the engine to seize.
"We knew it was that, as fragments of red and white paint were later found in the filter. The engine seized pretty well flat-out and I was flung up the centre of the road opposite Harold Leece's farm. I don't remember much about it as I was unconscious for three days."
He cracked the bottom of his coccyx and was in considerable discomfort for some time, but he recalls regular visits from the farmer who helped to pick him up and carry him to the side of the road.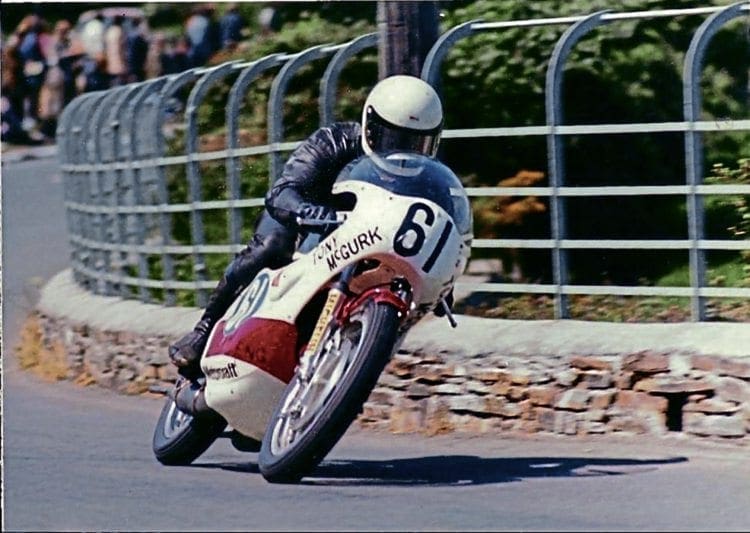 "I'd initially met Harold back in 1964 when he was delivering market garden produce to the hotel in Peel Road, Douglas where I was lodging during my first Manx.
"I met him again when I retired at the farm one time during practice. We've been friends ever since and I usually pop to see him for a chat or to watch from his garden when I'm over for the races."
The crash signalled the end to Tony McGurk's racing career – for 24 years at least, as he pulled on his leathers again in 1999 at the age of 59, riding a Yamaha TZD bought from Northern Ireland.
He did 26 meetings in 1999, 23 in 2000 and about 16 in 2001 mainly at Aintree, Darley Moor and Elvington circuits. The original TZD had by then been replaced by a later model obtained in a swap with Dennis Trollope.
"I'd come so close to a 100mph lap at the TT (99.70mph to be exact) and I still had the burning ambition to crack the ton. Even approaching my 60th birthday I genuinely thought I could do it," said McGurk. He had regained his international road racing licence before the 2000 TT but his entry was finally turned down by clerk of the course Neil Hanson.
After further lobbying, all appeared set for a ride in the 2001 TT for both Lightweight and Singles, the latter on a 660cc single-cylinder Yamaha again obtained from Dennis Trollope, but unfortunately this was cancelled because of the nationwide foot and mouth outbreak – although the Isle of Man did avoid contagion.
At the final Elvington meeting of the season in October 2001, Tony, trying to keep in touch with race leader Gavin Bell, had a little 'off' without injury.
A few days later he suffered a brain aneurysm but this was shown, on surgery, to have nothing to do with his motorcycling adventures. Nonetheless, the consequence was that he could no longer obtain a racing licence.
Tony's fitness helped him recover from the aneurysm. He is indeed very fit for his age and was still cycling up to 200 miles each week at the time of his illness.
He was a member of Tame Valley RC when he contested his first race over the TT course in the 1959 Viking Road Race, part of Manx International Cycling Week, over two laps of the Snaefell Mountain Course.
Like father, like son
Tony's son, Phillip McGurk, started his racing career a little after Tony's comeback in 1999 and subsequent to the purchase from a London racer of a TZB at a very advantageous price. There were a number of father and son races, to the delight of the commentator at Elvington.
Almost inevitably, Phil also took on the challenge of the Mountain Course, riding his father's TZ to third place in the 2002 Manx Grand Prix Newcomers' event behind the Ulster duo of Barry Davidson and James McCullagh. Earlier that year the single-cylinder Yamaha blew-up at Elvington with Phillip aboard. It has now been rebuilt at an even larger capacity.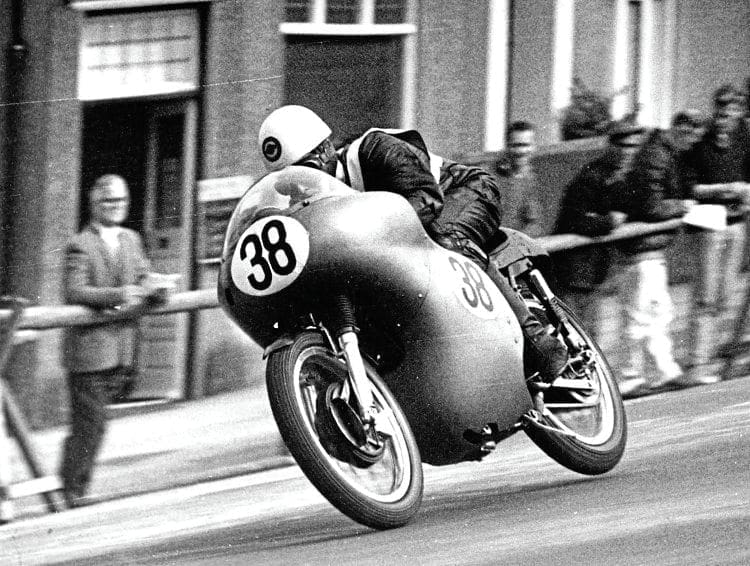 His first podium finish in the open races came in the 2008 Junior won by Dan Kneen, despite a last-lap skirmish with Michael Weldon at Windy Corner.
Despite his father Tony's considerable experience building competition car engines in the 1970s and for many years working as a sheet-metal specialist for BAE, he chose not to interfere when his son set to work on a project that would lead him to ultimate glory in the 2010 Manx.
The co-proprietor of Spring Court Garage business in Rochdale, Phil spent more than 1000 out-of-work hours building a chassis around a Kawasaki ER 650 for the new-look Ultra-Lightweight event.
Nicknamed Frankensaki – as the special also included various components from Yamaha, Honda and Suzuki motorcycles – it was a professional exercise put together by a competent engineer. The parts from other bikes were chosen after careful consideration.
The monster was certainly no joke and lapped at a record-breaking 112.261mph from a standing start.
Apart from a reluctance to restart after the pit stop, 'Frankie' performed impeccably and McGurk Junior went on to win the race by a margin of 1min 10sec from Scotsman Rab Davie on a 650 Honda.
A final lap of 112.572mph proved even quicker than his opening gambit and McGurk's race average of 110.709mph shattered the old standard set by Olie Linsdell on a 400 in 2007.
"The bike's not perfect, but it's pretty good," said Phil who has since built a new, smaller frame and is continuing to make further modifications to hopefully keep one step ahead of the opposition in the increasingly popular Supertwin class.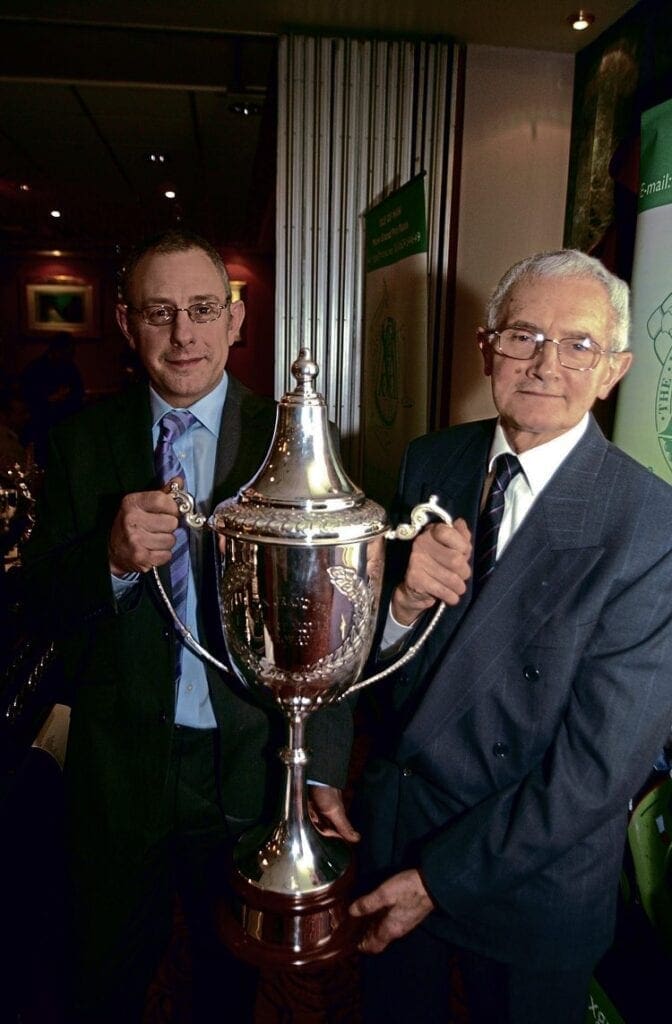 Father Tony's TZB was also ridden to second place in the Post-Classic MGP behind Chris Palmer. Phil also picked up the Privateer's award in the 2014 Junior Classic TT on a K4 Honda.
But the veteran former TT ace doesn't get involved with his son's bike building and preparation. "It's all very different now to what I was used to. He's a trained engineer and knows what he's doing, so I leave it to him and I just make the tea," Tony concluded.
Read more News and Features online at www.classicracer.com and in the May/June 2020 issue of Classic Racer – on sale now!