Just sometimes it's good to be different, and Andy Smith is a man who is prepared to swim against the tide. Graham Lawlor tells the story of his unlikely race bike and the history behind it.
Words: Graham Lawlor Photographs: Russell Lee
The 1968 Tokyo bike show saw a seismic event in motorcycle development – the launch of the Honda CB750. With stunning looks, blistering performance, technical sophistication and an attractive price tag, the GP inspired four-cylinder, five-speed rocket ship instantly made everything else look and feel obsolete.
Unsurprisingly, it wasn't long before some road racers adapted CB750s for the track and in Europe early success was achieved at the 1969 Bol d'Or.
However, it was the American market that every manufacturer wanted to rule, and Honda knew that the best way to further increase their rising share of it was by success in the Daytona 200.
Honda top brass were worried that the BSA/Triumph and Harley-Davidson factories, which had piled enormous resources into the race over the previous few seasons, would defeat them and dent the reputation of the CB750, which was seen as an unnecessary risk with the bike already selling like hotcakes.
There it may have remained were it not for Bob Hansen, Honda America's national service manager. Hansen's initial approach to Honda top management was predictably rejected on grounds of the damage that defeat would do to the CB750's standing.
Hansen knew that several CB750 privateers were already planning a shot at the 1970 Daytona race and pointed out that the only way to be in with a chance of victory was through a full-blown factory effort.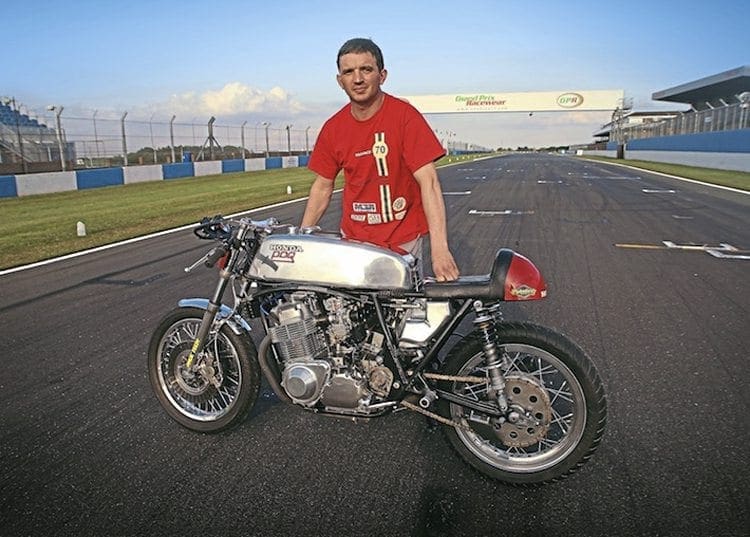 Eventually Honda were convinced and appointed Yoshio Nakamura to take charge of the effort, a decision not entirely to Hansen's approval given that Nakamura's background was Formula 1, not motorcycles. Honda duly went to work on a full race spec CB750 and the CR750 was born.
Nakamura elected to hire three top European riders well known to the factory: Ralph Bryans, Tommy Robb and Bill Smith and as a contingency Honda decided to give a fourth machine to Hansen, who selected leading AMA rider Dick Mann, who already had three Daytona second places under his belt.
Hansen's mechanic, Bob Jameson, reckoned the Achilles heel of the engine was that the rubber cam-chain tensioner was prone to wear under race conditions.
He painstakingly rebuilt 'his' engine immediately prior to the race but Nakamura's crew chiefs didn't follow suit, a decision that was to see all three machines drop out with top end issues.
Despite the rebuild Mann's engine also began to falter but he managed to struggle home just two seconds ahead of Gene Romero on a factory Triumph triple, thereby breaking a 15-year run of Harley or Triumph victories.
It has been described as the most important single race victory, ever, for any manufacturer. That may well be true – certainly it could be argued it was the beginning of the end for BSA and Triumph, while Harley-Davidson changed their emphasis from sports bikes to cruisers after their comprehensive defeat.
As for Honda, the 1970 Daytona victory elevated them to the top of the USA sales charts and enhanced their status in the global marketplace.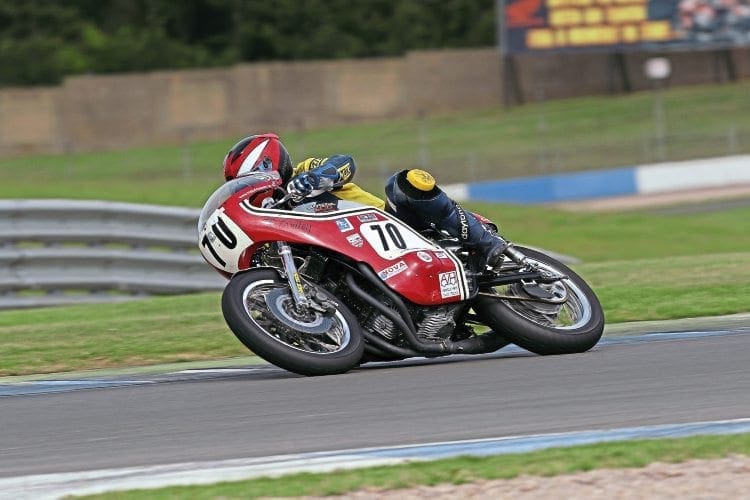 Back to the future and the Classic Racing Motorcycle Club championship tables reveal the unusual sight of a beautifully prepared 1970 CR750 heading not just the Formula 750 rankings but also the 1300 Classic and Classic Racer Syndicate 1300 National championships.
The bike is owned by 52-year-old Sussex design engineer and bike collector, Andy Smith, and ridden like the wind by 39-year-old Buckinghamshire racer, Rob Wittey.
All three championships have long been dominated by 750/930cc Triumph/BSA triples, with the notable exception of Gary Thwaites on Dave Watson's lovely brace of Norton twins.
But Watson withdrew last season and with Thwaites now teamed up with the exciting young George Hogton-Rusling on Peter Hercberg's triples, Cormac Conroy continuing on Brendan Ryan's big BSAs, and Chris Chapman going ever quicker on his RPS and Rob North Triumphs, most would have bet on 2015 being a triples benefit.
The Smith/ Wittey machine first appeared in 2013 and immediately caught the eye, both for its good looks and Wittey's spirited riding – 2014 was something of a disaster and the team disappeared halfway through the season to lick their wounds (literally in Andy's case, as he was involved in a serious car accident).
That might have been the end of the story, just another gallant failure to go along with other CB/CR750 based projects that haven't quite cut it on the classic scene, but Andy regrouped over last winter and at the time of writing all was going well.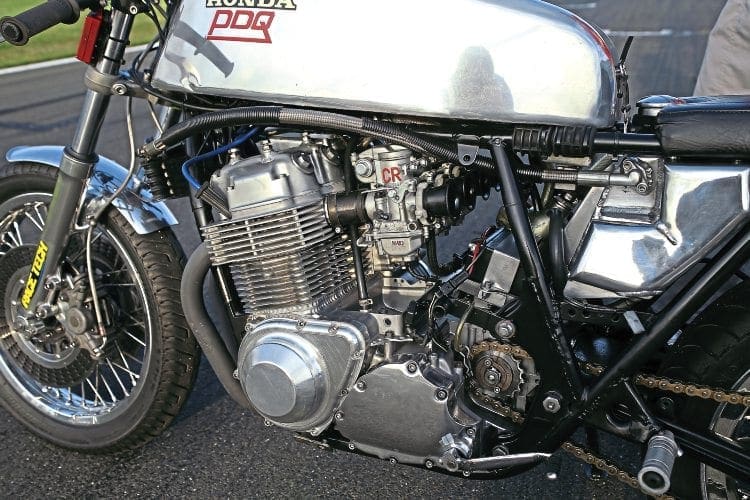 As I am the CRMC commentator, Andy, whose small private bike collection goes under the name of Hurst Historics, had been good enough to keep me posted on developments over the last three years.
At Donington I was able to sit down with him and Rob to get the full story on the project and the remarkable tale of engineering expertise, expense (lots), and sheer bloody-minded determination.
Andy explains how it got started: "I had been doing demo stuff and hill climbs in Europe on my Ducati 900SS Bevel production racer and after a couple of incidents at Spa I realised the bike was becoming too valuable and expensive to run.
"I needed something a bit more disposable I suppose. The Honda was purchased for just £200 in 1995; it had been raced as a flat tracker, with some CR kit parts on it, but when I bought it it was in bits and incomplete.
"I rebuilt it as a track bike and initially ran it with a mildly tuned engine at various tracks around Europe, and occasional events like Festival of 1000 bikes."
In 2008 Andy was helping Darvill Racing with their return to endurance racing with one of Peter Darvill's original bikes, and this is where he met Rob Wittey, who was one of the team riders. "Their bike was down on power and the brakes were shot but Rob never really made much fuss and just got on with riding around the problems".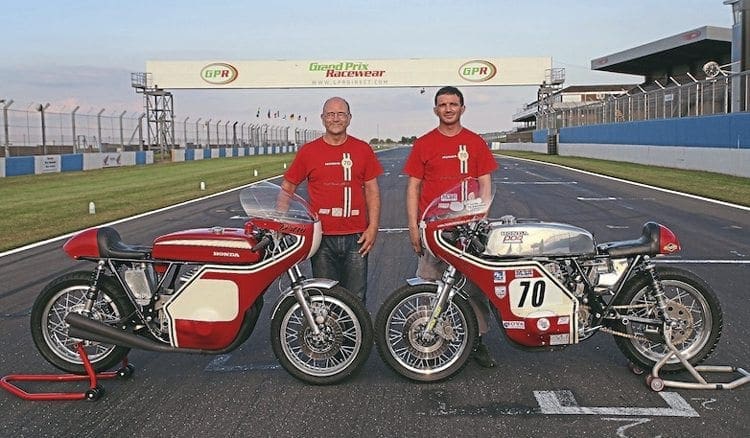 In fact, Andy had unearthed a real gem in Wittey. Having begun his race career in 1999 in the EMRA 400 Roadstocks, he moved through Bemsee Superbikes on an R1, CR500 Supermoto, OW01 in Open Superstock, Mini-twins with Bemsee and MRO and by 2006 won the Thunderbikes championship on a highly modified SV with 30 out of 32 podiums.
On top of all that, suspension and dyno technician Rob is a highly skilled mechanic, with the superb facilities of PDQ Motorcycle Developments at his disposal, something that has proven to be crucial in the development of the bike.
Andy continues the story: "In 2013, seeing my father deteriorate due to dementia made me realise that we are not on this planet forever and you should ensure you make the most of the time you have. So I decided that I wanted to go racing properly and approached Rob to ride for me.
"A plan was put together to enter the CRMC Formula 750 championship. The class seemed to be dominated by the Triumph/BSA triples much the same as when the class ran originally, but nowadays the triples are well supported parts wise, but not so much with the Honda. We were advised to think again as the Honda would not be competitive and that others have tried and failed".
Notwithstanding the naysayers, an engine was built from totally second-hand parts with a standard cylinder head, mild porting and standard carbs; it even had the starter motor fitted. "Our first race at Darley was really promising, we had a second place which was a real 'moment' for me. But I could see that we really had some work to do to make the bike a real winner," recalls Andy.
"Over the course of that first season Rob and I gradually developed the chassis. That starter and battery were the first to go, and then everything was trimmed of excess weight.
"The forks received some treatment with new valving, and some new rear shocks were developed from the Nitron parts bin.
"At the end of that first season we were consistent with regular high finishes. We had 100% reliability but just shy of that first place. However, this all added up to a second position in the 2013 championship, but there were a lot of points between us and Gorgeous George (Hogton- Rusling) and the Hercberg Triumph, it certainly was George's year," said Andy.
There were no clear plans to continue in 2014 but, fatefully, Rob went digging among Andy's boxes of bits that he'd amassed over the years (Andy's wife has told him he's owned 18 CB750s!) and found an unknown camshaft.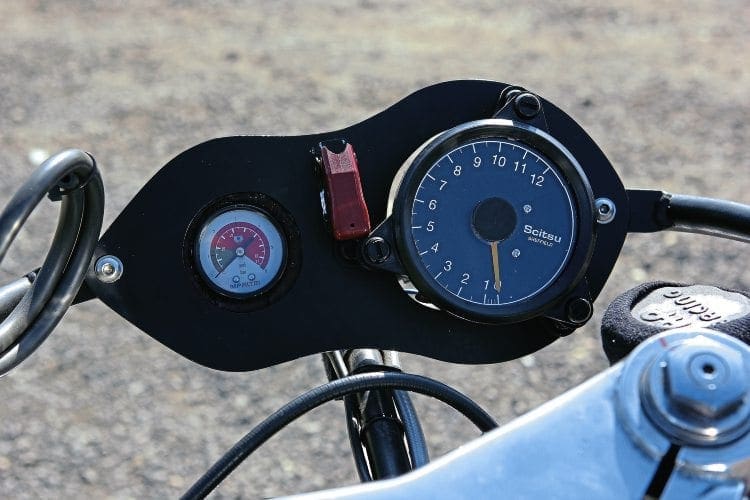 With the help of PDQ's dyno and the 'new' cam, more power was found and the first round at Pembrey saw Rob two seconds a lap quicker and achieving their first overall win.
Buoyed up by the early success, Andy and Rob decided to continue but by now the higher stresses on an already tired engine started to come home to roost. First the head gasket was fired out of the side of the engine, leaving a hole in the side of the fairing.
This was followed by a catastrophic failure when the crank snapped into two parts. "We still came back for more though and Rob fitted a crank from my collection of bits and we continued until finally a rod let go.
By this time my stock of good parts was severely depleted, and I was involved in a serious car accident which left me without the income to carry on. So, halfway through the championship, we withdrew.
"So on to 2015, and during my recovery I had been in discussion with Mark McGrew of M3 Racing in America. Mark has had success with Honda CR750s and he seemed to like the idea of supporting the underdog.
"I explained that we needed a reliable, high torque engine to complement the already well developed chassis, with this in mind and a lightening of my wallet he produced a special cam and cylinder head which he promised would do the job."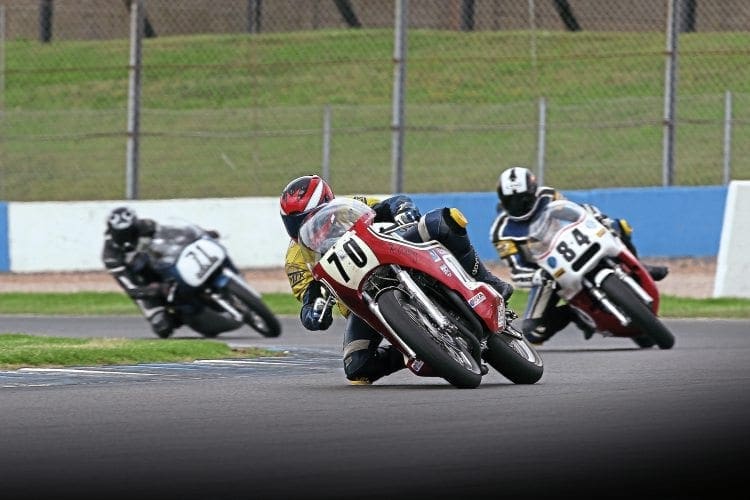 Andy continued: "Good-Bits.co.uk supplied new low-profile engine casings, and developed a new oil pump for us, we also tried an undercut gearbox from Cycle X as I was smarting a bit from the general cost and could not afford a Nova box (this did not last so a Nova racing box has now been fitted).
"All the parts went through the superfinishing process at Race Developments, this proved to be another detail that really helped. The gear change became really slick, and the engine was generally freer.
"On PDQ's dyno things looked promising, but it was not until testing at Pembrey that Rob came in and said: "…think we can do something with this." He was suitably impressed.
"We have had one failure so far this year, and at Brands Hatch Rob looked better than ever. On Saturday he had a clean sweep of first places in the 1300 class as well as the F750 class all day. Sunday proved a little harder due to the weather and in the last race, whilst in front, we had a complete loss of drive.
"Unfortunately the primary drive rubbers had disintegrated which led to a primary chain snapping, causing untold damage throughout the engine. So between rounds another engine had to be built and this time I was completely on my knees cash-wise, but luckily my long suffering wife, Gill, took up the challenge and produced a wad of cash to keep us going. So now I have to get home on time and tell her how lovely she looks more often, a small price to pay I think!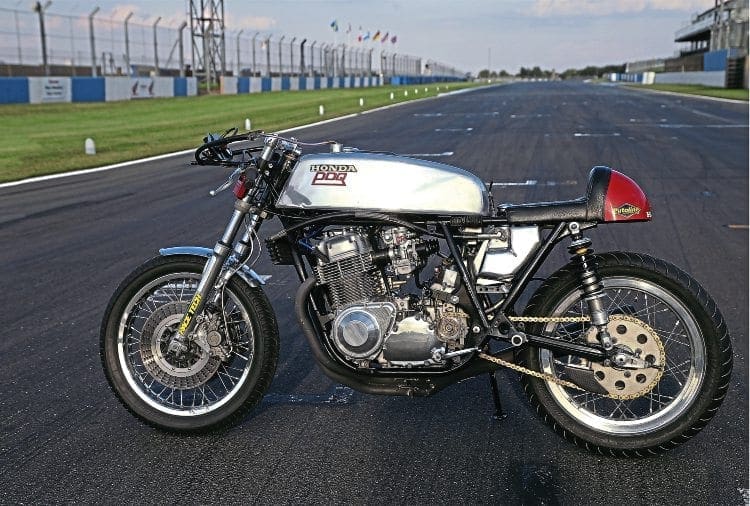 "So here we are, well past the halfway mark, and still leading in F750, UK National Classic 1300, and 1300 multi-cylinder championships. It's taken three years of development, the rider has improved, the bike has improved.
"We now know what works and what doesn't, and now Smith Honda CR2 will also be ready soon with a possible 900cc engine for the Trophy races. A small limited run of proper race ready 'continuation' Smith Hondas will start next year all to F750 spec."
And what does the rider think? "When we started we weighed 210kgs with six litres of petrol, now after a lot of hard work we're down to186kgs (nb: the works CRs weighed 174kgs).
"We've increased the bhp from 77 to 94, which is on a par with the best triples but they can weigh 10 or more kgs less. Without spending silly money we can't do anything about that because the majority of our weight disadvantage is now in the Honda engine, compared to the triples".
Owner Andy also feels that the class regulations regarding what can be modified/changed on the Honda are more restrictive than for the rest of the field – for instance brakes, swinging arm and forks.
Nevertheless, Rob is happy that he can now run with the top triples and look to overtake them, whereas previously he had to work desperately hard just to hang on to their coat tails.
The weight differential still means he has to ride extremely hard to keep the results coming in but some circuits work better than others for the Honda and the ratios on the brand new Nova gearbox, still in development, mean that he will soon be able to get away quicker and compete better with the six speeds used by many of the triples.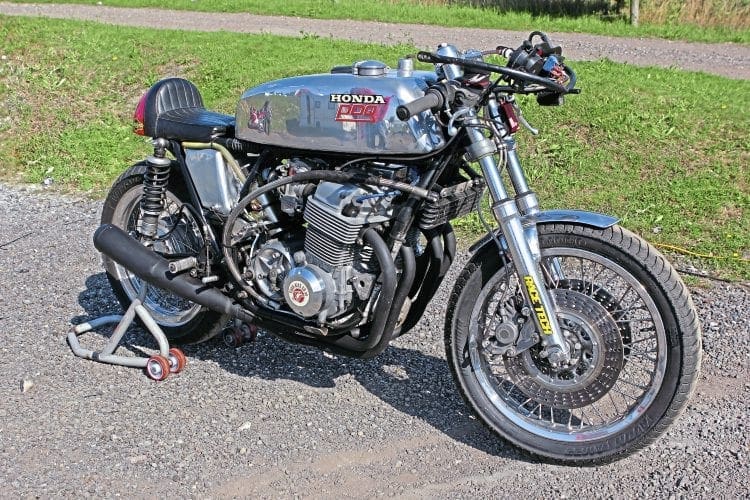 It's obvious there's a great partnership between owner and rider, not forgetting Rob's partner and number one fan, Emily, who accompanies him to every meeting.
The only areas of difference between Rob and Andy have been over certain design features, with Andy looking through classic tinted glasses whereas Rob has a modern bike perspective.
Hence the fact that the exhaust system went through several editions, with the current black 4:1 pipe representing a compromise between the old and the new!
I'll leave it to Andy to have the last words on their relationship: "You can develop a bike and throw as much money at it as you like but without a good rider it's pointless. Rob Wittey 'rider extraordinaire' has the ability to win combined with the mechanical knowledge and ability to know how to get the best out of the dynamics of the machine. Man and machine in harmony".
The Rivals
George Hogton-Rusling
Last season's Formula 750 champion, George Hogton-Rusling, who has been a sensation on Peter Hercberg's Triumph triples over the last three seasons, cracked several vertebrae in a huge accident at Anglesey early in the season.
Although back in the saddle by Donington, the tough youngster from Rotherham has found himself with too much ground to make up and it looks as if Rob Wittey's main rivals for the 2015 championship are going to boil down to three men.
Cormac Conroy
One of the best known and most popular riders around the CRMC paddock,45-year-old Cormac Conroy, has been among the front runners in the big classic classes since 2008, when he teamed up with fellow Irishman and former racer, Brendan Ryan.
Ryan has lived in London for 40 years but some years previously had met Conroy racing in the UK and when he needed someone to ride his Rob North BSA 750 and 930cc triples in the CRMC championship he had no hesitation in asking the man from County Wicklow to step in.
Family man Conroy runs a motorcycle and auto repair business in Rathdrum, about an hour south of Dublin, and commutes to all meetings by plane, where he meets up with Brendan, his team and the bikes. It may sound like a lot of hassle but Cormac's journeys are often quicker and cheaper than many other competitors forced to use congested roads.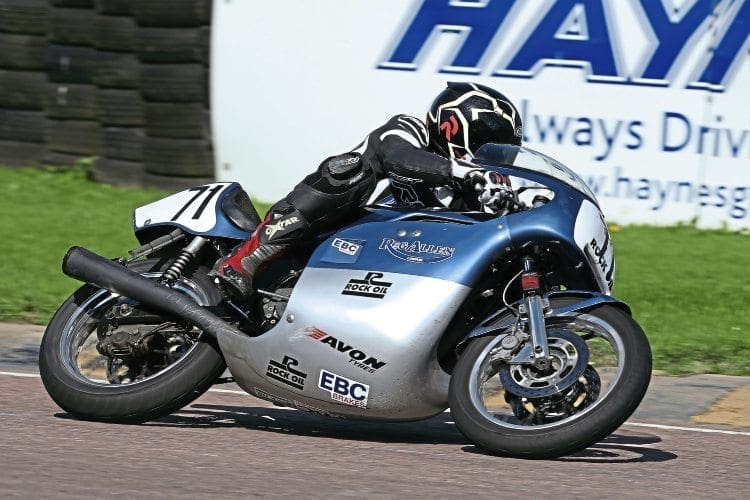 In the last seven years Cormac and the Ryan BSAs have won everything there is to win in the big CRMC classic classes at least once: F.750; Unlimited Classics; Classic Racer Syndicate National 1300 and Classic Rider of the Year. This year started slowly but at Donington he was back in top form and, with Lydden and Snetterton still to go, he cannot be ruled out for the major championships.
In amongst all this, Cormac has found time to ride as part of the successful Phase One Endurance team and represent Ireland in international mountain running. He has also broken his collar bone 'about a dozen times'. That seems to say everything you need to know about one of the toughest and most talented riders on the CRMC scene!
Steve Perlinski
A very welcome newcomer in 2015, in the Formula 750 class, is Steve Perlinski, accompanied by his wife, Marion, and father Bruno. Both Steve and Bruno are on board 750 Nortons, where it is Steve who has really caught the eye with some sparkling rides on his Seeley Mark IV Norton 750.
The only other man in recent times to perform so well on a Norton twin was Gary Thwaites. So, it comes as no surprise to learn that Steve's engine was previously installed in the Dave Watson owned bike that Thwaites took to so many race and championship wins up to 2012.
Steve, a 28-year-old industrial technician from near Lille, France, was brought up among racing bikes and began his own career 10 years ago on a Ducati 350, followed by a 500 Domiracer. 2013 sawhim on board the current machine, on which he swept all before him in the French Classic 750 championship, winning eight of the nine rounds.
In a remarkable show of versatility, Steve with passenger Charles Willot took on the 2014 French classic sidecar championship on a very humble 1972 810cc Lynx Triumph and finished third, with one win and three second places over the five rounds!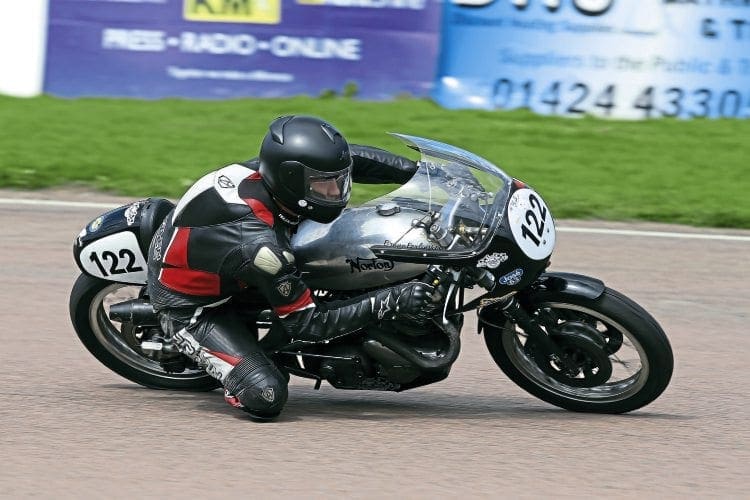 He did also keep his eye in on the Norton solo, however, and it was coming up against British invaders like George Hogton-Rusling, Gary Thwaites and Clive Ling at Chimay that gave him the taste for an attack on the CRMC championship in 2015.
Steve says that he's learned a lot from racing in the UK, with Cadwell Park so far being his favourite circuit. With things going so well he's already decided on another CRMC season in 2016, on a G50 if one comes his way, and perhaps an attempt on the Classic TT.
He's certainly a force to be reckoned with and is only going to get quicker as he becomes more familiar with the circuits.
Chris Chapman
Fifty-five-year-old maintenance engineer Chris Chapman, from Leatherhead, is now in his ninth season of racing, having begun his career on a 930cc Rob North Triumph in near road trim.
Chris had no previous racing experience but had spent 14 years as a London courier and quickly got up to speed, winning the club's novice of the year award in his first season.
Chris and his merry team have been a permanent presence (and source of sloe gin) in the CRMC paddock ever since, these days under the banner of team WANCA (We are not Christian Aid) – best to ask Chris how that came about!
The 1972 T160 930cc has since been much modified and is on a par with all but the very quickest in the unlimited class and Chris also has the use of the gorgeous RPS (Richard Peckett Special) T150 750cc that is actually Richard Peckett's (the P in P & M) personal racing bike.
As Chris says: "We have a great relationship with Richard and his team, I cannot speak highly enough of him and what they do for us".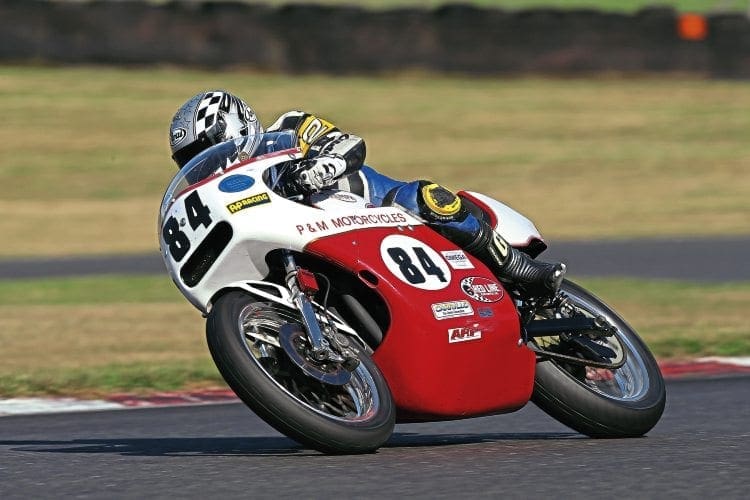 Not surprisingly, the bike has an original P&M frame, designed and built by Peckett at a time when the Rob North chassis that he coveted wasn't affordable or available. What P&M went on to achieve is almost beyond legend and the CRMC paddock is still full of their work.
To date (Donington) Chris has been the leading triple in the Formula 750 class this season, despite the pressure from Cormac Conroy and George-Hogton-Rusling (Carthago Trident), and he's determined to keep the pressure on Rob Wittey and Steve Perlinski for the top place in what has long been one of the toughest CRMC championshi
Specification
Good-Bits modified standard CB750 Frame manufactured 1970
M3 racing modified cylinder head.
Rob Wittey modified valve gear.
M3 racing High Torque camshaft.
M3 racing F750 spec pistons.
Carrillo con rods.
Good-Bits high capacity oil tank.
Good-Bits billet oil pump.
Good-Bits low profile engine casings.
Rob Wittey modified crankcases.
Nova Racing Close ratio gearbox (5-speed).
Good-Bits Heavy Duty Primary Drive.
Keihin CR 31mm carburettors.
Avon AM 22/23 tyres.
Rob Wittey/Andy Smith 4:1 exhaust.
Read more News and Features online at www.classicracer.com and in the May/June 2020 issue of Classic Racer – on sale now!