Ask any of the competitors who raced regularly against Austin Hockley and the most common description they give him is 'fearless'. Chris Carter charts his varied career.
Words: Chris Carter Photographs: Austin Hockley Collection and Nick Nicholls Collection – Mortons Archive
In a career lasting 12 years Austin has had a great deal of success. He was the British 125 champion in 1972, took the British 250 crown the following year and was runner-up in the 125cc series the same year.
He also crashed a great deal, robbing him of even more success and breaking a total of 22 bones.
Born in Stapleford, Nottinghamshire on January 18, 1947, he was a pillion passenger from time to time on the BSA Gold Star ridden on the roads by his uncle, Bob Barson.
Austin, his parents and another uncle, Fred Parsons, who owned a car, went to many race meetings at Alton Towers, Mallory and Cadwell Park.
When he was 16 Austin bought a motorcycle to get him to his job as an apprentice at Rolls Royce in Derby and in 1966 he began to marshal at places like Mallory and his interest in the sport grew.
Like many others before him, speeding on public roads persuaded Austin to start road racing. After fracturing his knee in a spill on his road bike, a Triumph TR6 Austin, he began a friendship with sidecar racer Ron Coxon, from Burton-on-Trent, who took him around while his leg was in plaster.
That road accident actually put paid to Austin's first planned road race meeting, where he was to have raced the Triumph, but instead Coxon sold Austin an outfit and he built a Triumph motor to go in it.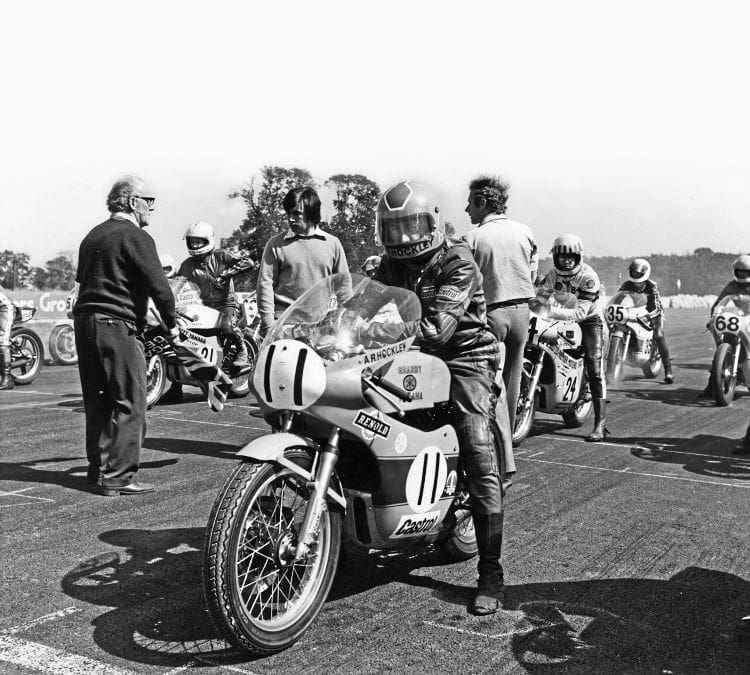 Sidecar racing wasn't a success! "The problem was you could never get passengers who were happy to help out with expenses, all they wanted to do was go racing," complains Austin.
He only raced about half a dozen meetings on the sidecar in 1967, at Aintree, Brands Hatch, Snetterton and Cadwell Park. He finished in just one.
The engine blew up frequently. He had two passengers, Mick Wilkinson and Mick "Fluke" Sills, who remains a good friend to this day, still riding bikes with Austin on the roads. The lack of reliability and the cost of racing an outfit were enough to persuade Austin to buy a solo.
He was due some money as a result of the road accident and he decided to switch to a solo. That did not come until he was 21 in January, 1968.
He knew Tony Spencer had a very quick Greeves Silverstone to sell, with which he was doing a good bit of winning. "I went to have a look at it, but I became aware that Yamahas were coming, so I bought a Yamaha TD1A," says Austin.
"The Yamaha was a bit of a dog. I bought in February and started racing it in March, but it wasn't until July that we had got it sorted out", Austin remembers. "In fact I won a lot of races, beating Tony Spencer by then."
Around the middle of that season Austin was told by a friend of his, Mick Bull, who worked at Granby Motors in Ilkeston, that the owner, Jack Glover, wanted to help out a racer.
He went to see him and Jack stepped in to pay for things like entry fees, but at that time he did not put any money into the bike.
Most of the season was spent at Cadwell Park, where Austin was learning his trade. "I was up and down the road to Lincolnshire most weekends and I did quite a lot of winning", says Austin. At the end of the year Jack Glover offered to buy a new 250 for the coming season.
Then the Yamaha AS1 came out and Jack had two of them in the shop and gave Terry Beckett one to tune.
The first meeting on the 125 in 1969 was at Cadwell at the end of March. People like Mick Chatterton and Dave Bedlington were there and they laughed at Austin's bike, which was basically a road bike.
They weren't laughing at the end of the day, because Austin finished third.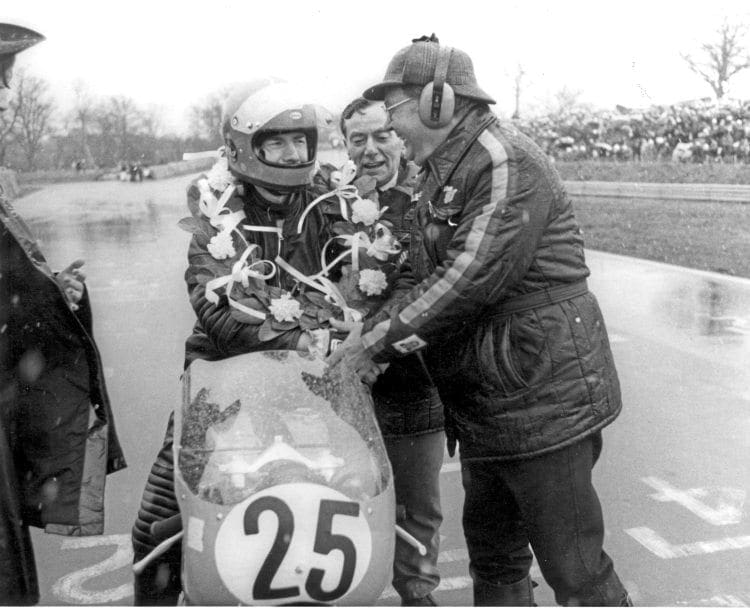 At the end of the month, he returned to Cadwell on the Saturday for another Racing 50 club event, during which he won the 125 race and the 250 heat, but broke down in the final.
A day later he was at Mallory for a Stars of Tomorrow National meeting. On the 250 he was second in his heat and second in the final. People were now sitting up and taking notice.
A week later Austin was at another National meeting, this one run by the NEMCRC at Croft, and it provided a milestone moment.
He won his first prize money, £1, for taking seventh place in the 125 event. During the season he bought a Ducati-framed TD1B, and sold the TD1A.
It was a busy season. Austin raced at 33 meetings, going to Snetterton, Mallory, Cadwell, Croft, Silloth, Aintree, Scarborough, Oulton Park, Thruxton, Castle Combe and Elvington.
There were no championships to show for his efforts, because if a club meeting clashed with a National he went to the tougher meeting. Austin kept a record of those meetings, including how much prize money he won. It was the magnificent sum of £28.
New season, new machines
For the start of the 1970 season Austin bought a TD2 engine from Ted Broad and fitted that into a Jack Machin frame.
He started the year as soon as he could, riding at a National meeting at Mallory on March 1, on both 125 and 250. Not everyone had heard of him yet, though. His entry was rejected for the National meeting at Brands Hatch on Good Friday, March 27.
He was in action virtually every weekend, including a trip to Ireland to race at Mondello in May, finishing sixth in the heat and 10th in the final.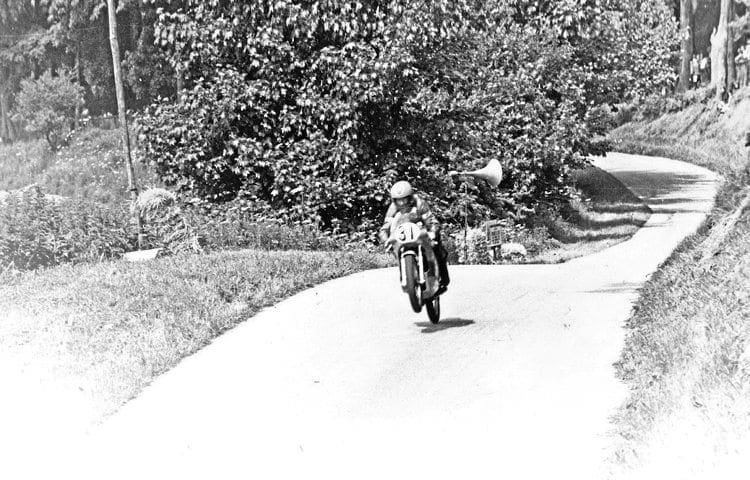 Austin never really got on with the new 250 and swapped to a Spondon frame. They experimented with Hitech barrels, but that was a mistake. The barrels kept seizing and, all in all, it was a poor season.
Austin made his TT debut on the Isle of Man that year. He was entered in the 250cc Lightweight TT on the Monday, but his bike kept seizing on him.
Ted Broad told him the cause of the problem was the coils, so he decided not to race the 250. He finished 20th out of 25 in the 125 race, averaging 75.99mph and earning a bronze replica.
From the Island, Austin rushed home for the International Post TT meeting at his local circuit, Mallory Park. He was eighth in the 125cc race, 10th in the 250 heat and a disappointing 20th in the final.
He made his debut at Castle Combe in July, crashing in practice on the 125, but went on to take eighth place in the 250 heat and ninth spot in the final. Then it was on to Cadwell for a British Championship round on July 26. Austin was fourth in the 125cc race and 13th in the 250cc event.
It was back to Cadwell for the August Bank Holiday, when Austin was third in the 125 event. A week later there was another British Championship round at Croft. He was 10th in the 125 race and 12th in the 250 event. He finished the season at Brands Hatch and Snetterton in October.
It had been a tough season, racing at nearly all National or International meetings, with mechanical problems and some big crashes, but at least the rewards had grown. That year he earned a magnificent £74.
The 1971 season started at Mallory Park with a National meeting on March 7. By now Granby Motors was running the 125 and paying the entry fees, while Austin was responsible for the 250.
He retired from the 125 race when lying fourth and then took eighth spot in the 250cc heat and then 11th place in the final.
Next came three British championship meetings in a 15-day period, Oulton Park, at which he didn't qualify on the 250, and a day later at Cadwell, with both 125 and 250 machines, and then Thruxton with both bikes.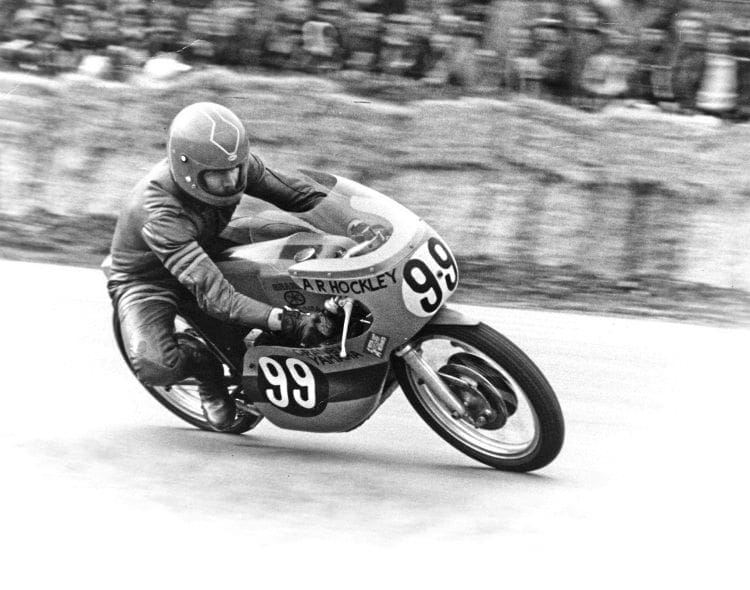 He was fifth in the 125s, but was last away in the 250 heat and did not qualify for the final.
On April 10 he raced at Croft, taking a good second place in the 125 event, after a real ding-dong battle with Barry Sheene, who just pipped him to the line in bitterly cold conditions. "Sheene came up to me after the race and said, 'another lap and you could have had that one'", remembers Austin. He was forced out of the 250 race when the gear change lever fell off on the starting grid.
Then Bert Saunders, from Leigh-on-Sea, Essex, wanted Austin to race his three Nortons. There was only one that he really wanted to ride – a yellow Commando in Production trim. The others were a Manx and an Atlas, but he had to ride all three.
He raced the Commando for the first time at Mallory in April and finished fifth in the Production event. The next day he was at Cadwell for another National.
He was fourth in the 250 race and then went out in the Production event. Austin was lying second to Ron Wittich and the pair had pulled away from the rest.
Austin broke the lap record, but fell off going into Hall Bends. Then he fell off the Atlas in the Unlimited event. When he returned to the pits the bike's owner was waiting for him. "I don't want you to go as fast as that. I just want you to finish in the top 10", he said.
That's not why Austin went racing! The owner would not let him ride the Commando from then on, but he raced the Manx at Castle Combe and Cadwell, without success.
He was getting good results on the 125, though, finishing third in the 125 British Championships at Croft and Mallory.
Once the owner of the Nortons asked him what it was like to ride a real motorcycle, meaning the Manx, Austin told him that the 125 was faster! Saunders took the Manx and the Atlas to the TT, but they kept breaking down and Austin did not race them.
Instead, Austin rode in Wednesday's 250cc race, which was won by Phil Read from Barry Randle. Austin finished 19th, averaging 90.26mph and taking a silver replica, with a fastest lap at 93.00mph.
The 125cc TT was a wet and miserable affair. The three-lap race on the Friday was the slowest 125cc race since the event had been moved from the Clypse circuit in 1960. It was won by Chas Mortimer from the Swede, Borje Jansson, at an average speed of only 83.96mph.
Austin crashed at Greeba Bridge on the first lap and was taken to hospital by helicopter. He was badly hurt, with a broken back, ankle, leg and ribs, among other injuries. He was also concussed. It could have been worse, because his crash helmet came off.
To this day the cause of the accident is not known. Austin does not even remember setting off. He was told he was well off line, but he does not know why.
Austin was back in action only a few weeks later, racing at the August Bank Holiday Monday meeting at Cadwell Park. A piston ring broke in practice and ruined the piston on the 250.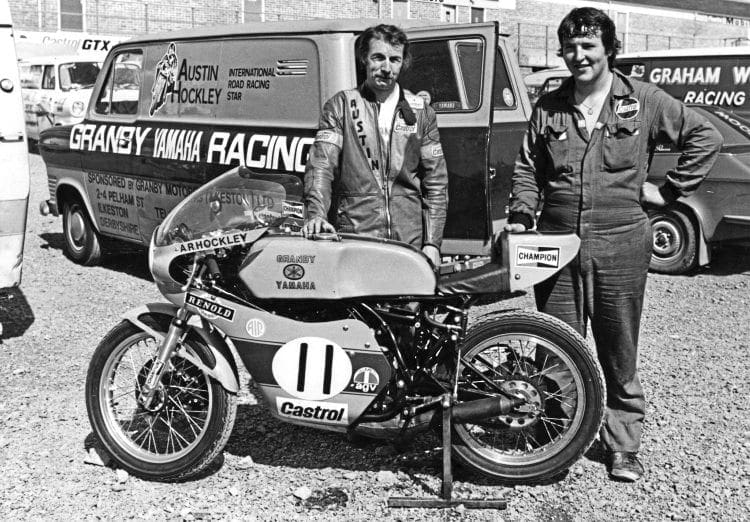 His bad luck continued at Castle Combe a week later. The 250 seized in practice, throwing him off the bike and he broke a collarbone.
Again, it was just a few weeks until Austin was back in action at the International meeting at Cadwell. He finished sixth in the 125 race, but he could not compete in the 250 event. Austin rounded off the year with meetings at Brands Hatch and Snetterton, without a great deal of success.
Despite his tough season, Austin finished fifth in the 125cc British Championship and 16th in the 250cc series. Making racing pay was still proving tricky. Austin only won £135 that season.
Austin's 1972 season did not start well. Running his own 250 was becoming more uncompetitive and the 125 kept breaking down at the early meetings at Mallory, Oulton, Cadwell and Thruxton, all of which, with the exception of Mallory, were British Championship rounds.
In April he raced at Croft, when the 125 seized while he was lying third and he tore a ligament in his ankle. Earlier, he was second home in the 250 race, picking his first prize money of the season, £20.
Getting back home from Croft wasn't easy. Pam, Austin's long-suffering girlfriend, could drive, but she did not fancy taking the van all that way home.
His young helper, Andy, could not drive, but Austin's injuries prevented him from operating the clutch. So Andy sat on the engine cover of the Thames van and on the word, pushed in the clutch while Austin changed gear! They got home safely.
The following day Austin went to hospital in Nottingham and was told he had torn a ligament and needed an immediate operation.
He had driven there himself, so he had to go home to pick up his cousin to take him back to the hospital and then take the van back home. It wasn't until six weeks later that Austin was fit enough to race again.
Then, on May 28 at Mallory Park, he injured his knee, hitting the kerb at Devil's Elbow. He was back at Mallory for the Post TT meeting in June, finally hitting something like form.
Then it was Scarborough, Austin's favourite circuit, where he was second home in the 125 race and was lying fourth in the 250 heat when a piston ring broke.
Austin raced in 10 more meetings that season, but with breakdowns and accidents, including a crash at Darley Moor, it was a miserable end to a year in which he only earned £94.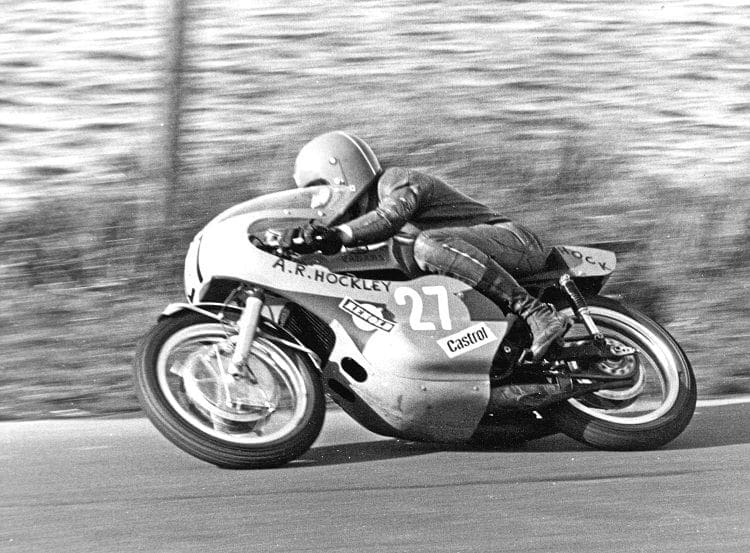 By the end of the season Austin, who was still working at Rolls Royce, was getting fed up with running his own 250. He was also getting married to Pam, so money was tight.
"I told Jack Glover I was going to pack up, but he said don't do that. Just run the 125," explained Austin. He had already sold his own van and borrowed one from Granby Motors when he could, otherwise he would take the wheels out of the 125, stick it in the back of the Cortina and take it to meetings like that.
The 1973 season was a good one, starting with a Cadwell Park meeting in early March, when he was second in the 125 race. He then had wins at Oulton Park and Cadwell and second places at Cadwell and Thruxton. The good run ended with him falling off at Oulton while he was leading the 125 race.
For a while there were more successes, including two wins on the 125 and second in both the 250 heat and final at Mondello Park in Ireland. He took victory in the 125 class at Scarborough, but from August to the end of the season there were many breakdowns.
He raced in 24 meetings and won £211 in prize money, plus, for the first time, start money of £20. More important than that though, was Austin had won the 125 ACU Star Championship.
The last round in the series was at Snetterton. Either Steve Machin or Austin would take the crown. Jack Machin, Steve's brother, disappeared into the distance, leaving Austin to battle with Steve and Dave Bedlington.
Towards the end of the race the championship contenders had dropped Bedlington off. Whoever crossed the line first would be champion.
Austin's temperature gauge had gone right up. He was worried the engine might seize, but he kept going. Steve led going into the chicane on the last lap, but Austin passed him and the pair sprinted to the finishing line. Austin grabbed second spot by half a wheel, to take the championship.
Waiting for him the paddock was Derby Phoenix club official, the late Tom Shearing, the father of a leading Phoenix official now, Geoff Shearing. Tom was so sure that Austin would win that he had bought a bottle of champagne for him to celebrate.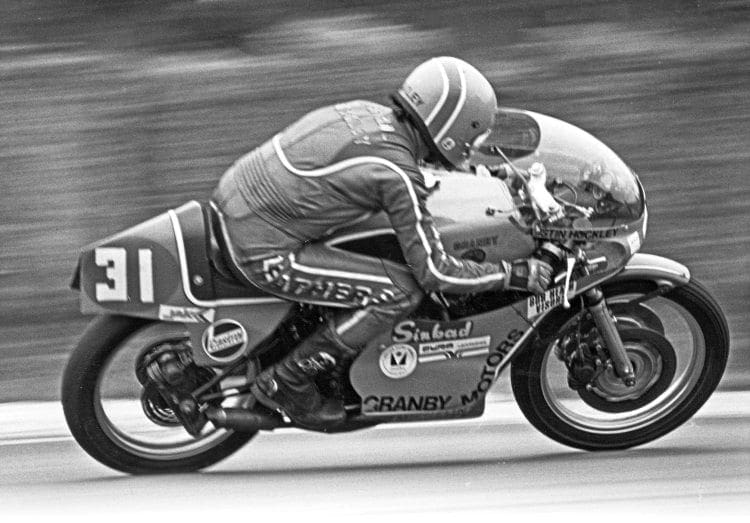 Jack Glover was so pleased that he bought Austin new TZ 250 and 350 Yamahas for the 1974 season to add to the 125. Riding the new bikes was a revelation for Austin, because they were so much better. The first few weeks of the season were spent in England with good results.
Then, on April 21, he made his World Championship and European debut at the French GP at Clermont Ferrand. Unfortunately, he crashed in the 125 race, but did not qualify for the 350 event.
Three weeks later he was at Mettet, Belgium. The big end went on the 125, but he was fourth overall in the 350 class, behind people like John Dodds and Chas Mortimer, after finishing third and fifth.
From there Austin was back at his local track, Mallory, at the end of May, taking second place in the 250cc heat, second spot in the final and then third in the 350 qualifier before falling off in the final!
After his big accident at the TT in 1971 Austin said he would never return to the Isle of Man, but in 1974 he changed his mind. He decided he would go back to the Island to prove he could ride round the circuit and ride round safely.
He raced four times. On the Monday he raced in the 350cc event, converting the 250 as usual. He finished 11th, averaging 96.85mph and setting a 100mph lap.
He was 30 seconds behind Noel Clegg and the same amount ahead of the late Peter McKinley. The Yamaha was quick. Tony Rutter and Alex George topped the speed trap at 146mph, with Austin's bike clocked at 139mph at the Highlander.
On the Wednesday he was out in the 250 race. At the end of the first lap he was fifth, just under a minute behind race leader Charlie Williams and only seven seconds down on Phil Carpenter, in fourth spot.
Vic Willoughby, writing in Motor Cycle Weekly, reported that Austin had been given the racing number, 43, starting three and half minutes after race leader Williams, but was soon gobbling up earlier starters.
Despite overshooting at Ballacraine, only seven miles out, he was fifth on corrected time at Ballaugh, 10 miles further on. By the Bungalow he had moved ahead of Carpenter.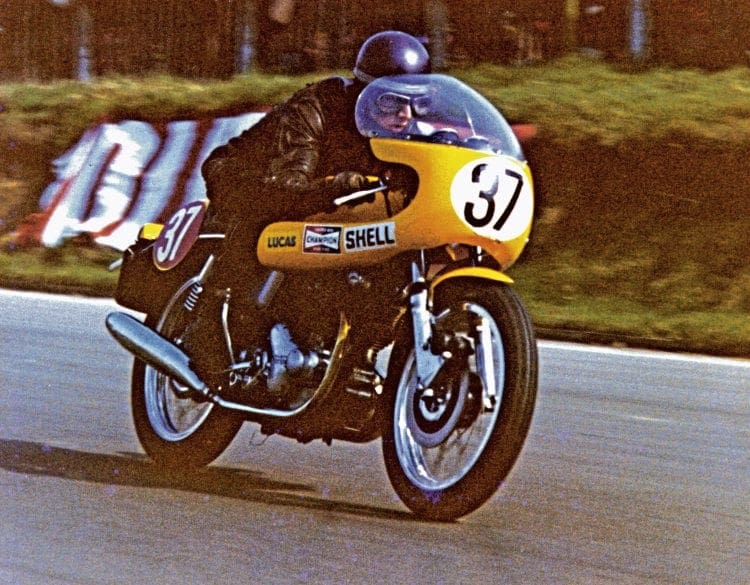 At Kate's Cottage, according to Willoughby, Austin had executed a 100mph broadside across the road into the grass bank and was extremely fortunate to stay on board. He broke the screen and with the front wheel rotating peculiarly, he lost out to Carpenter by the end of the lap.
Pulling into the pits, Jack Glover had not seen the damage and asked him why he had stopped. Both surveyed the broken front hub, which was liberally strewn with grass. Austin swung out of the seat and walked disconsolately away. He had been robbed of fourth place and a possible podium.
Austin raced twice on the Friday. He competed in the morning's 125 race. He had a lot of problems in qualifying and, to make matters worse, his bike did not start when he and pole-sitter Clive Horton set off together. Austin caught and passed Horton at Rhencullen. Horton sat on his tail.
Horton then passed Austin at the 12th milestone, but it was a brave move and Clive quickly decided it would be better to follow Austin. The pair passed fancied runner Chas Mortimer, one on each side, going into Parliament Square and Mortimer then retired.
Austin and Horton had a ding-dong scrap on that opening lap. On the Mountain section Austin noticed there was a problem with the gearbox.
They were side by side on the Glencrutchery Road heading for lap two, with Austin edging ahead going past the timekeepers, to lead by a fifth of a second. Horton then passed him going down Bray Hill.
But Austin regained the lead at Ago's leap, with a move that made Horton realise that he meant business. Horton passed him again at Quarter Bridge and was never headed again.
That battle ended seven miles further on. Austin's machine had been jumping out of fourth gear occasionally during the race, but when he was cranked into the right-hander at Ballacraine on lap two, he suddenly sat up and ran straight on, after being unable to cog down.
Austin explained to Tommy Robb, who was commentating at that point, that it just was not worth risking the gearbox locking up in the section of the track that followed.
The winner of the race was Austin's rival and near neighbour Clive Horton, from Derby. He beat Ivan Hodgkinson on his Granby Yamaha by 40 seconds, with the late Tom Herron having his first-ever 125 TT.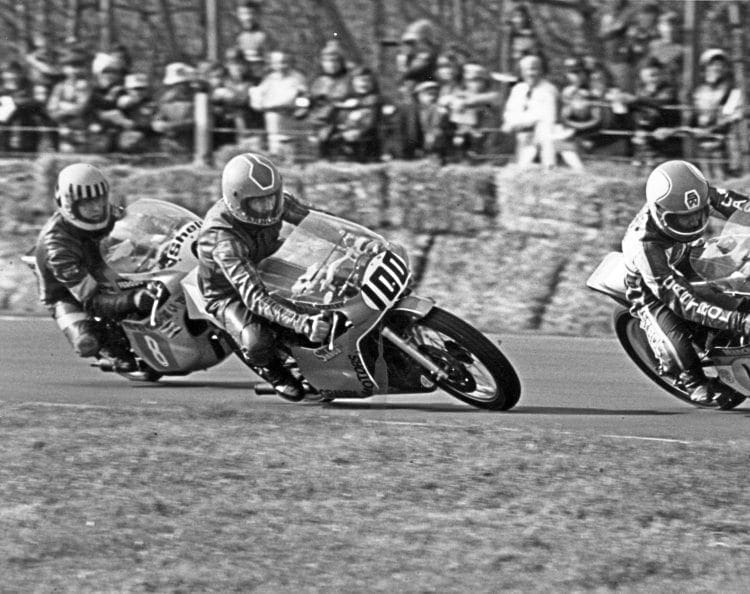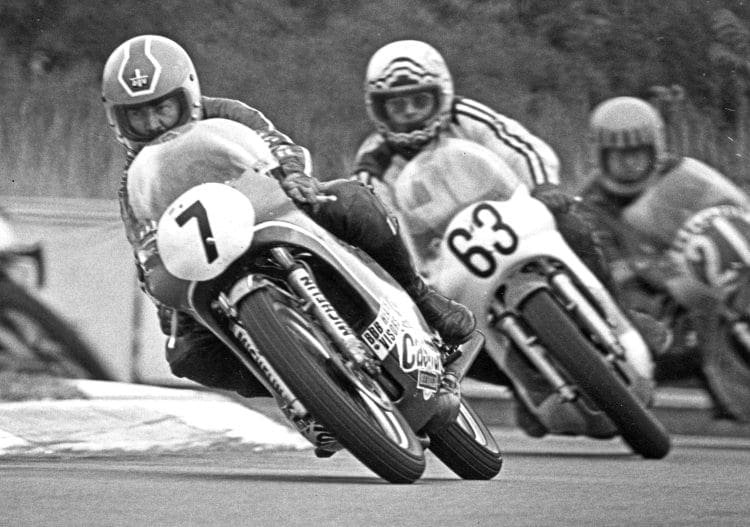 Conditions for the three-lap race had not been good, with a strong westerly wind and damp patches around the course in the early stages. Horton averaged 88.44mph and he and Austin shared the fastest lap of the race at 88.78mph.
There was a great quote from Horton after the race, who admitted talking to his Yamaha all the way round. He said: "Winning £200 makes it worth the effort. I spend £20 a week on racing and the money will make life easier on both of us".
Austin's final TT was the Formula 750 event on the Friday afternoon. It was a six-lap race and Austin, riding the 350 Granby Yamaha, was No 67.
He was not in the top 12 in qualifying, but made people sit up by holding sixth place at the end of the opening lap, with only 18.2 seconds covering all six, headed by Phil Carpenter.
Austin stayed sixth on lap two, with another lap at over 97mph. He was now 30 seconds down on new race leader Chas Mortimer. On lap three both Tony Rutter and Austin went past Gordon Pantall, making him fifth.
Pantall was up to third and Charlie Williams was on the move too, going from seventh to third on lap four, relegating Austin to seventh place. But a lap at 100.95 on lap five pushed him up to sixth and there he stayed to the chequered flag.
Back on the mainland, Austin was going well. In July he won the 125 race at Oliver's Mount, setting a new lap record. He then had a second and a third on the 250 and followed that with seventh place on the 350.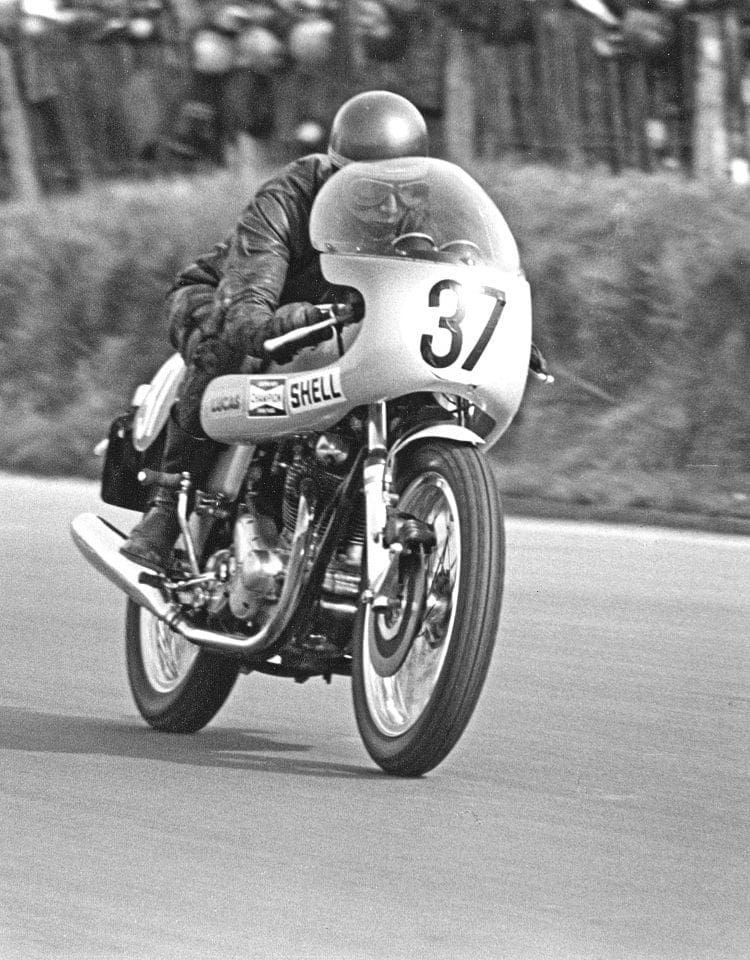 He had great results at Thruxton and Silverstone before going to the Ulster Grand Prix in August. It was his first time on the Dundrod Circuit. In the 350 race he finished sixth. Next was the 250 event.
Austin found himself in second place, but he was astonished at how enthusiastically the crowd were waving on the last lap.
Unbeknown to him, local hero Ray McCullough had pitted because of a loose wire. He had fallen over in the gravel, but was slow to resume. He finished sixth.
Austin won, but it was only in the paddock that his friend, the late Rob Cluer, told him he was the winner! He did not believe it for a while.
Back in Britain, Austin continued his great form, notching up successes at Snetterton, Oulton, Scarborough, where he broke his own lap record, and Mallory, Croft, Cadwell and Snetterton.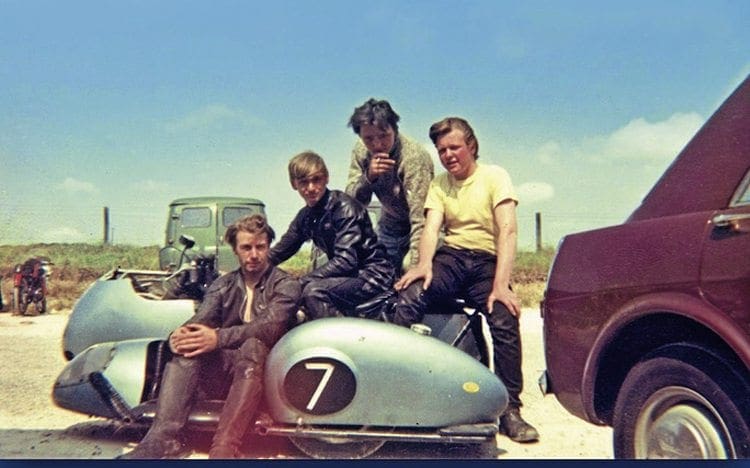 He raced in 25 meetings that season, winning £1,327 in prize, start and bonus money. He was also the ACU 250 champion and runner-up in the ACU 125 series.
The 1975 season started well, with good results at Mallory, Cadwell and Oulton. He was entered at Brands, but could not race because the meeting was snowed off.
The rest of the Easter weekend at Mallory and Oulton went well, with victories in the 125 and 500 classes at the Cheshire circuit.
Austin was keen to go overseas and in April and May he included the Tilburg race in Holland, the NW200 in Northern Ireland and another Dutch meeting at Tubbergen in his calendar, with mixed results. He would have gone back to the TT again that year, but he was only offered "stupid start money" and the event was so expensive.
Instead, he raced at the Mallory Park Post TT meeting and the Raalte International in Holland, before returning to Britain and Oliver's Mount, which did not go well. The 250 would not start, he was second in the 350 race, fell off in the 500 event on wet tar and the clutch broke in the 1000cc outing.
The season came to an abrupt end the following weekend at Zandvoort, Holland, when Austin crashed heavily in practice. He was badly hurt, suffering serious back injuries, among others, putting him out for the rest of the season.
In 1975 he had raced in just 16 meetings, with earnings totalling almost £1,400.
He recovered for the start of the following season and raced in a series of National and International meetings in Britain and Europe.
It was a lacklustre start to the 1976 season, with falls and mid-table finishes. Granby Motors provided him with a TZ750, but he found it difficult to ride it and the smaller TZs. He gave the 750 back to Jack, who had Neil Tuxworth race it for the rest of the year.
The whole year was one of mixed fortunes, with good results like a second in the 125s and third on the 250 at Scarborough's Cock o' the North meeting, but there were many mechanic problems.
Austin was injury-free, racing at 24 meetings, but his financial rewards were only £1,453, similar to the previous year.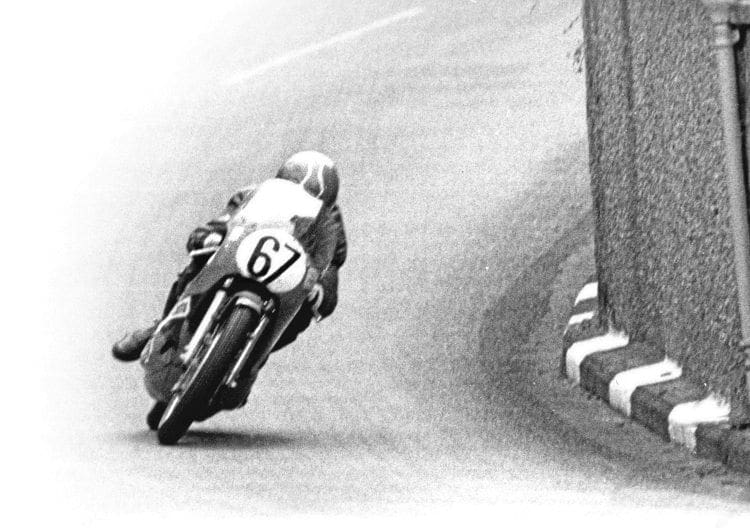 The 1977 season did not start well, with the season's opener at Mallory Park cancelled, but straight afterwards Austin had success on the 250 and 350 at Cadwell and the 125, where he was the winner, and sixth on his 350 in the 500 event at Tilburg, in Holland, against riders like the late John Newbold, Wil Hartog and the late Jack Middleburg on 500 Suzuki machinery.
Instead of the TT, where Austin was again offered what he considered to be poor start money, he raced in three European meetings, Tubbergen in Holland and Chimay and Sint Joris in Belgium.
He bought a caravan before he travelled over. The prize and start money in those three meetings paid for it!
In August Austin raced the 125 and 350 at the British GP at Silverstone. He had a good battle with the Swedish former 125 World Champion Kent Andersson before an exhaust pipe spring broke, forcing him to stop. He finished 10th in the 350 race.
From there he went to the Ulster GP. It was not a great meeting. Austin found it difficult to get back into the swing of riding on the roads.
Next it was back to Donington Park, where he finished fifth in the 250 and won the 500. The next day he raced at Oulton and finished third in the 250 event.
He raced at 25 meetings that season and earned £2,812. For the 78 season Austin decided to race in Europe more. It paid better and he enjoyed the atmosphere. Rolls Royce refused to give him the time off, so he decided to quit.
Mallory started the season and Austin won the 250 event. At Cadwell he was fourth on the 250. At Donington he won both 250 and the 350.
Next was Hengelo in Holland. Austin was fourth in the 500 event and fifth in the 250, but remembers the meeting mostly for their being so much rain that everyone had to be dragged out of the muddy paddock by tractors.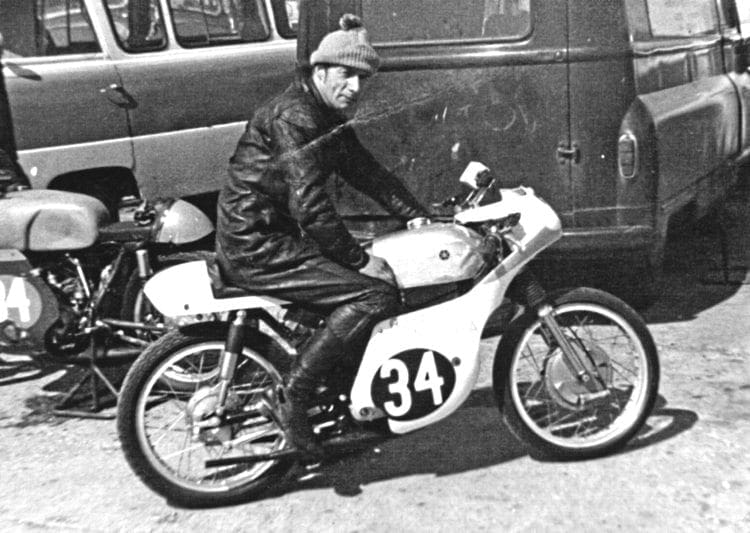 He raced at Paul Ricard, France, then on to Tilburg in Holland. He was going well on the 250, but the crank broke and in the 350 event he was lying second to Jon Ekerold and in front of Takazumi Katayama on the last lap, seemingly sure in runner-up place, when he clipped a kerb and fell off.
At Heerlen, Holland, he was second in both the 250 and 350 races and then he came back to Britain.
He rode at Croft in May, where he was brought off in the 350 race. A foot-rest went through his foot, inflicting severe damage.
The main reason he had returned to the UK was a meeting at Cadwell, where he was to race a bike for John Banks, the Bury St Edmunds dealer, in the Honda 125 Championship. The series had been running since 1976, but to this point Austin had not been able to find a machine.
Austin was out of action until mid-August. He rode at Sint Joris when not fully fit and finished 10th in the 250. At Donington he was fourth in the 250 and sixth in the 1000cc race on his 350.
He went to the Scarborough International in September. He was lying third in the 250 race, but crashed coming out of the esses, hitting a tree and breaking his left femur.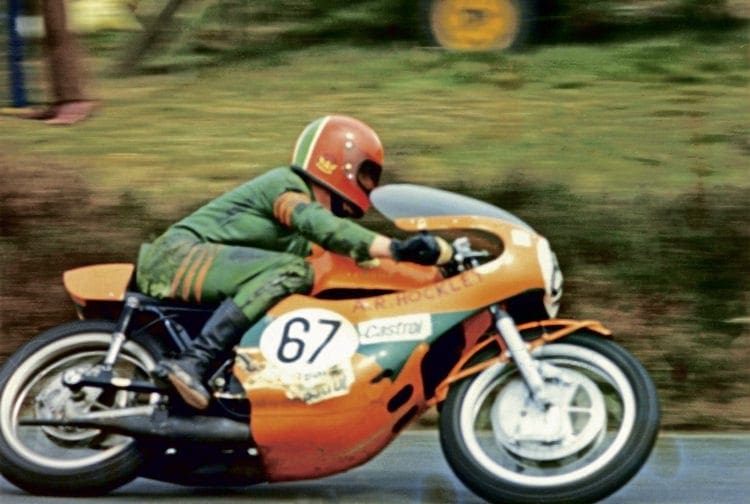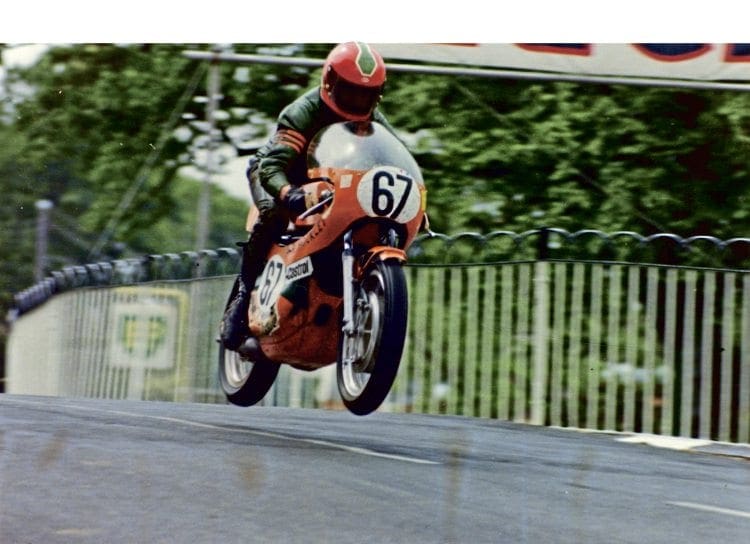 It was the final straw. His wife was pregnant, he had no job and he could not race, so he decided to quit the sport.
That year he had been doing some work for Dave Franks at Premier Engineering in Derby. When he heard of Austin's situation, Franks offered him a job and he worked there for the next 30 years.
It was not quite the end of the racing story, though. In 1995 he was invited to race in a Past Masters event at Mallory Park on Triumph Triples. He raced again in 96 and 97.
Read more News and Features online at www.classicracer.com and in the May/June 2020 issue of Classic Racer – on sale now

Enjoy more Classic Racer reading in the bi-monthly magazine.
Click here
to subscribe.