Dear CR
Excellent magazine as usual,thank you,have been a reader since issue one.
Loved the article on Ray Knight and as with the one on Ernie Bryant it brought back memories of BFRC and Racing 50 club meetings at Cadwell Park.
l remember the collecting area down by the cafe where you pulled out your grid position from a bingo caller's number bag, making your way to the second collecting area on the Mansfield corner run off road overlooking the corner watching the race preceding your own.
Then there was the magic of silence on the grid, flag dropping and pushing like mad to bumpstart your bike.
l usually got quite good starts and remember one incident in particular as a lad on a 1000 Vincent engine special got a slow start, flew into the mega tight hairpin way too fast shouting at the top of his voice to warn the rest of us of his predicament.
l picked my 750 Norton up as he flew across the front of me towards the Mountain for a quick U-turn, then we all just carried on with the race. Great times.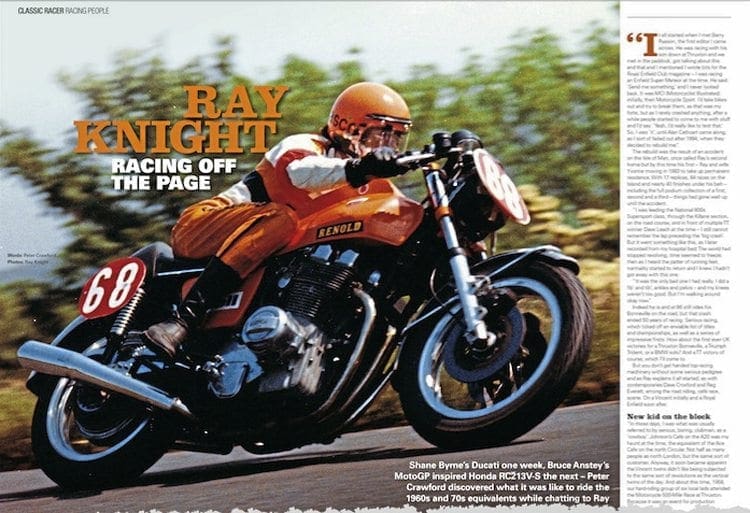 Any chance of an article on the BFRC, where l first came across Malc Wheeler on his ex-John Borsberry G50 Seeley when l was racing the same make of bike in 1973?
Also brilliant article on Mick Boddice, reminding me of huge crowds at Mallory where five of us balanced on a home-made stand to enable us to see any of the track over the heads in front, it was okay until one of us overbalanced.
l consider myself so lucky to have been born in the best era.
Dick Groom
Email
Dick, that's not a bad idea for a feature – I'll chat it through with Malc and see what he thinks to it. Tony.
Read more Letters, Opinion, News and Features in the July/August issue of CR –on sale now!