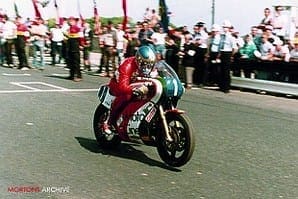 The 1984 road race season promised so much, but as is so often the case in this cruel sport of ours delivered so little. For small budget privateers the TT Formula 1, 2 and 3 offered an affordable opportunity to go racing at a high level. And it rewarded inventive tuners too. So for two seasons, 1983 and 84, we, Nottingham ace tuner Cleve Brightman and me, enjoyed a reasonable level of success with our unlikely Laverda TT2 and only got a little bit bankrupt doing it.
With its Harris chassis and the motor out to 600cc producing more power than was decent, hence why we had so many blow ups I guess, we managed a fourth in the Formula 2 TT in 1983 and fifth in '84 against quality opposition with bigger budgets (what budget?) than we had. In fact it was one of these mechanical strops that set me off down the Ducati TT2 route.
British Championship
We were at that windswept jewel of the north, Carnaby, for the British Championship round when the Laverda decided it didn't want to play any more during qualifying. In a stroke of luck, for me not him, Graeme McGregor tipped off the Sports Motorcycles TT2 Ducati and broke his collar bone. Damage to the Ducati was light and Steve Wynne, Sports Motorcycles owner, patched it up and generously offered it to me for the race.
Within half a lap of the race, after only one very short practice session on the Ducati, I was hooked. With only Tony Rutter ahead of me I was rehearsing my post race interview. Perhaps I should have given that front tyre longer to warm up, because the next thing I knew I was on my ear at the Esses and sliding towards the spectator fence, behind which stood Steve and Dot Wynne and Mrs Wheeler!
But Steve understood racing and gave me a chance to redeem myself two weeks later at Brands. We did OK, if a little cautiously, and finished with a second in the Battle ofTwins race. By then I knew what I wanted to ride in my quest for that dreamed of TT win (a dream still unfulfilled) and I pestered Steve relentlessly over the winter. With his team plans sorted for the year he offered a great compromise, he introduced me to his friend Hoss Elm of Moto Cinelli who was keen to get involved in racing.
Hoss had great contacts in Italy for parts and Steve built the engine, which we slotted into the superb Harris chassis. After a 22 hour day in Steve's workshop dovetailing the components we had the prettiest TT2 in the world. And that's when things started to go wrong. On one of his regular drives down to Italy to collect parts for his business Hoss had an accident which left him with life changing injuries and also destroyed the van which was to be our race transport.
Testing ahead of the first race of the season at my local track Cadwell Park amounted to running up and down the local airfield. A seized piston later, followed by a few hours in the workshop, and we were ready for Cadwell, or so we thought. Damp and slippery qualifying was to my liking and went reasonably well, and so did the race, up until the point that the battery went flat and the misfire set in. This set the seal on the season, with one second place behind Steve's runner, Trevor Nation, being the highlight, until things really went belly up, literally, when a crash at Snetterton, just two weeks before the TT, left us with a battered bike and me with a broken collar bone!
The bedraggled Moto Cinelli team made the TT, with the bike looking like new, Hoss with his leg still in plaster, and me with a very sore shoulder which I told no one about for fear of facing the TT medical committee. Practice week was a nightmare, with oil leaks and handling problems. A bike that had handled so well on the short circuits was an animal on the Island. The worst experience was a tank slapper flat in top down Sulby, which knocked the pads back and left me scrabbling around Sulby Bridge.
The Formula 2 race came and went and we finished a lacklustre seventh. I was gutted and decided I'd had enough after the TT and retired (I didn't really, I started all over again in 1986, but that's another story) and handed the bike back to a disappointed Hoss. Later that year he sold it to Tom Knight, who had great success with it for a number of years, as a 750 TT1, including winning the Newcomers Manx Grand Prix in 1985. And the memories of a disappointing and frustrating season were put to the back of my mind; at least they were until Jilly Penegar of the Ducati Owners Club asked me to write the story of my Pantah experience for the club magazine Desmo.
To be honest I'd seen one or two tasty TT2's at classic parade events before Jilly's request, and through my rose tinted specs had been fancying one in my shed, so at the end of my story I asked if anyone had a TT2 for sale. A couple of weeks after Desmo was published I was in the Isle of Man for some meetings and at the first was an old racing mate, and Ducatisti, Rupert Murden who had read my story in Desmo.
Rupert apologised for having just sold his TT2, but added that he also had a TT1, although it wasn't for sale. I quizzed him about the 750, after all what's a few cubes between friends. When he told me it had been Tom Knight's bike my face must have been a picture. Still insisting he didn't want to sell this one Rupert suggested I call round at his palatial Manx residence the next morning for a coffee and at least I could pat the old bike affectionately.
After being reunited with the Duke the next morning and sobbing on Rupert's kitchen table he, good egg that he is, agreed to sell and two weeks later I was back on Mona's Isle and taking ownership. My first call on getting it back home was to Dream Machine, who painted the bodywork first time around and they agreed to take the job on again. Imagine my surprise when I dropped it off at their Long Eaton factory to find out that Andy Scott and Phil Abbitt who worked on it 26 years earlier were still there and would be doing the job this time around.
Collecting the TT2
Less than a week after collecting the TT2, it was across Italy for the Milan show; anyone who has visited will testify to just how big it is, and on the first morning who was the first Brit I bumped in to but Jeff Green, of GTEC. Jeff and I had worked together in the early nineties at Moto Cinelli (despite Hoss' disappointment at my leaving the race team he still gave me a job) and we got on really well. We made a good team, him with his steady, patient way and me, well let's just say not so patient. After the small talk Jeff's first question was about the TT2 story in Desmo and when I told him about how the bike had surfaced he was as amazed as me. "Let me build the engine for you" was Jeff's instant reaction.
Although when Rupert bought the Ducati it had been rebuilt it had stood idle for a number of years, so a proper look inside was a good idea Jeff said, and as things have turned out a very wise move. To date I have the bodywork back from Dream Machine, completed bang on the promised date, and it looks superb in our dining room. I'm sure it'll look better on the bike too. As far as the mechanicals go Jeff is still hard at it, in between earning a living tuning and repairing modern Ducati. Now it's my turn to be patient.
Part two will cover what Jeff found inside the TT2, fitting the gleaming bodywork, sorting the tyres and suspension, and hearing her run again.