The finest product of one of Britain's most established racing dynasties, Mick Boddice was rarely out of the results for over four decades of racing. Arguably he kept his best until last, as he recounted to Pete Crawford at his Kidderminster home.
"I suppose my most memorable race was the Ulster GP, where I had a wheel-to-wheel battle with Jock Taylor. He was world champion at the time and he'd lead one lap and I'd lead the next – it just went backwards and forwards, a real good ride.
"Then, on the last lap, we came down to the hairpin, he went straight on and into the ditch and I won it. I had another good ride at the Ulster actually, where I won again and beat Gote Brodin into second."
The Ulster seems an odd one to choose, given Mick had nine TT victories among 22 rostrum places – as well as numerous British titles. But sidecar racers are a different breed and Mick Boddice was certainly born to it – even though, with a wry smile, he suggests he drifted into it, but early photos hint otherwise and the date on his race licence only confirms it.
"My birthday was in November, which annoyed me, as I had to wait until the next season to start racing. Aged 16, at Brands Hatch, it was Good Friday and I was on my old man's bike. It was as soon as I could race, and I won 12 quid. I thought I was a millionaire and bought a pair of Agostini goggles with the money."
The money came from a third in the handicap race, after a 15th in the main event.
The handicappers were rarely generous – the stars usually pulled through for the cash – so it indicated a deal of learning between the one race and the other.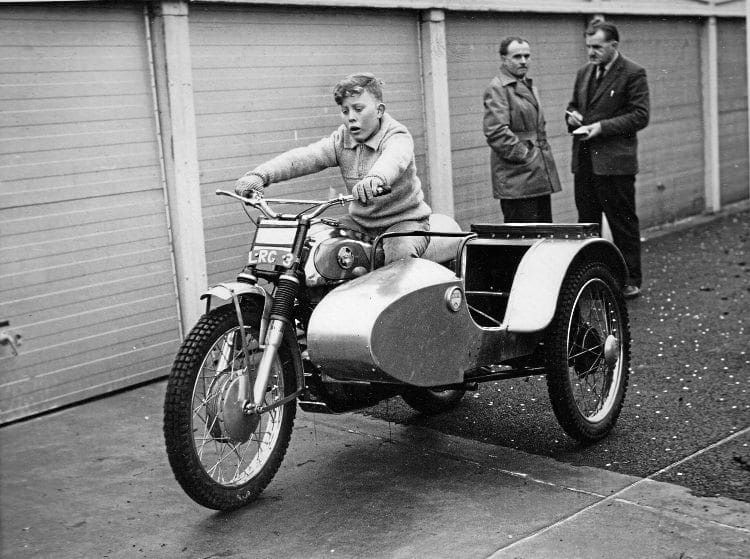 That early learning curve remained steep, culminating the following year, on Sunday, May 16, at Snetterton. With a first victory, a first MCN headline, and a first win over dad, the press article proclaimed: 'First win for a ginger-haired 17-year-old who is going to be a great rider… the spotlight was turned on young Mick Boddice who tore away from a top line field including his father Bill, in the big sidecar event.
"And Mick's passenger, 18-year-old Dave Loach, had never been in a racing sidecar before. The two teenage tearaways went into the lead on lap three.'
"My dad said he'd retire when I beat him, but he always had an excuse when I did. He was an electrician, then a car dealer selling Volvos, but through racing he knew Clive Bennett, from Ariel.
And when Ariel moved into BSA Clive was in engine development, and said to me: 'Do an apprenticeship, then move into my department.' I actually moved three years before I finished my apprenticeship, and from there into the Comp Shop."
As a sidecar racer in the mid-1960s, if there was one place to be in the world – outside BMW's race department perhaps– then it was at BSA. For a company which famously didn't go racing, you couldn't move for racers and the ideal engine was sitting readily to hand.
Read more and view more images in the May/June 2019 issue of CR – on sale now!