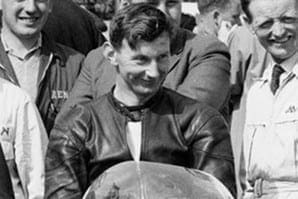 Born in 1933 at Sulby Bridge, Sulby, Isle of Man, he married Kathleen (Cain), and they had three children, Angela, Paul, and Geoffrey.
Dennis started riding motorcycles at 15, taking part in local scrambles, trials and short circuit racing at Jurby.
He also competed in two Scottish Six Day and three International Six Day Trials in Bavaria – where he retired; East Germany, gaining a gold medal, and on his native Isle of Man, gaining a bronze medal.
Dennis commenced road racing in 1961, after being a travelling marshal for five years. Riding 350 and 500cc Nortons for Geoff Duke he gained three replicas in the Manx Grand Prix, before winning the 1965 Lightweight (250cc) on a Greeves at record average speed of 88.37mph. He rode a Royal Enfield special for Geoff Duke in TT 1966 in his only TT appearance, but retired during the race.
The family moved to Western Australia in 1967, and Dennis continued to compete in all classes of motorcycle competitions, becoming state champion in motocross and short circuit trials, and inauguralenduro events.
Dennis worked for both Yamaha and Suzuki, before he and Kathleen started their own business, importing Danish engineering machinery, before retiring.
Dennis returned to the Isle of Man at the beginning of this year to visit his sister Joan and attended the Manx Motor Cycle Club's annual dinner where he was a most welcome guest and received a standing ovation some 49 years after winning the Lightweight Manx.
Members of the Manx Motor Cycle Club wish to convey their sincere condolences at this sad time to his family and friends.