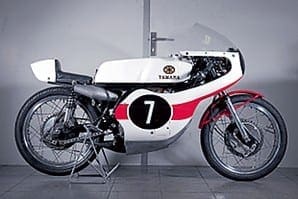 In a packed couple of days the YCRT will parade on track, but the highlight of the weekend for many will be the appearance on track of Phil Read and Steve Baker aboard the Yamaha MotoGP M1. There will also be 30 classic races, round one of the European Vintage Cup, the ACU Post Classic 350 Championship and the Classic Racer sponsored Wheatcroft Trophy.
The YCRT will have 18 bikes on display in the Donington Paddock Suite over the weekend including, the 1968 125cc four-cylinder two-stroke, pictured, Jos Schurgers, the first 125cc machine to lap the IoM TT Course at 100mph, in 1968 with Bill Ivy on board. The 250cc four-cylinder, on which Phil Read won the 250 title 44 years ago, will be ridden by Phil, Steve Baker's 1977 Daytona winning 250 will be galloped by the man himself, as will his 1977 title winning OW31. Phil Read will be a busy man over the weekend as he will also ride Ago's 1978 500cc four. And former British Champion Gary Dickinson gets a guest ride on the Hailwood Team Martini 250.
To celebrate the launch 40 years ago of the iconic TZ race machine, a display covering all the models produced since 1972 will be shown in the paddock suite.
As well as the regular team members, riders invited to gallop the teams bikes are Steve Parrish, Jamie Witham, Rob McElnea, Noriyuki Haga and Malcolm Wheeler (I know, how exciting is that? Malc.).
---
Advert

Enjoy more Classic Racer reading in the bi-monthly magazine. Click here to subscribe.
---