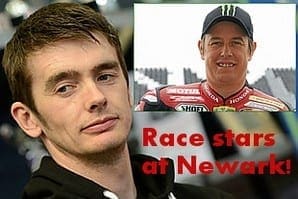 With both men gearing up to do battle at the iconic Isle of Man TT this August; 'The Morecambe Missile' and 'Manxman' will both be in attendance at The Carole Nash Newark Bike Bonanza, giving visitors an amazing chance to get up close to two giants of the racing world.
Taking place at Newark Showground on June 22-23, the weekend promises to be a fantastic new addition to the growing portfolio of Classic Bike Shows – the team behind several of the UK's biggest and best motorcycling events including The Carole Nash Classic Motorcycle Mechanics Show at Stafford.
The presence of McGuinness alone would be treat enough for fans, as the TT veteran and 19-time winner will provide a unique insight into his long and successful career, but Cummins makes it even better as in a recent interview with the magazine Island Racer 2013, the promising youngster declared his belief that McGuinness was "beatable".
McGuinness and Cummins won't be the only race aces at the new show; Alex Lowes and Ryuichi Kiyonari, two of British Superbikes' hottest talents, have been confirmed as the Newark Bike Bonanza's guests of honour.
Lowes will add a local flavour, hailing from nearby Lincoln, while three-time British Champion Kiyonari is always a hit with UK fans.
Thrills and spills will be in plentiful supply too as champion stuntman 'Mr Showtime' Steve Colley and Ken Fox's 'Wall of Death' take their place in the line-up.
If that wasn't enough, the Lincolnshire and Nottinghamshire Air Ambulance will be on site, along with the Lincolnshire Road Safety Partnership and the Nottinghamshire Fire service – both promoting road safety.
You can get in on the action too; stop by the Classic Racer Grand Prix Paddock, the inflatable mini – quad bike track (one for the kids!) and the Get On campaign, where the team will be on location for anybody wanting to have a go on a bike for the first time or re-kindle their passion for riding.
There will even be live music to keep the entertainment going into the evening.
"We are very excited that John McGuinness and Conor Cummins, such huge names in the racing world, have agreed to come to the show and meet the fans," said show manager Nick Mowbray.
"This fantastic range of events, attractions and displays has something for everyone. Whether you are first time bike show visitor or a long-time and passionate bike enthusiast, The Carole Nash Newark Bike Bonanza is the event for you."
For full details of the show, including a new family ticket that constitutes a 30% saving on regular costs, visit www.classicbikeshows.com