January 2, 1936 to January 7, 2020
Look through the eligibility records of the CRMC and the name Seeley comes up time and time again.
Sometimes it's for Seeley G50s, which were a complete bike sold to be raced in everything from GPs to Brands Hatch scratching with Bemsee on a Saturday afternoon, to two-, three- and four-cylinder bikes from all corners of the motorcycle world.
The prototype Seeley G50 was tested at Brands (anticlockwise apparently) in February 1966 and featured a bronze welded Reynolds 531 steel-tubed frame and a G50 engine, the result of Colin buying the recently defunct AMC race department stock of spares and equipment.
A lightweight, strong frame, Manx type front forks, an innovative double-sided but single leading shoe front brake and a well put together G50 motor linked to a Schaftleitner five-speed gearbox made for a highly competitive bike, which in its various iterations won countless races. Indeed, Seeley G50s are still winning at CRMC race meetings.
Seeley frames went on to house an incredible number of engines from Yamaha two-strokes like the famous all-conquering Yamsel ridden by John Cooper to Norton twins, Honda works 500 and CB750 fours, Triumph BSA triples and Fath four-cylinder to name just a few.
When asked once how many different engines his frames had held, Seeley's answer was that he got to 40 and gave up. The list of riders who rode for Colin also glitters with stardom – Mike Hailwood, Derek Minter, Phil Read and John Cooper to mention just a few.
Of course, Colin was also a seriously talented sidecar racer who competed as part of the 'Continental circus', and at all the home internationals and nationals, with considerable success.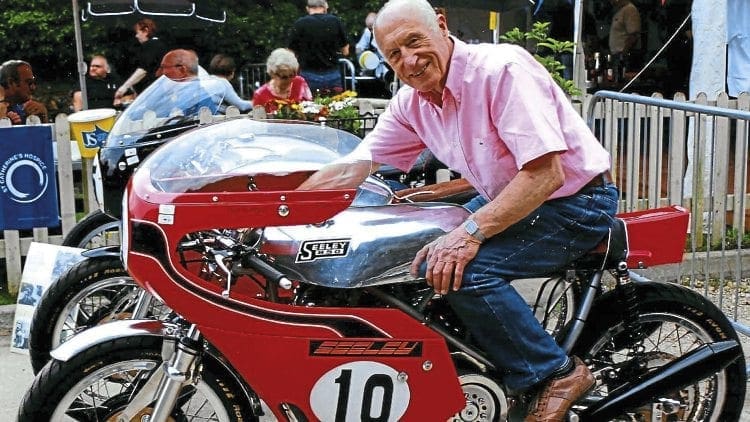 After about four years of scrambling (successfully of course) he had his first sidecar race at Snetterton in April 1960, finishing 10th out of a field of 31. In 1963 he, with Wally Rawlings in the chair, competed in 36 races, finishing 32 with 18 top three placings.
By the end of the year Colin and Wally had amassed a third in the Isle of Man TT, were British Sidecar champions and ninth in the world sidecar championship. Oh, and he also got married to Joan – quite a year.
You would need two large books to get anywhere near listing all of Colin's life and accomplishments, which is of course exactly what he did producing Colin Seeley Racer… and the rest, totalling over 600 pages in two volumes of minutely detailed history.
From working with Bernie Ecclestone on Brabham racing cars, to managing the Duckhams Rotary Norton team, to producing Honda-powered trials bikes, to producing the Seeley Suzuki Monocoque 500 twin and launching the Condor Road bike – the list goes on and on. He even got his racing licence, got back into his leathers and raced at the Goodwood Revival in 2002 on, you guessed it, a Seeley G50.
In 1979 he launched The Joan Seeley Pain Relief Memorial Trust, a charity in memory of Joan, with Mike Hailwood as the first patron.
This charity has been hugely successful in raising many thousands of pounds for various hospitals. Colin was latterly involved with Bonhams the auctioneer as a racing motorcycle consultant.
It is difficult to think of anyone who has been remotely as influential in UK motorsport as Colin; we would certainly have far fewer bikes to race in the CRMC – our hats off to you Colin… you will be sorely missed.
Read more News and Features in the May/June 2020 issue of Classic Racer – on sale now!
No Caption