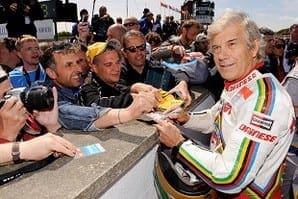 Starting at midday on Friday August 23, the Classic TT Paddock Carnival takes place in the heart of the Classic TT paddock, with free parking available in the Nobles Park Playing fields.
The Classic TT Paddock Carnival will have a 1960s theme throughout the day with 1960s fancy dress encouraged. There will be a competition on the day for the best fancy dress costume judged by non other than 20 times TT winner John McGuinness, with the prize being two VIP Hospitality tickets for the following day's racing.
Among the attractions will be a number of displays of exotic racing machines from the past hundred years. With a combined value of many millions of pounds (although some are thought to be priceless), it is undoubtedly the most amazing line up of machinery ever to be assembled at the same time on the Isle of Man.
The line up of racing celebrities past and present will match the glittering array of machinery with stars such as Giacomo Agostini, John McGuinness, Phil Read, Mick Grant, Conor Cummins, Michael Dunlop, Freddie Spencer, Kork Ballington, Cameron Donald, Steve Baker and Bruce Anstey just some of the famous faces you can expect to bump into throughout the day.
As well as classic motorcycles, there will be displays of classic cars and buses, whilst vintage fair ground rides will provide entertainment for younger visitors. Duke Marketing's 1960s Coco Tent will be open throughout the day along with the Okells Brewery Beer Tent and a large selection of catering outlets.
A stage is being built at the rear of the Grandstand and will play host to live music from The Manx Jazz Aces and the Nigel Williams Band throughout the day, playing some of the best-known hits from the 1960s. There will also be chat shows on the stage throughout the day with some of leading personalities in attendance hosted and broadcasted live by the Radio TT 'Classic' team.
The ever popular Purple Helmets will perform at 3pm in Pit Lane in front of the main TT Grandstand, whilst star of the film No Limit, George Formby will be performing throughout the day and will have his home built Shuttleworth Snap racing machine with him!
Access to the event is free with further updates available via www.iomtt.com and the official Isle of Man TT and Classic TT Facebook and Twitter channels on the run up to the event.