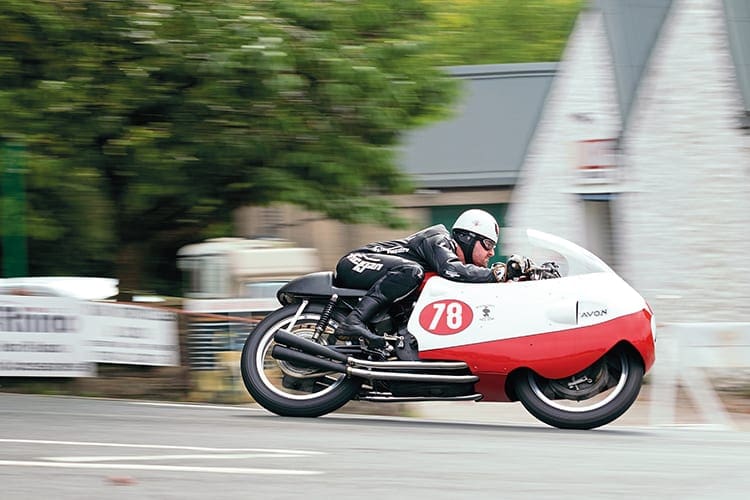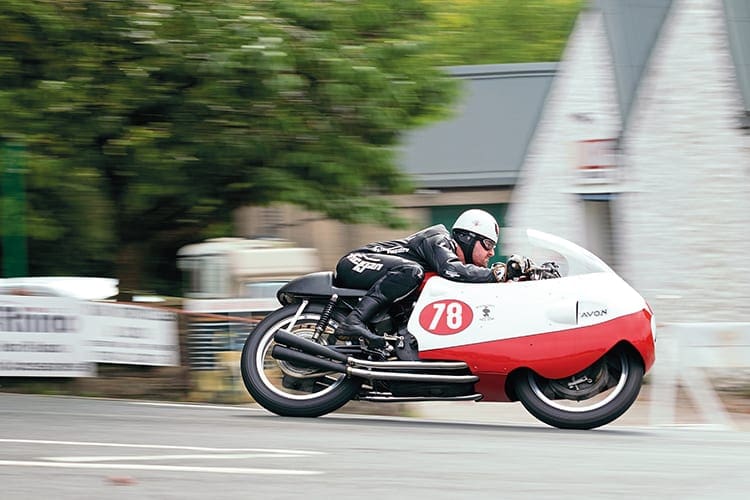 Where else other than the Isle of Man would you find a top current British Superbike contender, a leading female racer and an OAP all in top-six contention? In five years the Classic TT has established itself as the must-see event of its kind in the world, but it has retained a friendly atmosphere with the teams, machines and star riders all in easy reach of an increasing number of pure road racing enthusiasts.
Legends of the golden era, Jim Redman and Stuart Graham mixed with top names from the 1970s, such as Alex George, Bill Simpson, Mick Grant and Steve Parrish, at this year's edition, right through to present day stars Michael Rutter, Bruce Anstey, James Hillier and John McGuinness.
With the latter man still convalescing from his North West 200 smash, Australian Brookes was drafted in to pilot Roger and Pat Winfield's 500cc Paton in the opening race of the four-day festival.
He wasted no time getting to grips with the 1972 Italian twin replica, topping qualifying with a lap of 109.5mph.
By Glen Helen in the race he had pulled out almost one second per mile on the Davies Motorsport Honda of William Dunlop and the Beugger Racing Paton of Maria Costello.
Already two of the MVs had gone out. Dean Harrison pulled up the Black Eagle Racing machine at Glen Vine and Ian Lougher was forced to stop when John Chapman's triple dropped a valve approaching Greeba.
Michael Rutter was the next top-10 ranked rider to go when he lost the front-end of the Ripley Land Matchless at Ballacraine. He was not injured in the fall, caused by a puncture.
At Ramsey, Brookes was 21 seconds clear of Ted Woof's Manx Norton in the capable hands of Jamie Coward. The latter had leap-frogged Dunlop and Costello who were still separated by a fraction of a second on corrected timing.
Fancied runner Alan Oversby had slipped down the order after being black-flagged at Sulby Bridge with a smoking Honda. He was allowed to continue and credited with the time estimated to have been lost.
An opening lap of 111.30mph gave Brookes a quarter-distance advantage of 33.2 seconds over Coward, while Costello was up to third ahead of Dunlop after a good run over the mountain.
Bill Swallow was fifth on the Gleve Racing Paton, only to receive a 30-second penalty for exceeding the pit lane speed limit in a scheduled fuel stop. Dominic Herbertson and Oversby also pitted on the two Davies Motorsport Hondas.
Michael Dunlop, on the last surviving MV of the three that started, pulled into the pits to retire. Possible fuel issues were suspected to be the issue with the Kay Engineering machines.
Brookes appeared to lose time mid-lap on the second circuit and was 10mph slower through the Sulby speed trap than he had been on the opener, but he was still 34.16s ahead of Coward at the Hairpin.
Costello was 9.8s down in third, followed by William Dunlop at 4.9s, then a long gap to leading privateer Michael Russell on the Izzard Racing Norton.
The top two both averaged in excess of 110mph for the lap, when Brookes had a confirmed lead of 38.69s. Coward's 110.054mph was the quickest recorded by a single-cylinder machine round the course.
The retirement list was growing, and among those to go out before half-distance were Alec Whitwell, Hefyn Owen, Alex Sinclair, inaugural Senior Classic TT winner Olie Linsdell and Bruno Leroy.
The margin between the top two remained fairly constant, but Dunlop had moved well ahead of Costello, who had pitted for fuel at half-distance.
Brookes knew he needed to press on as he also required a fuel stop. He'd extended his lead to almost 47 seconds at the Bungalow.
As it happened, he needed all that and more as things didn't go quite to plan in the pits as he had to have two goes at restarting the Paton.
The stop cost him an estimated 53.6 seconds and at Glen Helen on the final lap a mere two tenths of a second separated the two front men, in the Aussie's favour.
Brookes had clearly got the bit between his teeth on the fast run through the central valley and continued to hammer it up the western coastline to Ballaugh where he had reopened a four-second buffer over the Yorkshireman.
Words: John Watterson
Pictures: Peter Faragher

Enjoy more Classic Racer reading in the bi-monthly magazine.
Click here
to subscribe.