We're shining a light on some of the biggest and best players in the Classic Racing world and this timewe've been speaking to Louigi Moto's Richard Llewellin.
WHAT'S LOUIGI MOTO?
Based down in the South West, Louigi Moto is the UK's number one independent Ducati specialist.
Specialising in race bike preparation, suspension set-up, fault finding and servicing, its workshop is capable of taking your race bike to championship winning levels – or just keeping your pride and joy on the road year in year out.
INTERVIEW
CR: HOW DID YOU GET INTO BIKES?
RL: As a boy I had a fascination for motorcycles and aeroplanes and I was the most excited kid in the street when I got my first bike – an FS1E – in the spring of 1976 when I was 16.
Man, that summer was the best. I had freedom, a proper job and it was hot.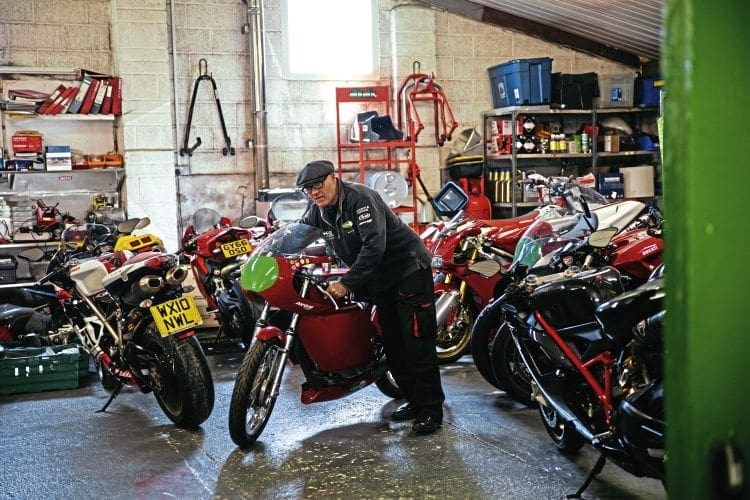 Life was good. By the time I turned 17, I wanted more speed so I went out and bought a Suzuki TS185 and discovered the local green lanes (which were still in abundance back then).
I then progressed to more serious competition machinery and started to compete in local off-road events, working my way up to Enduro racing.
It was much to the dismay of my father, who had no interest in motorcycles (despite owning a James Captain in the late 1950s), and complained that it was a waste of time and money – he couldn't understand why I didn't like football.
I still have no interest in football and he still has no interest in motorcycles.
CR: HOW DID YOU START SPANNERING?
RL: As long as I can remember I've always had a passion for making things. Even at a young age I was a regular visitor at my father's friend's scrapyard, and I soon learned how to take things apart – quickly realising that some of the parts I removed would also fit other vehicles.
After school, I was fortunate to join the biggest local employer in town, carrying out a formal apprenticeship with Cadbury PLC as a heavy goods and motor vehicle mechanic.
I spent 10 years fixing anything that had wheels and an engine (from 29 tonne articulated trucks through to the MD's Jaguar and a Lister engined tug used for pulling waste).
Read more and view more images in the September/October 2019 issue of CR – on sale now!