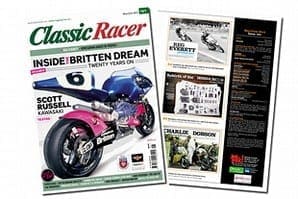 Editor's intro
• Malc sets the scene
CLASSIC RACER REGULARS
• Pole Position
Surtees at the 1957 TT
• Archive Shot
American Invasion
• Paddock Gossip
Read all about it
• Readers Write
A full mailbag
• Subscribe
It has to be a bargain
CLASSIC RACER PEOPLE
• Peter Doyle
Life on the spanners
• Dick Greasley
A bit on the side
• Reg Everett
A gentleman racer
• Dave Petersen
The last of the privateers
• Charlie Dobson
Joining the circus
• Archive Shot
Phil's final fling?
• Pip Harris
A tribute
CLASSIC RACER MACHINES
• Britten Racing 20 years on
A look back at an icon
• Scott Russell Kawasaki
Winning Superbike tested
• Honda RC116
Jewel like recreation
CLASSIC RACER EVENTS
• Bristol Show
• Relief from the gloom
Plus all the usual favourites and columnists. On sale now!
Classic Racer – where legends live on
Useful links
? Subscribe now
? Search for previous content