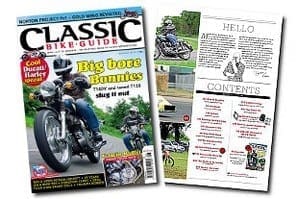 CLASSIC RACER REGULARS
• Archive Shot
A very different Ulster
• Paddock Gossip
Classic sport news
• Readers Write
You speak
• Subscribe
Why wouldn't you?
CLASSIC RACER PEOPLE
• Chasing my heroes
Tim Beaumont's love of motorcycles and racing captivated him as a teenager, growing up in Huddersfield, West Yorkshire. The early Transatlantic Trophy races introduced him to the American racers and he was hooked
• Bernie Allen
Fast legs, fast cars, fast bikes and jazz; we can only be describing one man, Bernie Allen. Tim Oliver tells the story of life lived to the full as Bernie finally hangs up his spanners.
• Nobby Clark
If you listed the racers Derek 'Nobby' Clark has worked for it would include many of the greatest Grand Prix riders of the 1960s, 70s, and 80s including Gary Hocking, Jim Redman, Mike Hailwood, Giacomo Agostini and Kenny Roberts. Norm DeWitt tells a unique story.
• Yamaha TZ Virgin
It's safe to say Andy Kershaw has achieved a lot in his life, but he had one unfulfilled ambition. With a little help from Classic Racer Andy finally got his long desired Yamaha TZ experience and he takes us along for the ride.
• Denis Gallagher
Having taken numerous prestigious titles in his 55 year career, Denis Gallagher continues to race at 74 years of age. Norman Christie tells his story.
CLASSIC RACER MACHINES
• Laverda SFC
In a world exclusive Alan Cathcart samples what must surely be the fastest and most powerful Laverda twin yet built.
• Schwantz Yoshimura Suzuki
The high-bar, wild riding world of AMA Superbike racing in the 1980s provided exciting action and launched the international careers of many Stateside racers. In the first in a series Malc Wheeler takes a closer look at one genuine time warp machine from that era.
CLASSIC RACER EVENTS
• Classic Manx Grand Prix
It was a second victory in three years for Michael Dunlop, this time the majority of it on three cylinders.
• Classic Donington
Classic racing enthusiasts have become accustomed to spectacular events but rarely, if ever, has there been such a cosmic combination of star riders, historic machinery and full-on racing action as that provided at the CRMC Donington Classic Festival on August 11-12.
CLASSIC RACER SPORT
• BEARS Series
The introduction of the BEARS series to British Historic Racing's calendar has brought out some innovative machinery and an interesting crop of riders. Mike Yiend followed the championship and caught up with some of the contenders.
• BHR Lydden
• ICGP Brands
• IHRO Chimay
• BHR Darley
• IHRO Oschersleben
• CRMC Snetterton
Plus all the usual favourites and columnists. On sale now!
Classic Racer – where legends live on
Useful links
? Subscribe now
? Search for previous content