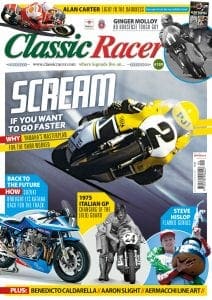 From the archive
Three amazing photographs from the Classic Racer archive, each capturing a heady slice of action from the golden days of racing past.
Readers Write
Great suggestions on bikes to feature, points raised that needed raising and a TT letter that is well worth reading – it's been a busy time for the postman.
Paddock Gossip
Malc's been out and about, gathering up the interesting and necessary bits from the four corners of the classic racing paddock.
Line Art
Courtesy of the impressively talented Mick Ofield, the exquisite 1969 Aermacchi 350 Ala d'Oro – that's the Golden Wing, an apt name.
Subscribe
If you've never subscribed before then this is a good time to do it. With the weather poor and not much in the way of reasons to go outside, subscribe and save money, get Classic Racer earlier and have it delivered to your door. Win win, as they say.
The 0W60 family line. Weapons
At a time when racing motorcycles were fairly simple items with one objective, the smallest change either way could have the biggest impact. The two-stroke screamer from the tuning-fork brigade was no exception and its evolution was fascinating.
Dick Klamfoth
Forever to be associated with the Daytona 200, Klamfoth's run to the higher echelons of Americana two-wheels began when he was just 20 and he never really rolled off that throttle.
The Suzuki Katana Endurance race bike
Suzuki GB hadn't been racing (officially) for over four decades. When a few of the current SGB team decided it was time to return to the paddock they wanted something special to do it on. Turning the Katana from a road bike of the 1980s to a 152bhp missile wasn't an easy task.
Ginger Molloy
A flying Kiwi who competed around the world in GP from 1965 to 1970. Cutting his teeth during those first forays into Europe wasn't easy for the hard-edged Molloy but boy, did it come good.
A stop in time
A snapshot series of Kawasaki's slick team of refuellers going about their business in 1972. In these fleeting seconds, a race could be won or lost.
Benedicto Caldarella
The Argentinian won only one GP during his racing time, but if you're only ever going to win one then make sure this is it (a clue: it's on home soil).
Aaron Slight
'Mr Nearly' came so close to getting the WSB crown, so many times that many credit him as the spiritual winner of WSB at arguably its most competitive. Haircuts aside, Slighty always meant business.
Steve Hislop
In his day, one of the fastest motorcycle racers on the planet. Even quicker than Valentino Rossi in the Italian's heyday – and Steve was on inferior machinery – but for every scrap of talent was a dab of dismay.
Clive Horton
British 125cc Champion in 1977 and 1974 TT winner, Clive isn't a man to pull his verbal punches.
Alan Carter: Light in the Darkness
The first instalment of our three-part serialisation of the most incredible motorcycle racing book you'll ever read. Get a taste of it here in Classic Racer and then go and buy yourself a copy of the tome. It'll be one of the most fascinating books you'll ever own.
1975: Italian Grand Prix
An English rider took to Imola's twists and turns on an Italian bike, an Italian did the same on a Japanese bike. Over 150,000 people turned out in the baking Italian sunshine to witness the scrap.