Yoxall-based Chris Saltinstall was delighted to win the CRMC's 1300 Superbike Championship on his 1064 Moto Guzzi Le Mans.
Recapping on his year he said: "I would like to thank the CRMC for putting so much effort into running a full season, which unfortunately due to the current situation came down to just two meetings, but wow what amazing meetings they were.
"The first one was at Cadwell Park. I'm not quite the seasoned 'professional' some of the other boys are and have only raced at Cadwell a couple of times before. We managed to get a 4th and 5th in class, in fact we were on for a 3rd place but one of the lads in front of me spun out, leaving me no choice but to hit the brakes and just manage missing bike and rider.
"Then we had Darley Moor, a track I've been familiar with but not raced on much. In qualifying, a plug cap was jumping off the plug so most of the time we were on 1.5 cylinders, but I still managed to qualify 4th. Come the races everything just felt right. In fact, in the first race I came 2nd overall and 1st in class.
This followed with 3rd, 2nd and finishing 1st in the last wet race – I almost did a 360 off the line. Thank you to Gordon Russell who somehow missed me and in the end we took the class win."
Chris has been riding a Moto Guzzi since he was 17: "Sadly I was knocked off my Mk.1 Le Mans and my baby went up in flames. This was about the same time as 'Bat out of Hell' by Meatloaf came out so I was also 'down in the bottom of a ditch' like the song says."
Chris later bought a 1980 Mk.2 Le Mans and covered 80,000 miles on it before leaving it in a garage for 15 years – resurrecting her to go racing.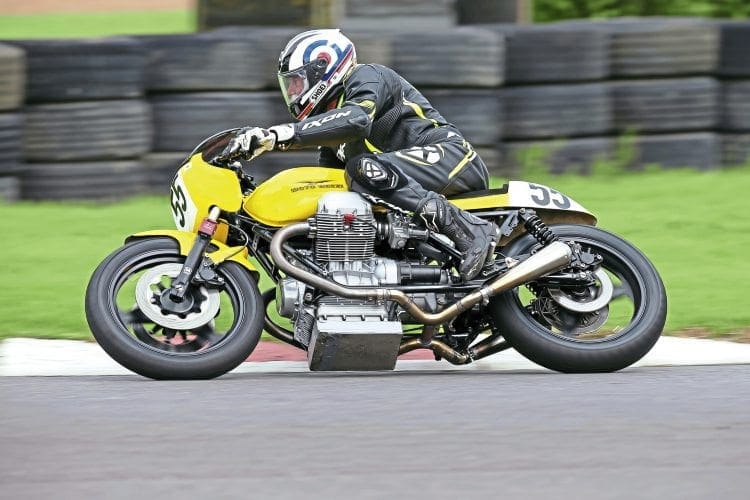 "I had no idea if she or I would be competitive and now at the age where I thought I wouldn't be bothered either way, how wrong was I? It's been a massive learning curve and I just wanted to win.
Since my first race (I finished mid-pack) we have managed to gain enough experience to come 2nd at the Donington Park European festival in 2018 and win the BEARS Championship in 2019, but I consider this to be my biggest and best achievement!"
Read more News and Features online at www.classicracer.com and in the November/December 2020 issue of Classic Racer – on sale now!