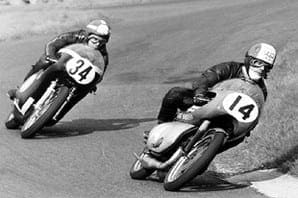 Lincolnshire motorcycling all-rounder Pete Boast, along with Errol Gowshall and circuit manager Jon Rush are the driving force behind the event, which will see three classic races take to the track on Sunday, along with a Classic Racer Champions of Cadwell parade.
The Classic King of Cadwell will be a 10 lap race, on the full Cadwell circuit, for Pre-1972, 251cc to 750cc machines, with separate awards for the first 350 and 500cc machines home. In brief the machines must be January 1, 1945 – December 31, 1972 inclusive, four-strokes up to 750cc and January 1, 1945 – December 31, 1967 inclusive, two-strokes.
Suitable solo racing motorcycles are those built primarily or exclusively for TT and Grand Prix racing, such as Norton Manx, Matchless G45/G50, AJS 7R, Velocette KTT, Aermacchi, MV Agusta, Honda 350 K4, 500 Black Bomber, and CB 350/500 fours.
The Charlie Wilkinson Trophy, named after the long-time circuit owner, is a 10 lap race for pre 1990 GP two-strokes, 175cc to 750cc, which obviously includes TZ Yamaha, Armstrong, Suzuki RG500 and TZ750. Only genuine racing machines will be accepted and tyre warmers and wets aren't permitted.
The Tommy Wood Trophy, presented by Louth and District MCC, will be a pre 1992 Superbike race, 250cc to 1100cc, aimed at attracting the big four-strokes, such as Suzuki XR69, Honda RC30s, Yamaha OWO1, and Suzuki GSXR1100, but two-strokes can also run in the class.
Entry forms for the races are available from the Auto 66 Club website or from Pete Boast at [email protected]
With 80 years of great racing to celebrate, the feature races are only part of what is planned for the weekend. Many former Cadwell racers, turned collectors, have promised a stunning line-up of machinery.
The Chris Bourne Collection will display a great range of Yamaha racers including TD1C, TZ 250, 350, 500, and 750, while Scunthorpe's Lloyd Dickinson will exhibit Honda 1000RSC, Suzuki RG500, and Yamaha YZR 500. John Mould and Dave Bedlington have promised a genuine ex-Phil Read MV 500 4, Maxton TZ 750, and TZ 250.
Ivan Rhodes will bring along some of his amazing Velocette collection, while John Chapman has promised Honda 350 and 500 Fours plus an RS500 and Paul Truelove a Kawasaki GP500, MZ 250 and three TZ750s from his collection.
Riders already confirmed for the Classic Racer Champions of Cadwell Parade include, Derek Chatterton, Steve Plater, Gary Johnson, Roger Burnett, Rob Maltby, Ian Martin, Adam Marshall, Mark Phillips, Shaun Brown, Paul Brown and Mick Grant, with those likely to join the line-up including Neil Tuxworth, Stuart Graham, Bob Heath, Guy Martin and Ian and Bill Simpson.
To make the weekend complete Classic Track Days are on track on Friday and Saturday. To book a slot, or for more information, email [email protected] or call 07971 424472.