All American Champion
Bubba Shobert was following the established American path to the World Championship. A three time AMA flat track Grand National Champion, a US Superbike Championship, and a Honda ride in the 500cc World Championship. Great things were expected, but it was not to be, as Norm DeWitt explains.
Words: Norm DeWitt
Photographs: Shobert Collection, American Honda and Norm DeWitt
"1 ran my first race when I was eight years old,"Bubba reflects. "Motorcycle racing was a part of my dad's family, he had two brothers and they all raced back in the 1950s. They never made it to a professional level, other than some pro races around Kansas or Oklahoma.
"A good friend of my dad owned the Kawasaki dealership in Lubbock and I got a Kawasaki Coyote, my first race bike. I was pushing that thing faster than it would go. My mom told them 'you guys want this kid to race, if you can't build something faster than that he's not going to get out there.' My dad and his friend bolted a Kawasaki 90 engine in that Coyote frame with eight inch wheels and that thing would probably run 100mph. Next was the 125cc, and then the 250s.
"I got my novice licence in 1978; for the summer we had a motorhome with a trailer and we'd stay in Ohio and Illinois and I raced five days a week. For Novice there was an overall point champion. I think I finished first or second but I had a crash in Illinois and cut off three of my fingers. That was in July, and it put me out for the rest of the season.
"For 1979 the first race was the Junior National at the (Houston) Astrodome. I was riding a 250 Yamaha and also a 500 Yamaha on the TT course, and won both races. I couldn't move up as my birthday was in January and I had to stay a Junior the whole year."
The step from 250 flat trackers to a Grand National bike would have been a huge leap. "My dad bought me a Harley for the 1980 season, my rookie year as Expert. He bought the bike from Mert Lawwill." Wayne Rainey remembers those times: "The first time we started to know each other was in Bubba's rookie year in Grand National at Peoria where I was riding a Harley-Davidson – 25 laps around Peoria is tough, it's hot and is down in a pit.
"Bubba and I were racing for eighth and Spencer was in front of us on Jerry Griffith's factory Honda. Going down the straight Freddie's bike broke and everyone was splitting him to miss him, Bubba was just in front of me and he went to the right and I went to the left.
"On the right side of Freddie, they hooked and Bubba crashed. They stopped the race, and Bubba ended up breaking his arm. After that weekend I said to my mechanic Chris Armstrong to swing through Lubbock on our way back to California and see if Bubba wanted to come out to California to watch. So, that's what I did and we haven't been able to shake each other since."
Wayne's dad Sandy came into the mix in 1982. Bubba again: "I was still running my own Harley. Me and Wayne were really good friends and Wayne had signed the contract with Kawasaki to road race. I was racing the dirt track at Ascot and I'd broken my Harley engine on Friday night, and Sandy said 'let's put my motor in there'.
"From then Sandy travelled to all the Nationals with me. I won my first National at the Indy Mile; everything worked just perfect. I think the only lap I led was the last."
Shobert followed that up with another win on the Syracuse Mile in September, a rare occurrence during a time where the 'factory' riders were rarely beaten by the privateers.
The talent storm in AMA flat track was formidable, yet Shobert had an even better season the following year with wins in the Sacramento Mile, the Indy Mile, and Syracuse Mile.
At the end of the 1983 season the top five were Randy Goss, Ricky Graham, Jay Springsteen, Bubba Shobert and Scott Parker.
Honda decided to enter by signing the best talent available and at this time that was Ricky Graham and Bubba Shobert (along with a promising youngster, Doug Chandler). "After the 1983 season, Honda approached me. Of course, the Hondas weren't proven, and I was at the stage where it wasn't about money, I wanted to win.
But, I was thinking 'what are the chances of me getting a factory Harley ride? I was looking at who they had, Springsteen, Goss, and Scott Parker. The best bet was to go with Honda and roll the dice."
Testing was a new experience for the former privateer racer. "I got to practise on the Miles, which nobody else does. Honda was developing this engine and they'd rented San Jose a few times. I'd come in and there'd be four or five Japanese standing around with clipboards asking me 'what did you think?' You'd say one sentence and they'd write two pages."
1984 should have been a Shobert year but for a racing suspension served for punching Terry Poovey, following previous altercations between them. "At Rossdowns I was like the little kid on the block and there was a few times where Poovey went in underneath me and I ended up going down; it was probably my lack of experience racing handlebar to handlebar like that.
"At Busch Stadium, in St. Louis, going down the straightaway he pushed me off the edge of the track into the hay bales and I went end over end. He'd knocked me down before and then always comes over and says he was sorry and he didn't do it on purpose. I had Ricky Graham as a team-mate and he had seen what happened and he said 'Hell, if anybody did that to me, I'd punch him.'
"He got me all wound up and when Poovey came over and said he was sorry I punched him in the eye. He had sunglasses on and they broke and it cut him under his eye and he went to the hospital. He pressed charges and the Sheriff came to the race track to get me. Gene Romero was the team manager and he talked to them. They agreed to bring me after the race and get me booked.
"They suspended me for 12 Grand National races (Road Races or Flat Track). We appealed the suspension and they didn't have the appeals meeting until two weeks after and dropped the suspension to nine races, but took away all the points I'd gotten from the last two races."
Turning to Tarmac
Shobert started to concentrate on road racing as well as flat track. "Graham had the chance to road race, but he was leading the points and I had nothing to lose. At Mid-Ohio I qualified fourth and the day of the race it was raining.
I was riding an 850 Superbike, shoot that thing was so much easier to handle than a F1 two-stroke. During the whole race I was thinking 'this is the slowest race I've ever ran'. I guess most of those guys in F1 weren't used to sliding in the rain." That year the only other road races had been won by Kenny Roberts, two wins, and Mike Baldwin five wins. The breakthrough win for Shobert was a revelation.
There was a bit of dabbling in road racing previously as Wayne Rainey explains: "He was doing road race to hone his skills. I took Bubba and Ronnie Jones to the Superbike school at Riverside Raceway for a day in 1982. The crossover was pretty easy for me and it was real easy for Bubba to make that transition. That's what we are looking for now (with MotoAmerica), I'm looking for the next Bubba Shobert."
In the last seven races Bubba put in a great run of results, winning four of the last seven races, including the Syracuse Mile, the San Jose Mile, Sacramento Mile, and that rainy road race at Mid-Ohio. "The last race was at Springfield and Graham pretty much just had to finish and I had to win. On the next to the last lap, I saw Graham up in turn two picking up his bike. I started thinking… 'he crashed, I don't know what place I've got to get.'
"Thinking about that made me not run it as hard into the turn as I had been, I got passed going into turn three. Everybody started congratulating me, but I didn't really feel like I'd won the championship. Even after crashing, Graham still finished 13th and those two points were enough. If I had won the difference between first and second is four points." Ricky Graham was Grand National Champion by one point; nobody else was close.
For 1985 Bubba was back on it, winning the Ascot TT, Sacramento Mile, San Jose Mile, Springfield Mile, and DuQuoin Mile. This was the final year for road races being counted in the Grand National Championship, and they were won by Spencer, Rainey, Baldwin, Mamola, and Canadian rider Labrosse. At season end, Bubba was the last Grand National Champion for the combined discipline era.
"Of course the highlight is winning your first national, when you've been racing for years and then you win a race. Winning the championship was a highlight too, having the support I was getting from Honda. The relationship I had with my mechanic Skip Eaken and a lot of the Honda guys, it was great." Honda ruled the world that year, with Freddie Spencer doing the 250/500 double in Grand Prix as well.
The following year brought nine race wins to repeat at GN Champion in flat track, while Bubba's growing focus on road racing saw him fall just short of third in points by one point, the top two being Fred Merkel and Wayne Rainey, with Ashmead third.
Seventh was another rider with seemingly great potential, Kevin Schwantz. Bubba continues: "Honda came out with the new modern VFR for Merkel and Rainey. I got this extra Interceptor like I'd ridden before, only now with a 750 engine in it. The next year I was on the factory road race team, going to most of the road races. I didn't really feel I had much of a chance to win, as I had so much to learn and there were a few schedule conflicts."
Five out of six races were won during the summer of 1987 in flat track on the way to a third Grand National Championship in a row over Scott Parker, Doug Chandler, Chris Carr, and Ricky Graham. With the departure of Fred Merkel, Shobert had his opportunity.
Top team
Doing the road racing teamed with Wayne Rainey on the factory Hondas, it was perhaps the greatest era of AMA Superbike. Bubba had an experienced crew. "A big part was having Mike Velasco as my road race tuner; he had worked with Fred Merkel and Steve Wise." With the Rainey/Schwantz wars raging at the front (Rainey winning the first three races, followed by Schwantz in the next two) Bubba got his breakthrough win at the Laguna Seca National.
"Actually that's kind of funny because I think there were two legs to win that race. To determine your starting position in the final, Wayne and I both jumped the start and they docked each one of us with a penalty. The main reason Wayne and I jumped is that we had a dollar bet on who got the holeshot, so we started the main event on the back row of the grid. Wayne ended up burning his tyre up and Schwantz crashed and so I won."
Kevin Schwantz confirms: "There were two Superbike legs and you had to start from the qualifying position from your heats. Wayne and Bubba were in the same heat. I was in the other, so they didn't need to worry about me. Well, they both f***ing jumped the start to try and get the dollar, which means they both started dead last in the Superbike races. Had I not crashed that could have been the turning point in the championship. I fell and could have still got up and beat him, but the shifter was broken and was stuck in first."
Shobert was the only person that won a race in AMA Superbike that year other than Wayne Rainey and Kevin Schwantz, and he finished the season third in points. Schwantz got back on track to win the last three races but narrowly lost the title to Rainey. In the final tally, Bubba was in third, with Polen fourth, and Chandler fifth.
Superbike focus
For 1988 the primary focus was swinging towards AMA Superbike, the season starting with a win for Schwantz at Daytona. Polen was second to his Suzuki team-mate. Shobert explains Daytona didn't go to plan. "At Daytona they would grid everybody and you'd do a warm up lap and come back to your position. On that warm up lap the bike vapour locked, and I had to push it from the infield back to the pit area. By that time they were already starting the race. They finally got my bike started, and I was a lap down. Not to say I would have won if I wasn't a lap down as Schwantz passed me anyway."
Bubba finished third but came back to win Road Atlanta. "His bike was working better, and he was following me around. I think he wanted to pass me on the last lap, but on the last lap he went into a corner too hot, saved it, but I ended up winning the race. He was by far faster than me, why wouldn't he just go ahead and win the race?"
Polen then fired off wins at Loudon and Road America, with Shobert responding winning Laguna Seca and Mid-Ohio. "At Mid-Ohio I totalled my bike in the 15-minute morning session on the day of the race. I needed a spare bike but they wouldn't just let you get on your spare bike. We had to take that spare bike completely apart before I was allowed to use that frame. The mechanics had to do that while the AMA was looking over our shoulders making sure. Of course, there were protests and everything."
A win for Polen at the Sears Point finale wasn't enough and in the end, the title belonged to Shobert with Chandler finishing third. It was obvious that Shobert's direction had changed. "What does flat track hold in the future for me?' I'd always loved dirt track and thought it was more fun. But being national champion, the next thing is World Championship, and the money was over there.
"I'd always been kind of partial to Kenny, I think he was the best there had ever been. Kenny told me 'you need to get over to Europe, that's where the real racing is'. Honda knew that was what I wanted to do. They'd had enough of dirt track and the AMA with all the rule changes they were putting on them. They were making the Honda weigh more than the Harley, and it had to run engine restrictors that the Harley didn't. They thought 'why are we spending all this money on progress and development? We had to build a 750, we built one, and now they are restricting it.' They'd had enough, and I'd had enough."
Europe beckons
Despite the hard feelings with the AMA, Bubba had again tried to defend his string of Grand National Flat Track in the 1988 championships with three wins that season, his last being at the DuQuoin Mile. In the end, Shobert was unable to hold off Harley-Davidson's Scott Parker for the title.
In 1988, there was one race that best indicated Bubba's future direction. At Laguna Seca, riding in the 250 Grand Prix, Shobert had a one-off appearance in his first Grand Prix. Laguna Seca had always been a good track for Shobert, he had won the AMA Superbike round there in 87 (and would again in 88), but a 250 GP bike was entirely different.
It didn't seem to make much difference, and Bubba's talent was clear to see. "Bob McLean and Tim O'Sullivan thought maybe they could get a 250 Grand Prix customer bike, and asked me if I'd wanted to ride. I rode it at Daytona and think I got fourth or fifth and when the Grand Prix was coming to Laguna Seca, I got a works bike that was a couple of years old with Camel sponsorship.
"I qualified 16th on the fourth row and led the first lap, it was crazy. It wasn't like I got the holeshot but I led it, and finished fifth."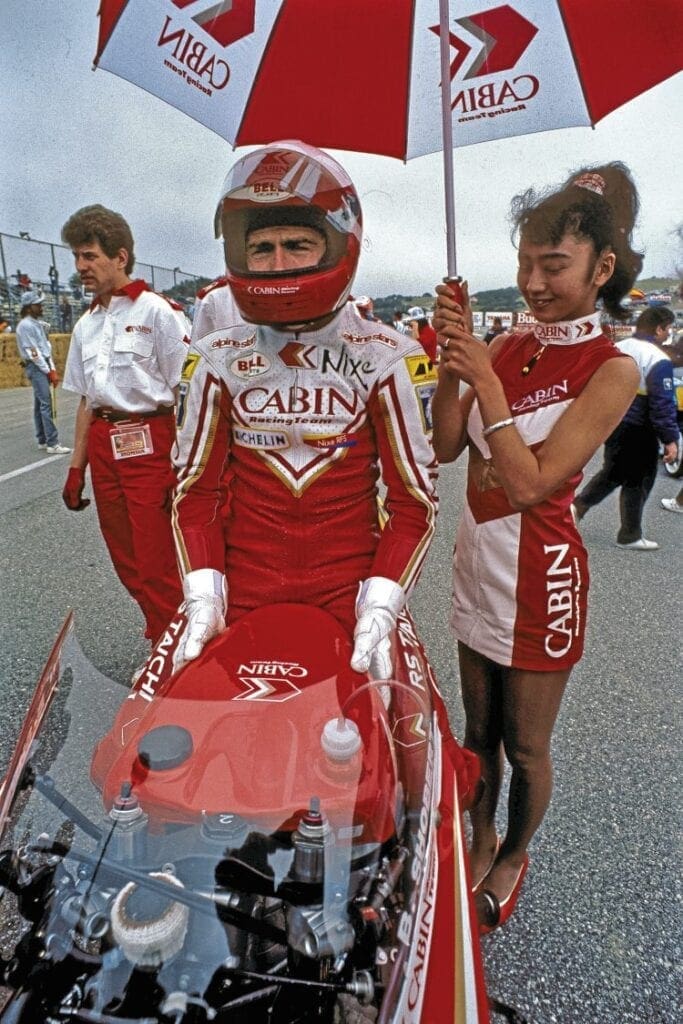 Doug Polen reflects: "There's a lot of stories, but there's a good example of Honda having their stuff pretty polished, as far as Superbike goes. Rainey and Bubba, those guys were able to progress well along with those VFRs. We'd had an understanding as to what Honda had done to make the VFR competitive; the contorted shape that it ended up being to be competitive. It was an interesting thing to hear, bikes described as being in 'controlled crashes' all the time.
"Bubba was progressing as a road racer, along with having to deal with all the politics. I always had the utmost respect for the man. He was just a racer, if it was road racing it was road racing, if it was dirt track, it was dirt track, he wanted to win. Through the year I think he probably progressed the most as a road racer. With he and I racing against each other that whole year was a big help to him in making that transition to being called a road racer.
"After that it was '89 and Grand Prix, he was really progressing the way just like I thought he would, really going along well. I had been racing against him… I knew. I don't think that everybody else gave him quite the credit that he should have received for being as much a road racer as he was. That's the big story about Bubba Shobert."
For 1989, the next obvious step was 500 Grand Prix, which was where AMA Superbike legends such as Lawson, Schwantz and Rainey went to find greater success. Bubba explains how the transition happened. "American Honda got a sponsor from Cabin cigarettes and had to lease the bike from HRC. It was a year-old GP bike; it was the worst 500 that Wayne Gardner said he'd ever rode. I didn't see it that way because I'd never rode one and I thought it was great."
There were a large number of Americans in Motorcycle Grand Prix racing, and it was their glory days, as Wayne Rainey confirms: "Most of them were champions. If you look at Eddie, Freddie, myself, Kevin, Bubba, you look at the cream of the crop in the US. The names that were on the starting grid in 1989 and what was on their resume was pretty impressive. We were all a bit spoiled (in America) and didn't realise how good we had it."
The first GP of 1989 was at Suzuka, Japan, and Shobert was to finish 11th. "I don't remember anything exciting about it, but with the pits and attendance and all, I felt like a rock star. Race two was at Philip Island and I was running in the top 10 when I slid down and crashed. I knew I had a ways to go but it was what I had chosen to do."
Race three was Laguna Seca, at a circuit he had seen victory at before. Did you think about 'wait until I get a shot with these guys at a track I know, like at Laguna Seca?' "You know, I can't remember ever thinking that. I was thinking more about myself, how I could do better. I never was thinking about the other guys so much, as I had so much to learn. I was just racing the track and setting up the bike."
That year was the first time in a decade that Lawson and Shobert were in the same paddock, as Eddie Lawson explains. "Him and Wayne travelled together a lot and were on the dirt track scene a lot, but I was two years ahead of them. I started road racing, they were right behind me. Wayne was a Junior and I was Expert and then I went road racing in '80. When I was road racing, Bubba was the Grand National dirt track champion. Only in 1989 did we come back together, just when Bubba arrived in Grand Prix."
Disaster strikes
In the USGP Bubba's successful streak at Laguna continued as he rode to a ninth place finish. At the top of the field, it was Rainey ahead of Schwantz. This race was Wayne Rainey's second Grand Prix win, coming at his home race, and Eddie Lawson had finished third for an American 1-2-3.
It had appeared that Magee would finish third until his Yamaha stumbled on the final lap, allowing Lawson to pounce. As a result, on the cool off lap, the angry and disappointed Kevin Magee had stopped in the middle of the track and was doing a burnout. Eddie Lawson and Bubba were more focused upon congratulating each other as they arrived on the scene.
Eddie Lawson takes up the story. "It was really unfortunate, we had rounded turn five and we were literally side by side as he was giving me thumbs up, and I was giving him thumbs up. I looked up and I immediately turned right because I was about to run into the back of Magee as well. Bubba was on my left, we were looking at each other when Bubba smacked him, it was that fast. I don't know why I didn't hit him as I just turned and Bubba hit him straight on.
"When I looked back I saw Bubba lying in the dirt. I stopped, laid the bike down and ran back. The Marshal came over and Bubba was having a really tough time breathing, so I said let's unbuckle his helmet, but we really didn't want to move him.
"He had his helmet on so tight it looked like the strap was cutting him in two, so I said let's get his strap undone. The Marshalls pulled his helmet off, and seeing what his condition was I just thought that the medical team is here and I left. It was a bad scene. I'm glad he pulled through, at the time I wasn't sure."
It was bad. Magee ended up with a badly broken ankle/lower leg, but Shobert was left comatose from the impact. A stunned Lawson never arrived to the podium ceremony, and it was similarly a horrible experience for the winner. Bubba Shobert had been best man at Wayne and Shae Rainey's 1997 wedding.
Wayne Rainey looks back with sadness: "It was only my second Grand Prix win and it still rates as one of the darkest days at a race track. I've lost a few buddies and that's tough but it's part of the sport and part of life. But when Bubba got hurt, we were not only good friends, but he was just beginning to get going and learning how to ride those bikes. When that accident happened after the race was over, it was just so hard to understand."
"In a race it would have been so much easier to accept it, talking about it is still hard. The guy who told me on the podium was Kevin Schwantz. We went to the hospital after the race, we just knew he was in the helicopter and didn't know it was going to be the end of his career. Immediately I had to go off and go race, and here's my best buddy struggling to stay alive, in a coma for about 13 days when he started to come back around."
Months of hospitalisation followed, and to this day Bubba Shobert has no memory of the race that claimed his professional racing career. "I remember some of the practice, doing a plug check. I don't remember any of the race at all. I'm not sure; maybe it was two months before I started realising that something had happened. I was in the hospital, and you normally just can't wait to get out. For me, I wasn't anxious to get out, maybe I was supposed to be there. I'd seen the video and all and it was like thinking 'well, that's not me'.
"The doctors tell you that in the first two years you get back most of what you are going to get back. After two years I'd been riding but the doctors told me that if I hit my head hard again, that I would probably be a vegetable. I had that on my mind while I was training on my motocross dirt bike, and riding with Doug Chandler and at Kenny's ranch."
Wayne says: "I'd be training for the GP season and we'd ride together at Kenny's. Of course Bubba's minibike had a cheater stroker engine in that thing, and it was hard to pass him. We'd be nutsing with each other so hard that we'd run off the track from laughing." Bubba again. "I think what really cut it off for me to not race again was when Wayne had his accident. I realised that I was going to retire."
At Laguna Seca in 2006 Nicky Hayden, while on his way to the MotoGP World Championship, rode to the win wearing a Bubba Shobert replica helmet. This win in the USGP had provided the crucial points that gave Nicky the title, and was also Nicky's final win in MotoGP racing. It was a bit of unfinished business, taking Shobert's colours to the top step of a Grand Prix podium, at the track which saw both the high point and low point of Shobert's career.
Bubba's sons followed him with motorcycle racing careers of their own. "I think it was in 2008 when my son Clint was going to road race, so during the wintertime we'd go back to Kenny's to ride and for him to get trained the right way. We stayed there with my motorhome, and I ended up being there a little longer than anticipated." Shortly thereafter Kenny's mailbox down by the road had big stick-on letters that spelled 'SHOBERT'.
"Clint was in AMA Supersport in 2009 and finished second on the west coast. He was really good but after that season he came to me and said he didn't want to race any more. I thought maybe I'd put too much pressure on him, but he said he saw how racing was with guys spending so much money and not making anything. He decided to go back to school and get a degree in business marketing."
His other son Cole raced motocross. "Then he went into Enduros, as an AA classified rider. At an event close to Houston he went into a ravine, broke both his wrists and his ankle. It took him eight months to recover and he never got back into it. He was thinking it wasn't worth it, there isn't much money in Enduros."
In 1998, Bubba Shobert was inducted into the AMA motorcycle Hall of Fame, as a four time AMA champion. Destiny unfulfilled? Eddie Lawson reflects on what might have been. "He had a lot of potential. He was progressing so well on the bike, inching his way forward. He was a World Champion in training."
Wayne Rainey sums up. "You look at the record books and you'll see he was one of the all-time best dirt trackers in history. He's won on the Mile, the half mile, TT, short track and road race; not too many people have done that.
"He was a thinking man's racer, on the Miles you had to always be in the right place at the right time coming to the checkered flag. I think he would have done very well as a Grand Prix rider. Bubba's still got all his wit and his charm, and he pretty much does everything he used to and is a great guy to have fun and hang out with. The only thing he doesn't do any more is race motorcycles… kind of like me."
Read more News and Features online at www.classicracer.com and in the latest issue of Classic Racer – on sale now!