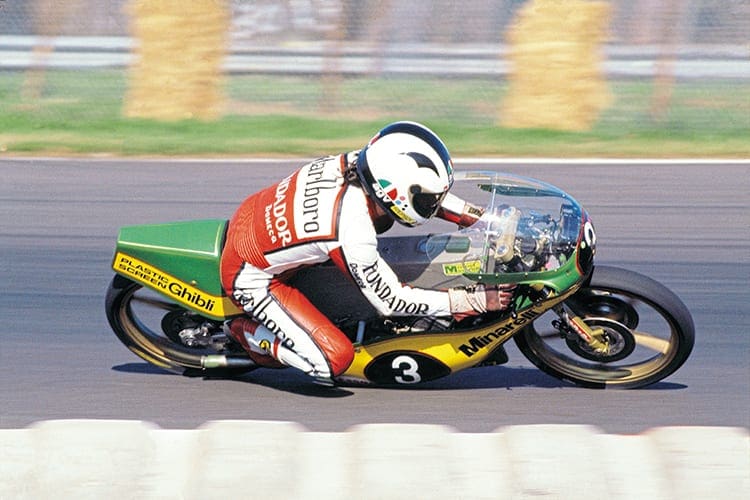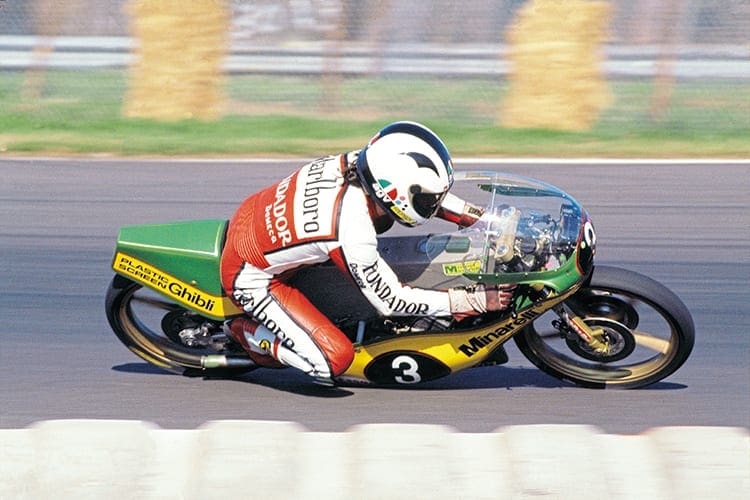 Spain's 13-time world champion and so-called 'king of the tiddlers' Ángel Nieto passed away on August 3, from head injuries sustained in a road traffic accident a week earlier. This saw him thrown off a quad bike he was riding on the holiday island of Ibiza, where he'd lived for many years. He was hit from behind by a car, and was apparently not wearing a helmet when his head struck the ground. He was 70 years old.
Nieto dominated small-capacity Grand Prix racing for two decades, winning a remarkable 90 GP races and taking 139 podiums en route to his 13 world crowns – or '12 + 1' as he superstitiously insisted on terming his title tally. Six 50cc world championships and seven in the 125cc class between 1969 and 1984 riding Derbi, Bultaco, Garelli, Minarelli and Van Veen Kreidler two-stroke machinery also made him the rider to have won multiple world titles with different manufacturers.
Additionally, he won a total of 23 Spanish National Championships in the 50cc, 125cc, 250cc, 500cc and 750cc classes, establishing himself as a living legend whose earthy personality as it came to the fore in TV commentaries and talk shows brought him a charismatic fame extending beyond the motorcycle community, even after retiring from racing in 1986.
Born in the hill town of Zamora, near the Portuguese border, on January 25, 1947, Ángel Nieto Roldán came from a poor background, and was just one year old when his family moved to Madrid in search of work. There, he became passionate about motorcycles from an early age, playing truant from school from the age of ten to become an errand boy for a local motorcycle workshop, progressing to sweeping the floor at the end of the day.
First road race
In 1960, aged 13, he had his first road race in Granada on a well-worn 50cc Derbi that was one of the workshop's bikes, but had to forge his father's signature to enter the race in which he finished third, racing against 125s. It was a mark of his determination to go racing that saw him leave home in 1961 aged 14, to move to Barcelona where all the Spanish bike manufacturers were based.
He joined up as an unpaid helper with Jose Medrano, Bultaco's factory road racer, competing in races all over Spain. At the end of the season he found work at Ducati's satellite Mototrans factory, though he couldn't go racing with their bikes at age 15, you needed to be 18 years old to ride a 125, but the Italian head of the HR department there took a shine to Ángel, and asked his friends at Derbi to furnish a 50cc racer for him to race in the Circuito Carlos III, held on a street course in the centre of Barcelona. He finished fifth in the race, prompting Derbi to offer him a job as a trainee race mechanic, with the promise of occasional races.
In 1964 Derbi entered Nieto in hill climbs and Spanish championship rounds, and also some 50cc Grand Prix races – in theory he was still too young at 17 to race in these, but he faked his licence and did it anyway, finishing fifth in his debut 50cc GP run on the Montjuic Park street circuit in downtown Barcelona, to earn world championship points in his very first GP.
He joined Ducati, and scored his first major race victory for them by winning the Spanish title round at Seville on the exotic triple-camshaft 125cc Desmo twin. But he much preferred the faster, lighter and more agile two-strokes he'd grown up with, so when Bultaco asked him to take over the bikes of the recently deceased Ramon Torras, he left Ducati mid-season to do a couple of races on these. But with all the Spanish manufacturers now chasing his signature, he made peace with the Rabasa family that owned Derbi, with which he'd win his first five world titles.
Indeed, later in 1965 Nieto won his first Spanish title round for Derbi, and two years later became Spanish champion in both the 50cc and 125cc classes, as well as earning his first GP rostrum finish with second at Assen in the 1967 50cc Dutch TT, on what he always regarded as his favourite circuit.
He was Spanish 125cc champion again in 1968 and the following year 250cc champion on a Yamaha. But for the 1969 season the FIM changed the world championship class rules, with the 50cc category restricted to single-cylinder bikes and 125cc to twins, each with a maximum of six gears. This sidelined the exotic 12-speed Japanese multi-cylinder machines, and levelled the playing field for the Italian and Spanish manufacturers, especially Derbi, which built completely new rotary-valve bikes for the 1969 season.