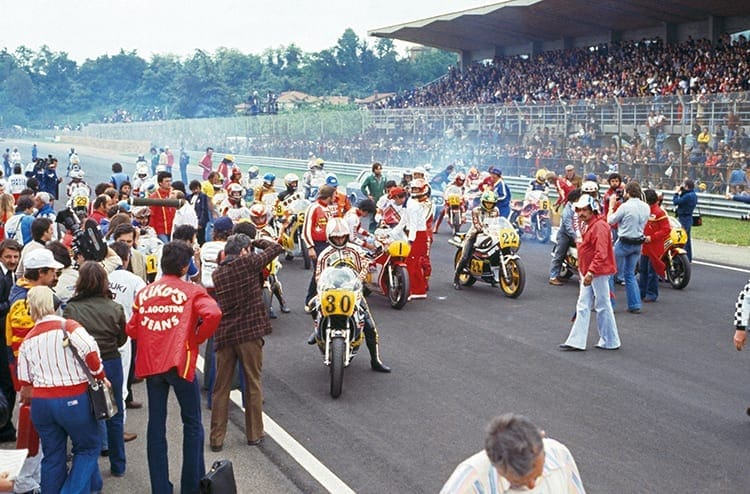 Speaking with Jan De Vos, the man behind the Redfox Grinta Ducati machine which you may have noticed on the cover of this issue of Classic Racer, something became very apparent.
Jan, as with a lot of people I've met in a blossoming area of the classic scene, is firmly set in using bespoke bits of modern technology to make his modern (ish) classic Ducati go fast. Jan does this to ensure that the bike can be as fast and as reliable as it can be.
And this has had me thinking. What's to stop any of us from taking this ethos and bringing back bikes that were once thought too costly/too difficult to make run again in a competitive series?
There's a lot of effort and money ploughed into lesser classes of modern racing. And for the life of me, I can't see why. Yes, you can go and spend £20,000 on a kitted 600 and take part in a national class on a bi-weekly basis – but isn't that a bit drab?
For the same money as a modern 600, you could go and build a YZR500 replica. All done, dusted and on track for £20,000. Don't get me wrong, I fully appreciate that £20,000 isn't a small amount of money. I certainly don't have it to spend on a motorcycle and I'm sure a lot of you are in the same position – but if we're talking about the equivalent sums you can spend elsewhere then a YZR (or NSR or RGV) replica isn't that different.
Think about it. Instead of 'another' grid of anonymous Japanese motorcycles being put around a crisp UK circuit by riders who are there for the love of competition and the social event that surrounds it, we could have 20 500 two-strokes filling the air with blue smoke.
With the growth of Endurance legends and the populist swing towards bikes of the 1980s and 1990s, it feels very much like such a series would be bang on to a winner.
We could even approach historically accurate, but not-modern-PC, companies for sponsorship.
Or would that be a bit too cheeky?
Do Marlboro fags do vapes these days? Could we have vape-sponsored Yamahas still in the red and white?
Even if the bikes were plain white, the sight, sound and smell of massed 500s itching to race in the hands of fast riders who don't take themselves too seriously would be amazingly welcome.
What do you think?
Tony