Driving in to the Automotodrom Brno today is much like any other European racetrack: masses of traffic in modern hatchbacks, rowdy bikers in colourful leathery clusters, seas of concession stalls selling memorabilia, and swathes of yellow-clad Rossi fans.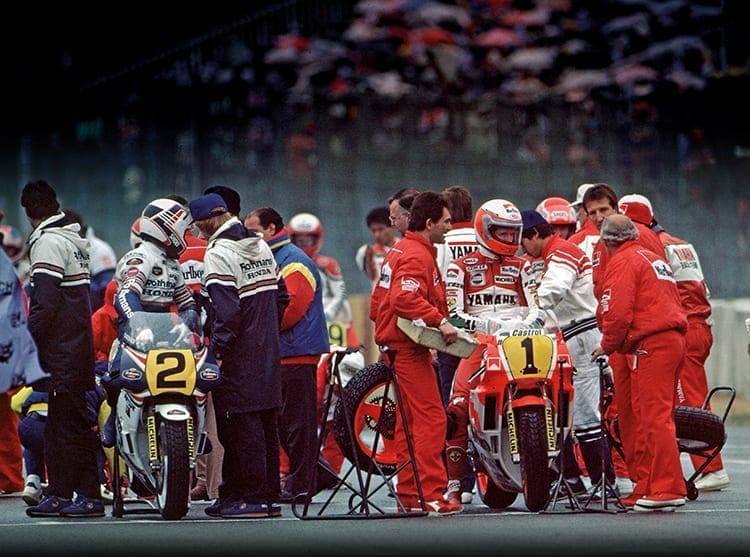 It is almost impossible to reimagine what it was like when the fine new Brno circuit was opened back in 1987. The Iron Curtain still divided Europe, the Berlin Wall was still standing, and while there were at least as many race fans there as today, and probably more, it was hard to know exactly how they'd got there. Their smoky Trabants and battered Skodas were nowhere to be seen, hidden over the hills in the official (i.e. compulsory) campsite.
The traffic jams outside the circuit were made up of trudging lines of pedestrians, whose weary grey faces and care-worn clothing made them look like refugees. And every so often one of those dramatic split-rear-window Tatras would come beetle-backing past at contemptuous speed, the apparatchiks within invisible behind shaded windows. Official figures put attendance at 140,000 compared with 2018's raceday, 84,678; and there were rumours of massive queues at the nearest border with race-starved East Germany. It was modern racing (fast 500cc two-strokes … MotoGP four-strokes are post-modern) but in an atmosphere that was anything but modern. To tell the truth, it was actually heart-rending.
Perhaps I am being overly sentimental, but that is how it struck me then, and still does when I look back. The subjugated people of what would become today's liberated Czech Republic were modern Europeans in every way. Except in terms of freedom. They were reduced to begging for the most paltry of souvenirs – a sticker or an empty Coca Cola can was a prized object.
They pressed up against the fences isolating the paddock, patrolled by policemen in sinister uniforms, with terrifying dogs straining at their leashes, looking fully capable of shaking off their massive steel muzzle-guards and taking off the leg of anyone who stepped out of line. It was pitiful.
And ironic, for the return to Brno coincided with a big step forward towards prosperity and modernity for motorcycle Grand Prix racing; and in terms of competition it was the start of what old-timers look back on as the first golden age, with a variety of bikes and a growing talent pool of glamorous star riders. It was 13 years since two-strokes had taken over the 500 class; and there was a comforting variety of machinery available.
At factory level (they used to be called 'works bikes' back then) Honda's V4 NSR had taken a step forward in its journey towards becoming the definitive 500cc two-stroke; although the landmark Big Bang was yet to come. But 1985 double-champion Freddie Spencer was by now well into the meltdown that brought his brilliance to a premature end.
Sundry, relatively minor injuries meant Brno would be only his second race so far this year, and there was more of the same to follow at subsequent rounds. Spencer's withdrawals had started at the first race, and Honda's big baton was perforce passed to thrusting Australian Wayne Gardner; while Niall Mackenzie had been recruited, riding in HB rather than Rothmans colours; with several others on works V4s and V3s.
Yamaha had won in 1986 with Eddie Lawson, so in the curious way in which they shared honours with Honda their V4 YZR had improved little over the winter. His Marlboro-backed team-mates were Rob McElnea and Tadahiko Taira; the new Lucky Strike Team Roberts fielded Randy Mamola and Mike Baldwin, and Christian Sarron rode a sixth YZR.
And Suzuki was back with a new V4, to be ridden by Kenny Irons, and occasionally (and brilliantly) by the newly discovered Kevin Schwartz. Cagiva improved their Yamaha clone during the year; the independent Italian Paton soldiered on; while Ron Haslam was to campaign the new NSR-powered Elf 4, though brake trouble meant that this latest version of the French non-conformist didn't actually race until Brno, and most of the time he rode a normal Honda.
There were privateers on three-cylinder Hondas and a handful of obsolescent square-four RG500 Suzukis. And the unconventional Honda triple-powered Fior, with wishbone/girder front suspension. Full grids.
Tobacco money was starting to flood in. Rothmans and Marlboro were already there; Lucky Strike was new. HB, Bastos and Ducados contributed further riches. Politically IRTA had gained strength and power; while respected FIM road-racing chief Luigi Brenni had done a lot to improve the federation's fusty image.
The series was growing; the calendar expanded to a new record of 15 races. It was also the most widely-travelled year so far; with Japan on the calendar for the first time in 20 years, Argentina also after five years' absence, and Brazil for the first time, at the inland circuit at Goiania. And we were going back to Brno.
This meant much more, in terms of history. Czechoslovakia's second city was steeped in motor sport. There had been racing on a daunting 18-mile public roads circuit since 1930 … the hairpins up the hill on the back way into the modern track were part of it. After the war came a major cut in length, and in 1965 motorcycle Grand Prix racing came to an even shorter version, now 8.6 miles long.
Mike Hailwood won the first 500 race, spearing his MV Agusta through villages and across farm land. As was usual for that era, it was desperately dangerous. Back in 1987, I took a car run round that loop, with the late Jack Findlay as guide. The Australian, now the FIM's technical chief, was a former GP stalwart renowned as top privateer. In a 17-year career he'd been runner-up to Agostini's MV Agusta in 1968, head and shoulders above the rest riding Norton and Matchless, with wins and podium finishes galore.
Another former rider now running a team in the paddock was Chas Mortimer, whose view of the old track was that "it's amazing that any of us are still alive today". Jack was a laconic sort, and just smiled at the obvious perils of the wide-open sections and the closeness of the barriers on fast corners.
Noting the presence of large boulders lining some bends, he quipped: "Of course, in those days the gravel was a bit coarser." The 500 class had last faced the road track's perils in 1977, one year after the Isle of Man had been deemed too dangerous for the world championships. But the smaller classes had no such favour, and continued until 1982.
Now concerted efforts by local enthusiasts, along with the all-important backing of a communist Government mindful of the value of a world-class showcase, had managed to work a miracle: to get the world championships back.
Full story in Classic Racer issue 194