Words: Terry Stevenson
Photographs: Ginger Molloy,
Jim Scaysbrook archives and
Terry Stevenson.
Anything can happen when two goliaths take to the track in search of victory, especially when the ultimate prize is on Australia's most famous circuit.
It's one thing to win at Bathurst, yet quite another to be first across the finish line after what many say was the hardest battle over the mountain of all time – for the 1972 Australian Senior & Unlimited Tourist Trophy.
By the day's end Ginger Molloy and Bill Horsman shared a new lap record plus each rider had an unforgettable experience after the big duel – the stuff of true legends.
Ginger Molloy was second to Giacomo Agostini in the 1970 World 500cc championship and enjoyed a fruitful season racing in the US in 1971.
After eight years in the Continental Circus the tough Kiwi wasn't done yet, not by any means, as Ginger proved when he kicked off that Easter weekend in 1972 by taking victory in the Lightweight TT on his methanol-burning Yamaha TD3 during his very first trip to Bathurst!
Molloy's mount for the Australian Senior & Unlimited TT race was his super-fast Kawasaki H1R 500cc racer, his second such H1R triple, which still resides in Australia.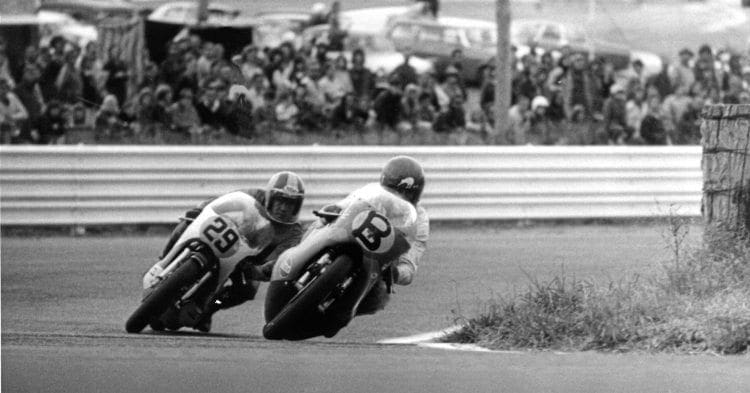 The two classes were combined, although you had to enter both categories if you wanted the title, and the prize money.
On the other side of the grid Bill Horsman was a highly successful racer with a proven background. The previous month the South Australian swept the floor at Symmons Plains in Tasmania by winning the Australian Junior, Senior and Unlimited Grand Prix.
Horsman fired his own opening salvo at Bathurst by winning the Junior TT (350cc), setting a new class lap record to boot.
Horsman's weapon of choice was a very trick Yamaha TR2B, and both riders agree that Molloy's H1R 500 was some 10mph faster down Conrod Straight than Horsman's smaller 350cc Yamaha.
Despite their obvious talent, it could be argued that a large part of the premier result came down to machine preparation.
Although Horsman's newly released TR3 was still on order, the Adelaide motorcycle mechanic was aware of a common problem with the older models and cobbled together a TR2 and a TR2B for Bathurst.
Horsman reflects: "The TR2s ran big-end bearings, and the TR2Bs broke conrods, so we used TR2 rods and TR2 big ends. We built one up using a combination of both and we never had any trouble. We tried to keep them as standard as possible and put them together well.
"We spent a lot of time making sure everything spun freely and was all central and stuff like that. I believe the crankcases on the TRs – a lot of the secret was in them. If you had a good one where the bearing housings and the bearings were compatible, a good nip fit, you had a nice smooth bike. I had a couple of them."
Read more and view more images in the July/August 2019 issue of CR – on sale now!
---
Advert

Enjoy more Classic Racer reading in the bi-monthly magazine. Click here to subscribe.
---