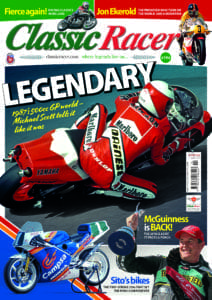 Archive
Selections of photographic excellence this issue from Don Morley, Mark Wernham and Nick Nicholls. Each one, exceptional.
Letters
It's been a long time since your last set of thoughts, motivations and vocal outpourings about the world in which classic racing happens.

Paddock Gossip
Malcolm reports on the main points from the wider world over the past couple of months.

Sito's bikes
The quarter-litre class of GP racing in the late 1980s was a hotbed of development that sat underneath some of the most exceptional riders of all time – Sito being one of them. These are his two most amazing bikes in close detail.

Jon Ekerold
The privateer who grabbed the factories by the scruff of their collective necks and showed them just what a privateer can do.
Alex Criville
At one meeting in particular, the Spaniard was simply incredible.

Michael Scott
Joining the ranks of Classic Racer, Michael starts off his time on these pages with a look back at a slice of 1987. What a season that was.

Proddie Part Two
Phillip Wain continues his account of the big bikes on the Island.
Classic TT
John Watterson files his report from the biggest classic TT event ever. And John McGuinness makes his racing comeback.
Fierce 3
The Irish season has been packed with close racing, incident and shenanigans. Our man Mark McCloskey has been there all season to watch it close up. Here's what happened…
On track
Races from the season closers with CRMC and BHR.