This is just a sample from the current issue. There are lots more adverts and photo adverts to browse in the magazine.
You can place your own advert online.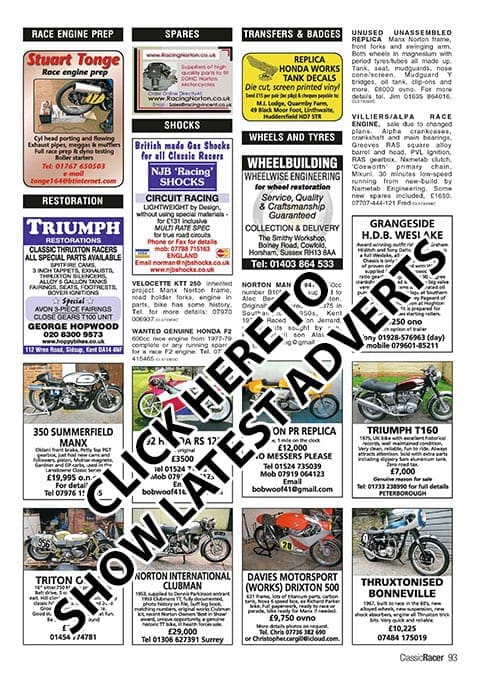 <<Click on the page above to load the PDF of all this months display ads in full>>

HONDA RC30, UK bike, 14,150 miles, as new condition, 100% standard, full service history, stand, tool kit, handbook, service book, two owner bike, £27,500. Tel. 07518 938559. CL595697C
SUZUKI TR750 TRIPLE, 1971-1972, new petrol tank with side fillers, as original, £700; Dianese leathers with hump black and silver, good condition, large 52, £275. Tel. 01327 261068. Northants. CL595695C
WANTED FAHRON water-cooled barrels and heads plus carburettors if available to fit Yamaha 125cc Twin AS1. Also for sale AS1 forks, spares or repair, offers. AS1 carburettors, clean and useable, offers. Tel. 01983 407616. Isle of Wight. CL596316C
WANTED. SEELEY NOURISH or Weslake Classic racing bike, would consider Classic Racing Triton as well; also require Nourish engine and/or Triumph T120 or T140 engine, with or without 8 valve conversion. Contact: Chris, email: cryo-technics@t-online.de Tel. 0049 6152 40735. Germany. CL596324C
• For more general classic motorcycle adverts, sales & wants – visit the Classic Bikers Club classifieds page – over 1,000 adverts on-line!
---
You can place your own advert online or download a form to print, complete and post.