This is just a sample from the current issue. There are lots more adverts and photo adverts to browse in the magazine.
You can place your own advert online.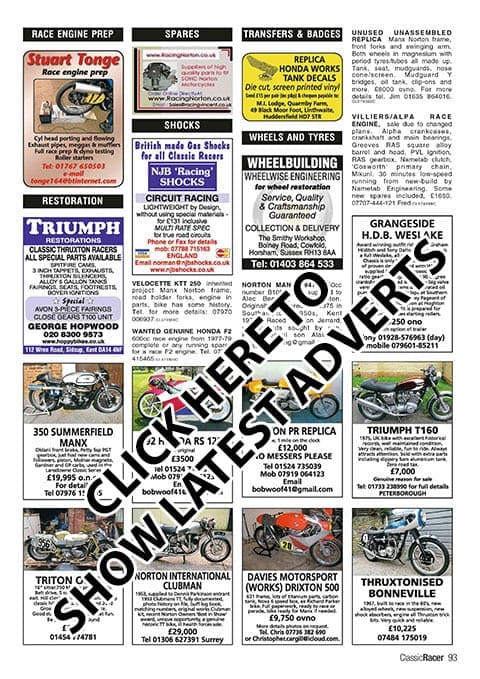 <<Click on the page above to load the PDF of all this months display ads in full>>
AMB transponder Tranx 260 rechargeable
, new batteries fitted two seasons ago, complete with charging leads, £150, retirement forces sale. Tel. Peter 07979 093515. Email.
pjbah@yahoo.co.uk
CL676975C
Electric starter rollers by Alf Mosell
, bought new last season used for one meeting £500. Retired due to injury. If you can collect from Haywards Heath you can have the battery for free. Phone Peter 07979 093515. Email.
pjbah@yahoo.co.uk
CL676973C
Wanted: Green Lane Off Road Brit bike any condition considered, project or non runner, V5 not important. Tel. 07583 716066. CL677342C
Honda 350 K4 Whittal Williams Drixton Garfield engine, CR Keihin carbs, Scitsu, full front and rear Maxton, lots of spares, £9000 with all spares or £8500 bike only, contact for full details. Tel. Bernie Wright 07982 433686. Leeds CL677344C
Norton Summerfield Manx
, DOHC 30m bore and stroke 86mm x 85.6mm, made of new parts, Manx frame, four leading shoe f/brake Manx r/wheel, £22,000 ono. Tel. 07772 254981. Email.
dylanst531@aol.com
CL677118C
Oldani 230mm flywheel excellent, stored since early 80s, Ł2500 ono. Manx p/chain oiler, £40. R/wheel adjuster set, £15. Spares supplied by R. Petty in 80s unused complete gear change, £200. Flexible r/counter mounting, £40. F/brake cable guide, Ł15. Aermachi original r/wheel sprocket, 52T, Ł35. G45 p/chain oiler complete, £75. 01276-932987. CL676978C
Original paintings of Classic Racers
– Are you here? Mostly A4 size, acrylic on card, they make superb Xmas presents! Check them out on 'Douglas Wood' – Face Book pics – to view paintings, £15 each + p&p (£2). Many satisfied customers. Contact:
saltycdug@gmail.com
Tel. 07547 317862. CL677232C
Wanted: NRE Nourish or Weslake Triumph 650/750/850cc racing engine
. Also require Triumph 650/750cc alloy cylinder. Also looking for Seeley-Nourish complete road racing bike. Please contact or send offers to Chris Email.
cryo-technics@t-online.de
CL676972C
Yamaha FJ1200 91
, would make good doner bike for post classic racer, 32,000 miles, runs, very complete, I bought it a couple of years ago to restore, but I no longer have the space or resources, £600 ono. Tel. 07515 258925 (leave message if I don't pick up.) Email.
gavinsmith54@gmail.com
CL676974C