This is just a sample from the current issue. There are lots more adverts and photo adverts to browse in the magazine.
You can place your own advert online.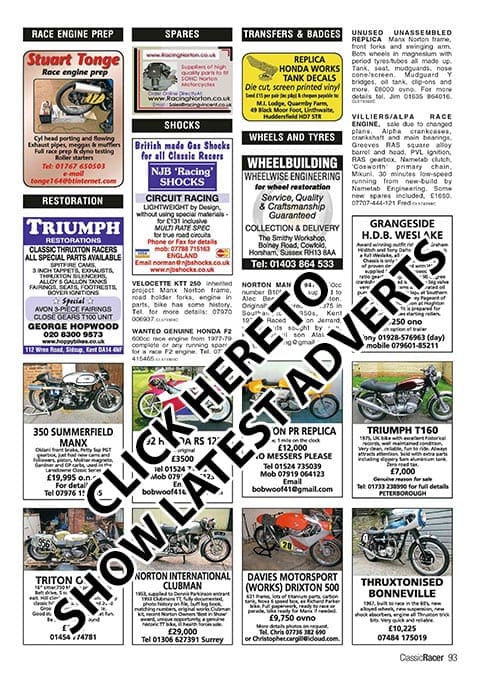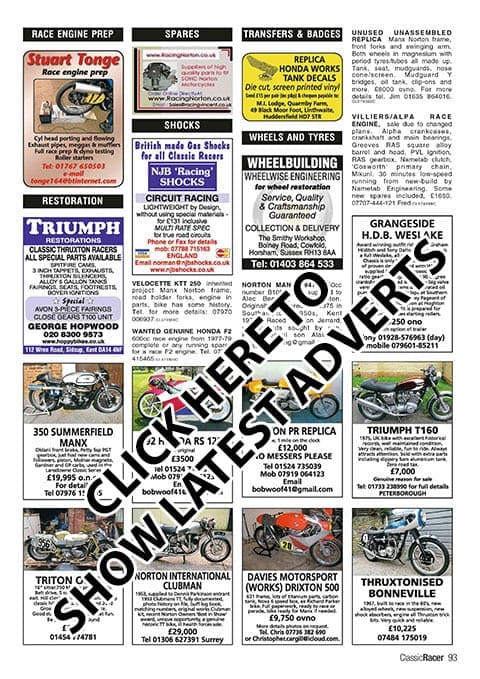 <<Click on the page above to load the PDF of all this months display ads in full>>

DUCATI 750 SPORT, 1974, yellow, 11,717 miles, UK reg, round case engine, original condition, £35,000; 1962 Summerfield 350cc Manx Norton (76 x 76.7), 1992 Summerfield engine, Lansdowne spec racer, replica frame, £23,000; Seeley Weslake NRE 900cc engine, 6-speed, TT-gearbox Classic Racer, £15,000. NRE 750cc engine, £6000. Fife. Tel. 07522-246113. garycowie1970@gmail.com CL630225C
EXHAUST PIPE 1 1/2-in diameter for 1958 7R AJS, any condition but no dents. Tel. 07768 746915. CL628815C
F2 350 ROLLING CHASSIS, stainless braided brake lines, four Lockheed racing calipers on three disc brakes, 13″ alloy wheels, priced to clear workshop space, £250. Tel. 01302 851716. S Yorks. CL628174C
Honda K4 twin cylinder 350 or 250 up to spec and ready to race with spare parts if possible, wanted for the Manx in September. Tel. 07594 635227 after 7.30pm. CL627432C
• For more general classic motorcycle adverts, sales & wants – visit the Classic Bikers Club classifieds page – over 1,000 adverts on-line!
---
You can place your own advert online or download a form to print, complete and post.