This is just a sample from the current issue. There are lots more adverts and photo adverts to browse in the magazine.
You can place your own advert online.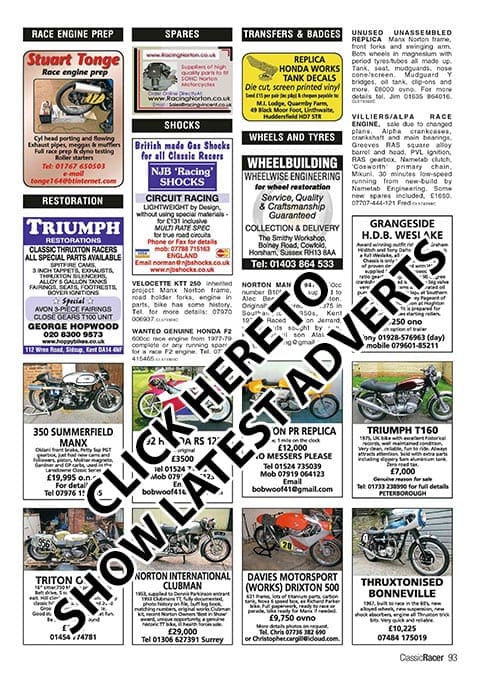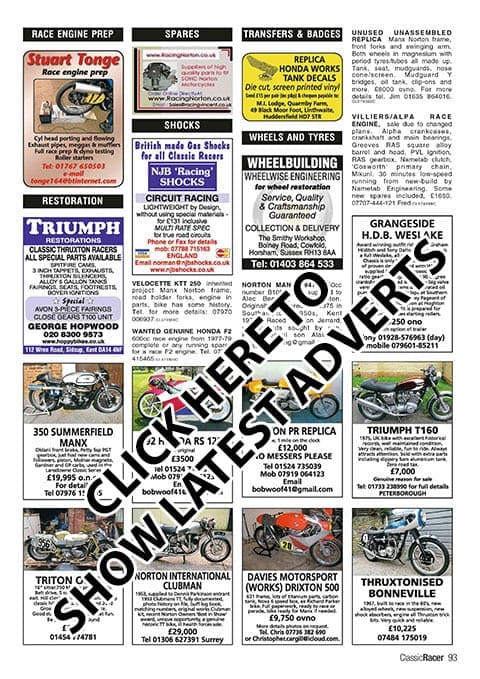 <<Click on the page above to load the PDF of all this months display ads in full>>

BSA B31 Ridged, 1949, sound genuine bike, matching numbers, original reg, slight recommissioning, hence price £3500. Tel. 01889 589027 or 077220 68620 anytime. CL647245C
HONDA RACE REPLICAS/PARADE PROJECTS: 250/4 RC162, CB160, CR93, CB160 Racer, all with tanks, seats and fairings, alloy rims, from £3000. No cherry pickers or time wasters. Assistance given FOC after purchase. Email: bobsheila1@gmail.com Tel. 01924-472969 (leave message). Cash on collection only. CL647369C
NORTON/WESLAKE PROJECT, Nourish 500cc engine, Quaife 5 speed gearbox, Newby clutch belt drive, Pazon ignition,Triumph T140 forks, hubs, discs, Manx replica frame swing arm, tanks, £6000. For full details and build spec, tel. 07929 984005. Oxon. CL647242C
SPARE PARTS:- Race transponder AMBTRANX260 professionally refurbished with chargers and bracket, price £300; Race bike starter (Foxley type) Honda engine, very reliable, has never failed to start any bike, £400. Tel. 07776 304062. Lancs.CL648042C
• For more general classic motorcycle adverts, sales & wants – visit the Classic Bikers Club classifieds page – over 1,000 adverts on-line!
---
You can place your own advert online or download a form to print, complete and post.