This is just a sample from the current issue. There are lots more adverts and photo adverts to browse in the magazine.
You can place your own advert online.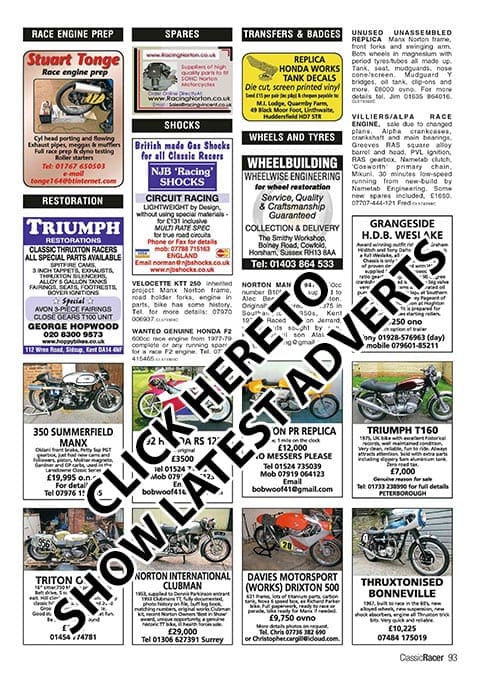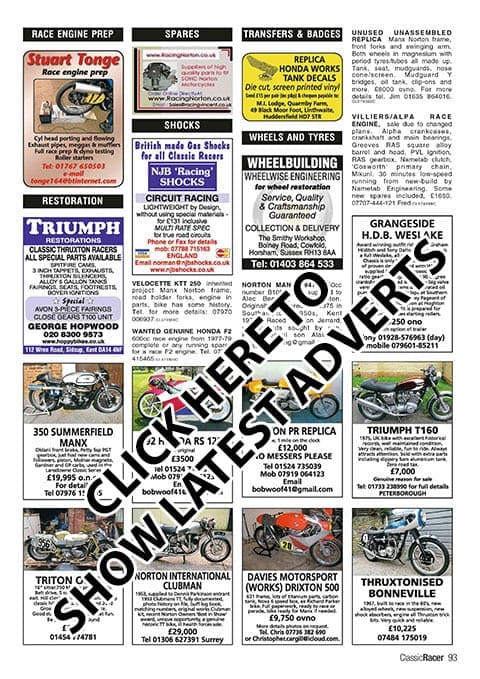 <<Click on the page above to load the PDF of all this months display ads in full>>

BMW R1100RS, 1998, 71,000 miles, owned by me from new, sweet engine, Ohlins shock, BMW panniers, tank, bag, rear rack, all history, MoTs, blue, MoT August 2018, £1750. Tel. 07734 699590; 01132 843534. Leeds area. CL617766C
125cc BSA Bantam racer wanted, runner or project, anything considered. Tel. Dave 01302 783036. CL616185C
G50-90 BORE complete engine, full rebuild competitive engine, ready to race, £5500 ono. Self generating mag, full rebuild, £350. Various engine parts for sale, also Dick Hunt forks and yokes. Please ring for details 07850 038124. CL617675C
HONDA 250/4, fitted to a modified CB72 frame, alloy tank and seat unit painted red, complete in (dry build) state at the moment, build to your own (look-a-like) specification, (bought as seen), advice given FOC, £3500 ono. Cash on collection. Will email photos by request, bobsheila1@gmail.com No timewasters please!! CL617445C
MATCHLESS G45 RACERS, x2 plus 75% of another bike, first bike is an ex-Australian International rider, Bob Brocon's 1954 Podium winning 15 times, 100% restored and correct, second bike ex-Elmer McCabe's G45 fitted with a porcupine tank and conical hubs; third bike 75% of G45, genuine parts, serious offers invited. Tel. 04398 31171. Australia. Email: armstrongnocon@yahoo.com CL616992C
YAMAHA TZ750 ENGINE, with ignition, good condition, little use after being built, undamaged, crankcases stamped 409-11, £15,000. Tel. 07855 902580. CL616357C
• For more general classic motorcycle adverts, sales & wants – visit the Classic Bikers Club classifieds page – over 1,000 adverts on-line!
---
You can place your own advert online or download a form to print, complete and post.