This is just a sample from the current issue. There are lots more adverts and photo adverts to browse in the magazine.
You can place your own advert online.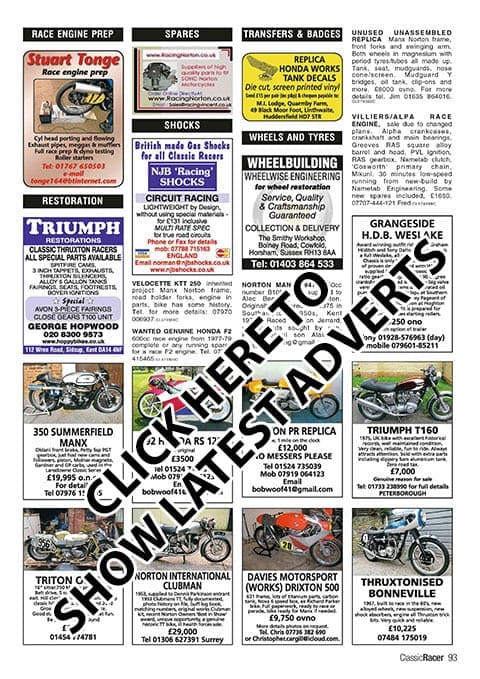 <<Click on the page above to load the PDF of all this months display ads in full>>
AMAL GP389 CARB
bore 30mm complete but no matchbox float chamber. Also Gardner type injector 32mm bore complete, both were used on a Bultaco water cooled racer, £80 each, plus postage. Tel. Bernie 07703 218690 or Email.
adtrizun@tiscali.co.uk
CL679239C
FOR SALE RGB500 once owned by Hector Neal (TAS Racing), used by Norman Brown & Neal (smutty) Robinson, machine in mint condition, ring for details 07563 226357. CL678993C
MV AGUSTA
203cc barrel and piston, clutch, side covers, will swop for Manx 500 barrel, 1940s. Tel. Don 01698 854390 or Email.
mdriley@btint.com
CL679236C
NORTON MANX
rolling chassis, Manx frame, wheels, tank, seat, o/tank, £6500. Norton Featherbed frame, s/ arm, 1959, V5, £1900. Manx Norton Pre-60 s/arm, £450. Tel. 07772 254981. Essex. Email.
dylanst531@aol.com
CL679583C
VILLIERS STARMAKER 6 speed C/R gearbox, as new, only run by myself for one 20 minute test session since new. The last of a limited number (112). Mainshaft threaded to securely retain clutch centre. Complete with mounting studs and gear lever. Fixed Price £2250 includes UK postage. Phone/txt 07434 677897. CL680224C
WANTED INFORMATION pictures or original parts on Norton 500 Dommie Racer, also Lucas 3MTT magneto or SR2RR. Tel. 01244 641846. CL679904C
WANTED SET OF
used race slick tyres, not for racing but for a display bike only, required sizing 110/80 x 18 front; 150/65 x 18 rear, cash buyer, can collect. Contact Bob 07792 013067 or Email:
bobcoe47@gmail.com
CL679237C