This is just a sample from the current issue. There are lots more adverts and photo adverts to browse in the magazine.
You can place your own advert online.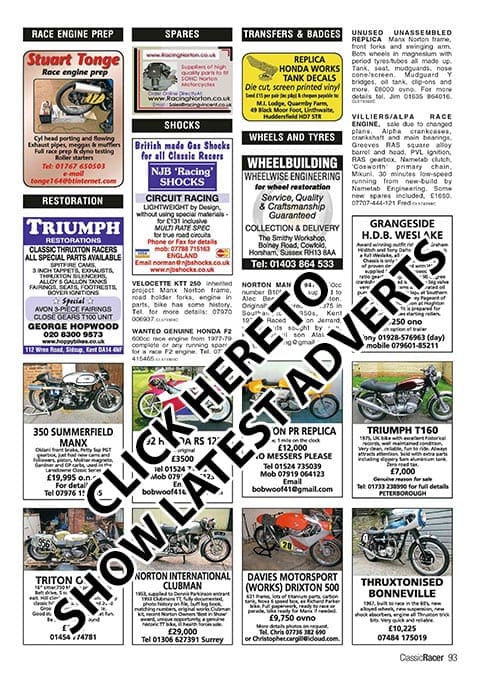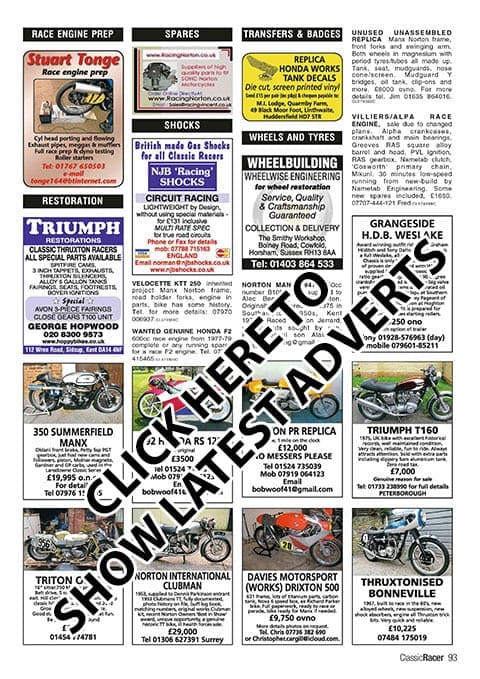 <<Click on the page above to load the PDF of all this months display ads in full>>

CLASSIC RACERS quality prints, size 24×18, of Barry Sheen, Mick Grant, Eddie Lawson and Ross McEnla, left-over stock from a retired Fine Art Mail Order Co, 2,200 prints with some postage tubes, retail value £12,000 – sell as a job lot for £950 – may split!! Tel. 01495 759234. Gwent. CL636157C
COTTON TELSTAR, 6-speed box, Honda front brake, Ducati rear brake, 35mm REH forks, steering damper, Stormer crankcases, Honda conrod, Suzuki piston, Nikasil barrel, Motoplat ignition, Mk 2 36mm Smoothbore, fluff welded clutch, just refreshed giving 30hp, no frame no, CRMC registered, £5000. Tel. 01623 470609. CL638466C
DUCATI PANTAH 650 track bike/racer, uprated wheels and front end, tuned engine, £6,500; Honda 250-4, well sorted parader, high spec, £11,500. More details and pictures of each bike available. E-mail: wittyducati@gmail.com CL638465C
HONDA 350 K4, classic race bike, 5-speed close ratio box, race engine, frame delugged, too much to list, only paraded three times, like new, CRMC reg, will need oil tray on fairing, £6250 ono. Tel. 01795-423679; 07860-615127. CL638842C
KROBER WILL whoever purchased the assets of the late Peter Champness please contact me a.s.a.p. Tel. 07803 297374. CL639427C
PATON S1 STRADA No. 005 of 151, IoM replica, 2014, 1,664 miles, immaculate condition, very pampered and never raced, first model imported into UK, also the actual bike reviewed and tested by MCN, £18,000. For full details please call 07546 561603. CL638980C
THREE NICE OIL PAINTINGS by Rod Organ, 36″ x 24″, Bill Ivy, Phil Read, Mike Hailwood, French G/P, (oil on board); 22″ x 18″, Mike on 297 Honda (oil on canvas); 22″ x 16″ Bill on 250 Yamaha 4, (oil on board), £2500 ono. Tel. 01302 844994. CL638982C
• For more general classic motorcycle adverts, sales & wants – visit the Classic Bikers Club classifieds page – over 1,000 adverts on-line!
---
You can place your own advert online or download a form to print, complete and post.