This is just a sample from the current issue. There are lots more adverts and photo adverts to browse in the magazine.
You can place your own advert online.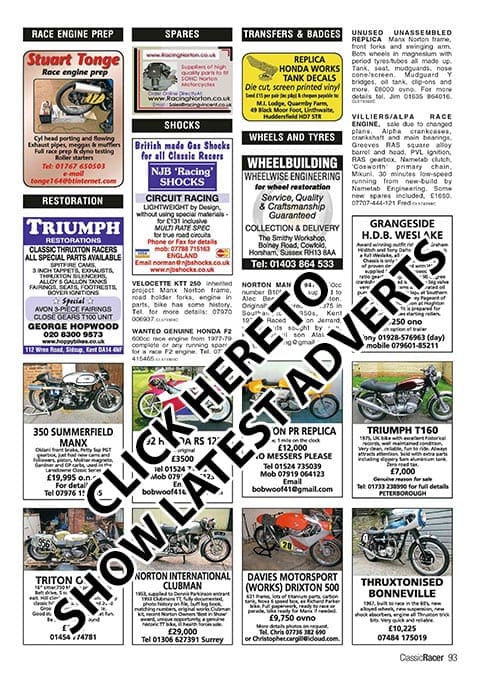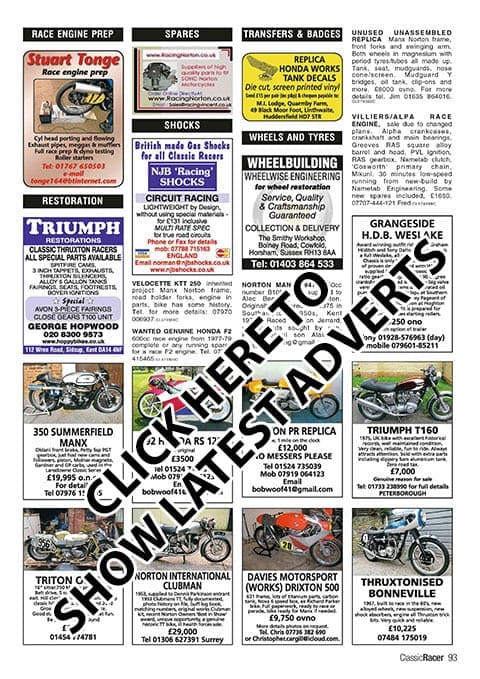 <<Click on the page above to load the PDF of all this months display ads in full>>

ARIEL 1950 VH500, rigid, teles, instrument tank, owned last 14 years, loads spent over time, has done Classic TT parade lap, Jurby and VMCC St Johns Trial, £5700 ono. Wanted: 3 M.G.P. finishers medals as mine were stolen. Tel. Graham 07934 517847. Wirral. CL618212C
BELLAS HONDA, new, never been used, fully tuned 915 engine, all CycleX, close box, Keihin carbs, Electrixworld ignition, 13 inch wheels, alloy tanks, fully faired, no expense spared, ready to go, £17,000; will split. Tel. 00350 57374000. CL618444C
BMW R1100RS, 1998, 71,000 miles, owned by me from new, sweet engine, Ohlins shock, BMW panniers, tank bag, rear rack, all history, MoTs, blue, MoT August 2018, £1750. Tel. 07734 699590; 01132 843534. Leeds area. CL618203C
CLASSIC RACER COLLECTION for sale. Tab framed Honda 350 K4, 2 x Suzuki T20, both with excellent spec, 1 x CB250 Honda K4, 1 x K4 350 race engine with ignition and carbs. Suzuki SV650 Mini Twin, loads of mods done, loads of K4, T20 parts. Phone: 07940 518787 or email: rogermetcalf.53@googlemail.co.uk for details. CL619710C
DUCATI PANTAH 650 track bike, tuned engine with amal 36S/bore carbs, Hemmings tacho, wire wheels with Conti radials, front end – nos Marzo 38's, Brembo P8 Goldlines, EBC 280 discs, std rear end except 3″ rim and Koni D-A-Rs, 900SS half fairing and seat, £6500. Pics available. Tel. 07968 555326. Northants. CL618213C
HONDA 50R HRC Dream Racer, brand new, never started, fabulous CR110 Honda replica, a mechanical marvel from a private collection, a blue chip investment, £8000, no offers. Tel. 01522 703687. CL618214C
HONDA T.A.B. K4 REPLICA, built for Classic T.T. new Geoff Bates engine has done 37 3/4 miles, most mods from Davies Motorsport, 2 tanks, 2 exhausts, 3 fairings. Please ring for full details, this is one of the best out there, Terry 01257 482783; 0777 6304062. CL619183C
MANX ORIGINAL rev counter, long circuit tank, painted and lined, supplied by Ray Petty in 1980s, never used; Oldani 230mm front wheel, complete, excellent condition, stored over 30 years, Dolphin fairing and fitting, needs screen; Aermacchi original rear wheel sprocket, 52-teeth. Manx rear brake plate, complete with shoes. Tel. 01276-932987. CL619184C
OUTFIT ROLLING CHASSIS for TZ750 engine, good TT history, 6 wheels, fairings, rad, calipers etc, exhausts rusty, £1200 ono. Tel. 01273 814034. East Sussex. CL622113C
TRIUMPH T110 ENGINE, complete 8-stud head, 3 x 650 crankshafts, 6T crankcase, T110 crankcase, 3 x Norton gearboxes, 9-stud head, 8-stud head, rocker box covers, timing chest covers x2, AMC gearbox, hydraulic clutch conversion, numerous gearbox and engine spares, some new. Tel. 01323 741821; 07724 858707. E Sussex. CL622274C
TTI GEARBOX (AMC type), 5 speed magnesium used 4 times full set of sprockets 16-20 £2200. Tel. 01942 608192 day; 07415 667121 eves. CL620283C
• For more general classic motorcycle adverts, sales & wants – visit the Classic Bikers Club classifieds page – over 1,000 adverts on-line!
---
You can place your own advert online or download a form to print, complete and post.