This is just a sample from the current issue. There are lots more adverts and photo adverts to browse in the magazine.
You can place your own advert online.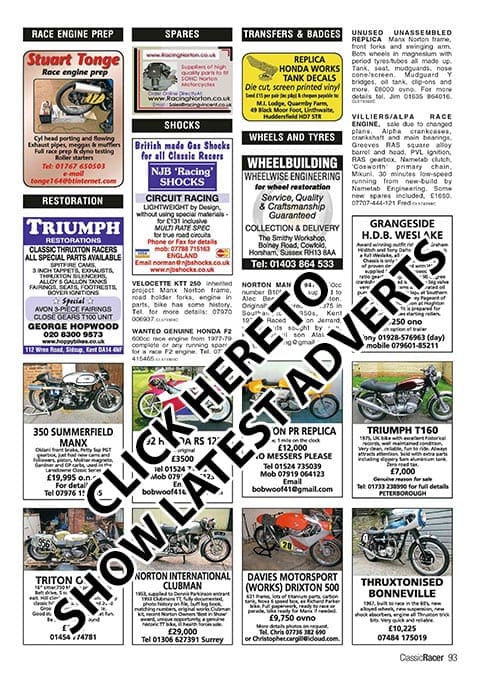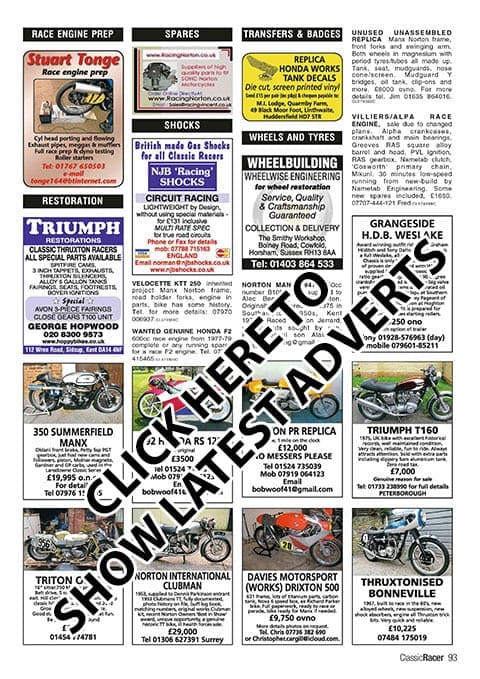 <<Click on the page above to load the PDF of all this months display ads in full>>

HONDA K4 RACER TAB replica frame, new Geoff Bates engine, lots of Davies Motorsport parts built for classic TT, 2 tanks, 2 fairings, 2 exhaust systems, programmable ignition, Davies suspension, ready to race. Rng for full details, 01257 482783 or mobile 07776 304062. Lancs. CL623980C
HONDA RC162 FASCIMILE, built by Paul, Slipstream M/cs for 2010 IoM TT Parade lap. CB72 frame and rear end with 2LS brake. Suzuki GT750 front end plus Stoppie 4LS brake, CBR tacho, FCR28 carbs. Swarbrick exhausts. New Avons. Sorted over 75 years. Spanish tracks. Sprockets plus roll on/off stand, 12,000 Euros. wittyducati@gmail.com CL623990C
MATCHLESS G45 RACERS, x2 plus 75% of another bike, first bike is an ex-Australian International rider, Bob Brocon's 1954 Podium winning 15 times, 100% restored and correct, second bike ex-Elmer McCabe's G45 fitted with a porcupine tank and conical hubs; third bike 75% of G45, genuine parts, serious offers invited. Tel. 04398-31171. Australia. Email: armstrongnocon@yahoo.com CL622470C
TRIUMPH T110 ENGINE, complete 8-stud head, 3 x 650 crankshafts, 6T crankcase T110 crankcases, 3 x Norton gearboxes, 9-stud head, 8-stud head rocker box covers, timing chest covers x2. AMC gearbox hydraulic clutch conversion, numerous gearbox and engine spares, some new carburettor spares, workshop manual, specialist tools, £3400 ovno; will not split. Tel. 01323 741821; 07724 858707. E Sussex. CL623988C
WANTED, BOOK, LYDDEN HILL. History of Motorcycle Racing 1947-2000, author Ray Dixon, Basingstoke, Hants RG24 8RB. Tel. 01256 475058. Email: simmoto916@hotmail.co.uk CL623977C
• For more general classic motorcycle adverts, sales & wants – visit the Classic Bikers Club classifieds page – over 1,000 adverts on-line!
---
You can place your own advert online or download a form to print, complete and post.