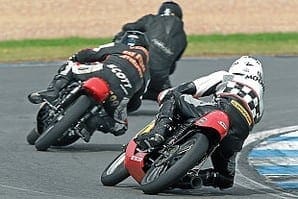 Manx Grand Prix winner Ryan Farquhar has decided to quit racing after the tragic death of his uncle Trevor Ferguson in the MGP Super Twins race.
The 36-year-old from Northern Ireland hopes to stay involved with the sport with his KMR team, with fast riding Jamie Hamilton, and he has a successful business building the superb Kawasaki Super Twin machines for customers.
Trevor Ferguson, 48, who had been a big influence on Ryan's career, lost his life in the crash at the Nook, while another of Farquhar's KMR machines, ridden by Nigel Moore, won the race.
Farquhar is the most successful Irish national road racer ever with 199 wins and just this season won the Supertwin races at the NW200 and TT, making it a hat trick during the Ulster GP.
• Built to last
The TT Mountain Course has always been held up as the ultimate test of man and machine and that is still the case, which makes the results achieved by machines using Andy Molnar's engines
in this year's Manx Grand Prix all the more impressive. In the Senior Classic Race Molnar engines finished second, third, fourth, fifth and 11th – quite an achievement.
• Bill Swallow, Manx Grand Prix
Returning from his adopted New Zealand Chris Swallow proved to be the surprise of the Manx Grand Prix, making it on to second step of the podium in both the 350 and 500cc classic races.
The unassuming Yorkshireman rode an intelligent race in both events and was almost lost for words in the winner's enclosure. He follows a long line of racing Swallow's and many times MGP winner father Bill said at the end of the race: "It's much, much, worse in here (the pits) than it is out there."
• Lea Gourlay, CRMC
It was great to see Lea Gourlay back on track at the CRMC Donington Classic Festival exactly two years on from his life threatening Ulster Grand Prix accident.
Lea got the opportunity to get some laps in during the parade sessions aboard the Summerfield Manx and Graham Veryard's TZ350 and very comfortable he looked too, turning some very respectable lap times.
Understandably emotional, it was a major milestone for Lea and although he clearly enjoyed the experience he denied all knowledge of a serious comeback to racing.
• Torrid time for Mooney, CRMC
Pat Mooney made the journey from his Florida home to compete at the CRMC Classic Festival at Donington Park, but clearly things didn't go according to plan.
Originally entered on his friend John Cronshaw's Seeley G50, Pat suffered an engine problem in practice, putting the G50 out of action. Cronshaw then generously let Mooney ride his own BSA, which Pat proceeded to throw into the gravel trap.
Undeterred the Summerfield team stepped in with the loan of one of their Nortons and Pat finally got to start, and finish, a race.
• Geoff Duke – In pursuit of perfection
This latest look back at the life of one of the all-time greats, Geoff Duke, is an absolute must for any true road racing fan.
With his good looks, natural ability, and his forward thinking, Geoff Duke was one of the original superstars of the sport and was made an OBE. In this 190 minute DVD to mark Geoff's 80th birthday, which includes much previously unseen footage and still images plus a unique interview with Mick Woollett, we get a real insight into the racer who was always 'in pursuit of perfection'.
Available now from Duke Video, www.dukevideo.com or by calling 01624 640000 the DVD costs a bargain £16.99.