Drama rears its racing head for Barry Sheene and Giacomo Agostini in Sweden.
Words and photographs: Jan Burgers
The eighth round of the 500cc World Championship took place at a quiet, open place in the woods of Sweden. Part of the circuit was an airstrip and it was at this very fast part of the circuit that a drama struck two works riders.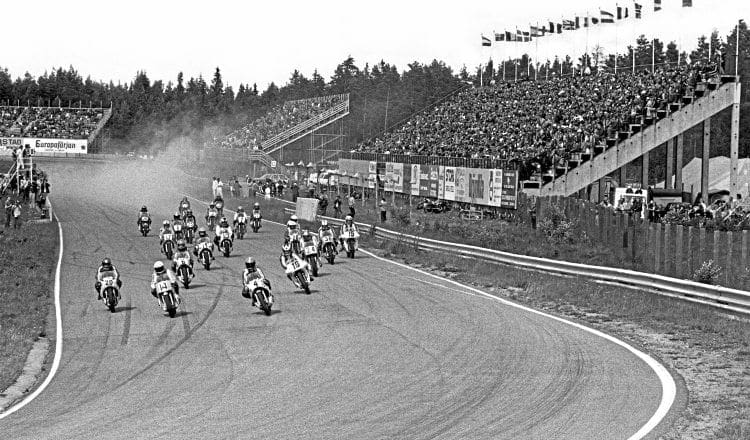 With only three races to go, Phil Read, Giacomo Agostini, Tepi Länsivuori and even Barry Sheene were still in the race to win the world title.
During practice flying Finn Länsivuori set the fastest lap on the four-cylinder Yamaha. Second and third on the row were Sheene on the works Suzuki and Agostini on a works Yamaha.
In the second lap of the race Sheene crashed at 130mph, just before the brake point at the end of the 3/4-mile-long airstrip. Phil Read could just avoid the crash, however Agostini, who was right behind Sheene, panicked, slammed the front brake and also crashed into the steel wire netting. Both riders were very lucky that at the end of that airstrip there were no Armco barriers. This time it was not the gearbox but a seized water pump that caused the crash. Both riders were transported to hospital and Ago was diagnosed with severe shoulder damage and a broken collarbone. Sheene hurt his ankle badly, had a stiff neck and concussion.
Meanwhile, Pentti Korhonen was leading the race on an Arwidson 351 Yamaha, just in front of his countryman Länsivuori on the Yamaha 500.
MV Agusta riders Read and Gianfranco Bonera were duelling for third place. However, Bonera's MV suffered from gearbox problems and nearly threw him off the bike, as had happened before in practice.
Jack Findlay, who rode behind, could not avoid Bonera, who was struggling to stay aboard the bike and crashed into the MV. Findlay fell off the works Suzuki and Bonera miraculously controlled the MV and continued the race.
Read more in the MayJune edition of CR – on sale now!