A magazine where legends truly live on. From racer tests of historic machinery, written by those who can actually find the limit, to tales of those who made the sport great.
Classic Racer takes you so close to your faviourite classic bikes you can actually smell the Castrol R! With the world's finest archive, and an editorial team who live and breath the sport the only way you'll get closer will be to put on your leathers.
Available from all good newsagents, but you know you'd rather be down at the track, so why not subscribe and save. If you're a hands on type of rider all the practical sportsbike advice in Classic Racer will surely be one of the greatest rewards to the reader!
November/December 2016
Current issue: Nov/Dec 2016 – Next issue: Jan/Feb 2016 – On sale: December 15
WHAT'S INSIDE
Classic Racer Regulars
006  Archive Shot
Small and perfectly formed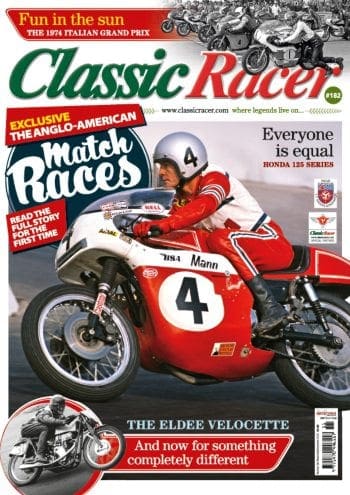 008  Paddock Gossip
All the classic news
016  Readers Write
Your turn to speak
018  Subscribe
Get it first and save
Classic Racer Machines
040  Eldee Velocette
A mechanical marvel
050  Moto Martin Suzuki
A French fancy
Classic Racer Archive
022  The Honda 125 Series
Packed grids and great racing
030  The Anglo-American
match races
060  1974 Italian Grand Prix
Classic Racer Sport
066 The Classic TT
076 CRMC Donington
080 Mallory Bonanza
084 CRMC Snetterton
088 Jurby Festival
On the cover
Dick Mann leads the USA team in the first-ever Anglo-American match races.