A magazine where legends truly live on. From racer tests of historic machinery, written by those who can actually find the limit, to tales of those who made the sport great.
Classic Racer takes you so close to your faviourite classic bikes you can actually smell the Castrol R! With the world's finest archive, and an editorial team who live and breathe the sport the only way you'll get closer will be to put on your leathers.
Available from all good newsagents, but you know you'd rather be down at the track, so why not subscribe and save. If you're a hands on type of rider all the practical sportsbike advice in Classic Racer will surely be one of the greatest rewards to the reader!
May/June
Current issue: May/June 2017 – Next issue: July/Aug 2017 – On sale: June 15
WHAT'S INSIDE
John Surtees: an appreciation
As a reader of Classic Racer you need no introduction as to who Mr Surtees was and what he achieved. If you've picked this up as your first taste of this magazine then the man who won seven motorcycle GP world championships and also went on to take the F1 crown, is the focus of much of this episode of the classic racer world for good reason.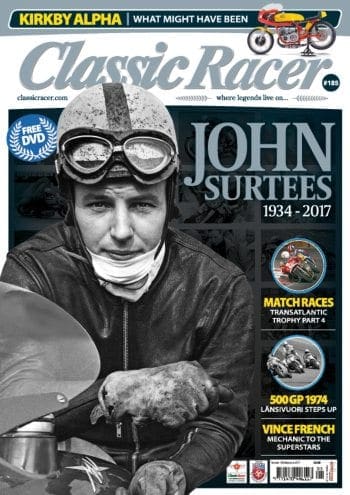 Paddock Gossip
Corners of the paddock and global events scoured and reported on by our Malcolm as he continues to deliver the news that matters about the people who live motorcycles.
Readers Write
As one might expect, many memories of Mr Surtees have arrived at Classic Racer headquarters, all of which have – without exception – espoused the many positives his actions brought not only to motorcycle racing but also Britain. Here's a selection of some of the missives we have received.
Paul Goldsmith
When he had a telephone call from Mr Harley and Mr Davidson, inviting him to race for them in the 1940s, Paul Goldsmith knew he had arrived. Goldsmith is an AMA Motorcycle Museum Hall of Fame resident, a Daytona 200 winner and a five-times AMA Nationals winner. But it's his memories of racing on a shifting sands beach course whilst battling other riders and an incoming tide that will stick in your mind.
Vince French
From a racing start to spinning the spanners for some of the biggest names in racing history, French was one of the most influential and instrumental people in racing's past. Here's his story and an explanation of why many big names owe this particular man a lot.
Back in the day: Anderstorp GP 1974
It had been a difficult meeting for some, but in Sweden it was home hero Lansivuori who found the top step of a memorable 500cc race. Jan Burgers explains what happened.
Match Races: Part 4
In to the 1980s and the last events of the GB v USA series. Future and current GP stars from both sides of the pond, upcoming young guns looking to establish themselves and incredible races from start to finish were a fine epitaph for the TT races.
Kirkby Alpha
In 1968, Lincolnshire's John Kirkby mated an ex-Tom Philips Vio Camp Ducati chassis to a 247cc disc valve vertical two-stroke twin from Alpha Automotive of Dudley. The result is exquisite.
CRMC Round One: Snetterton
Graham Lawlor and Russ Lee were in attendance at the opening CRMC event in the flatlands of Norfolk. Here's their report on the event.