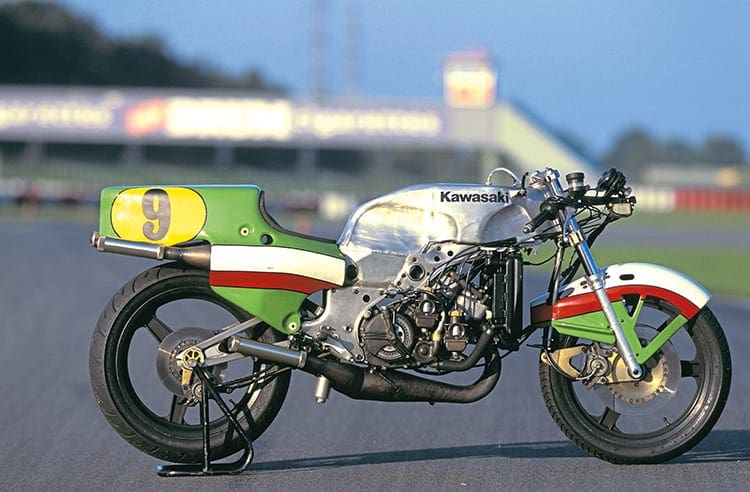 The three-year plan
It was only ever allowed to briefly exist for 36 months and yet no other Japanese two-stroke works 500cc Grand Prix racer got into the psyche of racing in quite the same way. The square-four rotary-valve KR500 Kawasaki defined the time within which it was created.
Words: Alan Cathcart   Photo credit: Statics and Assen action: Henny Stern
Designer Kinuo 'Cowboy' Hiramatsu's beautifully arc-welded light-alloy monocoque chassis followed the Ossa 250 design route in incorporating an integral 32-litre fuel tank mounted in the conventional position. Nevertheless, the Kawasaki's fabricated frame delivered tremendous torsional and lateral stiffness with two outer side plates bolted to the rear flanks of the tank to support the footrests as well as the rear swingarm pivot. These were then cross-braced to an inner pair of plates attached to the back of the fuel reservoir.
35mm Kayaba forks mounted in Kawasaki's own fabricated triple-clamps were fitted in a pivot mount welded to the front of the chassis, while the rear suspension employed a second-generation version of the Uni-Trak rocker arm system seen on the KR250/350 tandem twins, but overheating of the rear shock was an ongoing problem, which meant that Ballington often suffered handling problems as a race wore on.
Moreover, in addition to being overweight, with a 1470mm wheelbase the KR500 was also extremely long, even by the standards of the day – around 100mm rangier than its competitors, and while this meant it held a line well and was very stable under braking thanks to reduced weight transfer, it was also very slow steering in tighter turns.
Like the Suzuki Gamma motor of similar architecture, the Kawasaki's rotary-valve engine measured 54 x 54mm for a capacity of 494.6cc, and like the original RG500 was a true square-four design with the cylinder tilted forwards in a single plane on the crankcases, not stepped as on the later Suzukis.
Read more in the July/August issue of Classic Racer. On sale now.